Courtney Dauwalter Runs to New Western States 100 Course Record
Tom Evans wins the overall title in a historic day of running
Heading out the door? Read this article on the new Outside+ app available now on iOS devices for members! Download the app.
Late on Saturday night, Courtney Dauwalter needed help getting up out of the chair she was sitting in at the south end of the Placer High School track so she could greet fellow competitor Katie Schide.
Once up, she slowly and awkwardly limped about 15 steps, considerably slower than she had all day on her historic run from Olympic Valley to Auburn, California. Hours earlier, Dauwalter won the 2023 Western States 100 with a record-shattering masterwork effort, running hard while trudging through the difficult snowy sections early on, and then methodically and relentlessly hammering her way along the second half of the fabled 100.2-mile course.
Although no runner had come within 23 minutes of Ellie Greenwood's 2012 women's course record of 16:47:19 for the previous 10 years, Dauwalter, a 38-year-old runner from Leadville, Colorado, shattered the mark with a stunning 15:29:33 effort to win the race for the second time in three tries. Schide, a 31-year-old American who lives in France, turned in a valiant effort in Dauwalter's wake, finishing second in 16:43:45, the second-fastest women's time in the history of the race.
The 50th edition of Western States was filled with remarkable efforts and amazing stories, but none more grand than the epic performance turned in by Dauwalter, who once again ran a record-setting effort without the help of a pacer.
"I'm pretty wrecked," Dauwalter said with a gregarious laugh after hugging Schide. "I'm a total train wreck. But it was so fun."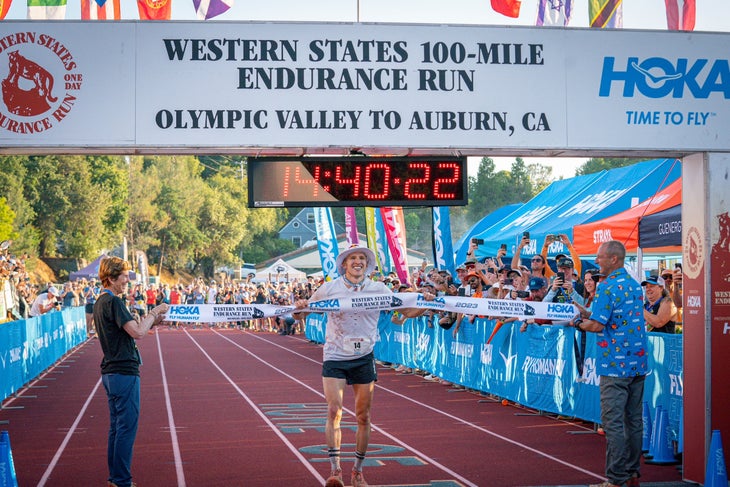 Tom Evans Runs Away With the Overall Title
Tom Evans also had some fun while wrecking himself during his second time running Western States. The 31-year-old British runner, who had finished third at Western States in his debut 100-miler in 2019, put together a prodigious surge on a rugged uphill section of trail after leaving the 62-mile aid station in Foresthill behind a fast-moving Dakota Jones.
Not only did the decisive move seem to break Jones, but it set the tone for Evans to create a massive gap and send him on his way to winning in 14:40:22, the fourth-fastest men's time in history. (To his credit, Jones held on and finished 17th in 17:00:38, despite being completely trashed over the final 20 miles of the course.)
"I made the conscious decision on a bit of an uphill to just go past him and push a little bit harder on a bit that I should have been hiking," Evans said. "I thought, 'Just put yourself in the hurt locker for about five minutes and see if you can get a gap. If you get it, great, then you just have to keep digging. And if you don't, you're going to have to try again later.' I didn't want to go toe-to-toe in a sprint around the track with him."
RELATED: Editor's Picks: The Western States Endurance Run
Tyler Green, a 39-year-old American from Portland, Oregon, continued his strong streak of Western States runs, finishing second in 15:04:09. Green was second in 2021 and fourth last year, but he was considerably faster this year as he was uncharacteristically among the top five runners early and kept moving up during the second half of the race.
Anthony Costales was one of the surprise, feel-good stories of the day, but he shouldn't have been a surprise to anyone. The 34-year-old school teacher from Salt Lake City, Utah, was running unsponsored after Salomon opted not to renew his contract this year. So instead of running in a running brand's gear, Costales was rocking a San Francisco Giants shirt early on and then ran in Chico State gear to pay homage to his college alma mater. That revved up fans throughout the course, especially at the finish line, where a chant of "Chico! Chico! Chico!" could be heard as Costales as he reached the finish line on the track in 15:09:16 with his young daughter in his arms.
A Historic Run
Dauwalter and Schide separated themselves from the rest of the women in the field early on and ran together for several miles early in the race. They were still within a minute of each other at the 43.3-mile Last Chance aid station, but that was literally the last chance Schide had at keeping up.
Dauwalter pulled away from that point and ran at a blistering pace that Schide just couldn't match the rest of the way. Dauwalter had a decisive lead over Schide by the time she ran through Foresthill (mile 62) in 10th place overall, and then averaged 9:15 mile-pace over the final 30 miles of the course. She ran the second-fastest split of the day for the 16 miles from Foresthill to Rucky Chucky (mile 78), in 2:10, behind only the 2:07 effort of Evans, and the eighth-fastest split ever (male or female) ever on that section of the course. But Dauwalter only got faster over the final 20 miles of the course to the finish, passing four more men to finish sixth overall.
RELATED: How Courtney Dauwalter Keeps Running Simple
"It looked like she was going to get the record," said race director Craig Thornley. "But to smash it like that? I don't know when that will ever be touched again. I know we say that after every record, but this one is so far out there. It's just an unbelievable effort."
Dauwalter had won the race decisively in 2018 in 17:27:00, one of her first big victories that set her on a path of becoming one of the all-time greats in the sport. But she actually failed in her second try at Western States in 2019, dropping out of the race after 78 miles because of the heat.
"Oh my gosh, it was so much fun, but it was also very difficult," said Dauwalter, after winning the race for the second time.
"It looked like she was going to get the record," said race director Craig Thornley. "But to smash it like that? I don't know when that will ever be touched again."
Prior to the race, Dauwalter was already considered one of the greatest female ultrarunner of all-time. She won the Ultra-Trail du Mont-Blanc in Chamonix, France, in 2019 and 2021, setting a new course-record in her second try there, as well as numerous other domestic and international races, including last summer's Hardrock 100 in Colorado and Diagonale des Fous 170K on Reunion Island, and this year's Transgrancanaria 128K on Las Palmas in the Canary Islands early this year.
Schide was predicted to be Dauwalter's top challenger entering Western States. She won UTMB in 2022 after two top-10 efforts in the previous two editions of the race.
"Honestly, I thought we'd be in a group with all of the other women, and then Courtney and I were with some of the top guys up the big first climb, and I looked back briefly and I didn't see any other girls, and it had been less than an hour, so we kind of went from there," Schide said.
Schide admits she was a bit delirious during the final 20 miles of the race and had to rely on pacer Topher Gaylor to guide her to the finish. Although she faded briefly after the Rucky Chucky river crossing, she was was surprised and inspired to see be greeted by former Western States champions Scott Jurek, a seven-time winner from 1999-2005, and Hal Koerner, a two-time winner in 2007 and 2009, at the 91-mile Pointed Rocks aid station, and that used her rejuvenated energy to also finish under Greenwood's former course record.
Eszter Csillag, a 38-year-old Hungarian runner and mother of two who lives in Hong Kong, was the third women's finisher of the day, in 17:09:20—a time that would have won the women's title at every other Western States 100 except 2012.
Trail Runner will continue to update this story and continue its coverage of the 2023 Western States on social media.