Couple Finds Mystery Photographer That Captured Their NYC Marathon Moment
The power of social media wins again.
Heading out the door? Read this article on the new Outside+ app available now on iOS devices for members! Download the app.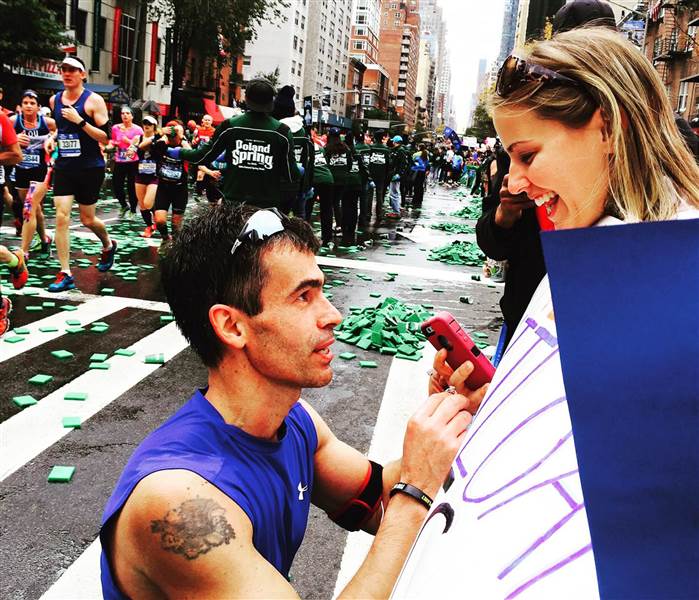 At the New York City Marathon, two runners had the greatest moment of their lives captured on the camera of a mystery photographer. Joe Duarte proposed to girlfriend Katie Mascenik on 77th Street and First Avenue during the race. Photographer Val Ferrara grabbed the moment, right down to the shiny diamond, on her phone. Duarte was running and Mascenik was spectating.
But according to TODAY.com, the planned photo was messed up by Ferrara also snapping the moment and blocking the view. So, as any logical couple would do, they duo took to social media in a desperate search to find the mystery woman who has blocked their planned photo but had captured an even better one. All Mascenik could remember from the whirlwind moment was the women "in the blue spandex" took the photo.
Related: Coach Proposes To Goddess Runner At LA Marathon
"When she called, I was excited because I might finally get my picture [but also] nervous because what if she deleted it or didn't have the perfect shot," said Mascenik.
This past Wednesday, Ferrara reached out and turned over not one, but seven great shots of the moment. According to TODAY.com, she would have shared them sooner, but Mascenik scurried off too quickly, probably to get to that roaring finish line to cheer her soon-to-be hubby through the line.
"My phone had 20 text messages from various friends in Albany, Texas, New York, all over," she said. "People knew I had taken the photo because I had told everyone how awesome it was."
If a stranger caught an important moment of your life on their camera, how would you track them down?