This Collegiate Runner's Post Went Viral For All The Right Reasons
Rachel Schulist shared one of the most vulnerable parts of being a competitive runner—and hundreds applauded.
Heading out the door? Read this article on the new Outside+ app available now on iOS devices for members! Download the app.
Rachel Schulist (@racheleschulist) runs competitively for Michigan State University, and a recent post on her Instagram has everyone applauding her honesty when it comes to competitive running. She posts two photos of herself side by side, the left from the NCAA championships in 2014, the other from the same championships in 2016.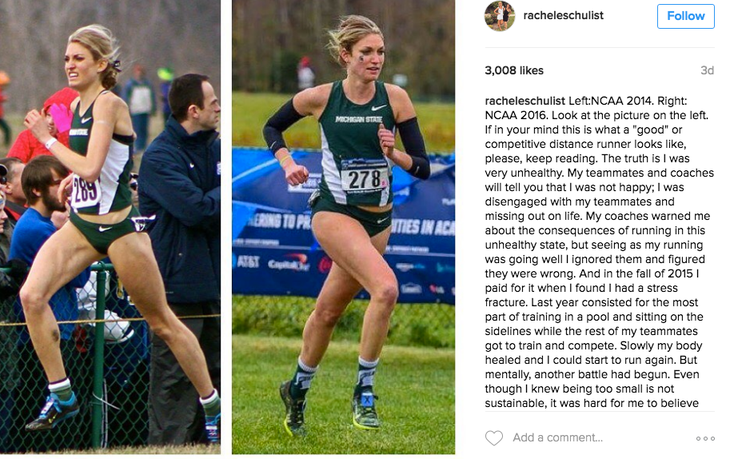 In her caption, she reveals that being a "good distance runner" did not correspond with happiness two years ago:
Look at the picture on the left. If in your mind this is what a "good" or competitive distance runner looks like, please, keep reading. The truth is I was very unhealthy. My teammates and coaches will tell you that I was not happy; I was disengaged with my teammates and missing out on life. My coaches warned me about the consequences of running in this unhealthy state, but seeing as my running was going well I ignored them and figured they were wrong. And in the fall of 2015 I paid for it when I found I had a stress fracture. 
Her caption continues into an honest encounter with her coach, who helped her put a stop to her worries about having to "look" a certain way following her injury recovery:
…My coach could tell from my race plan that I was not mentally engaged and the night before Big Tens called me in to talk. He asked me at what point I was going to draw a line in the sand and put an end to whatever was holding me back from running the way I know I can. So I did. Because the truth is, the idea that you have to look a certain way and be thin to be a fast runner is bullshit. It's a lie that a lot of people in the running community buy into. 
But her final notes, left in the comment section due to length, were what really drove it home for many competitive runners:
Someone may be able to run really well and be successful while being unhealthy for a while, but it is not sustainable. And it is not fun. So I made myself just let go. I let go to the insecurities and lies I was telling myself because I know who I am and what I stand for. And I stand for doing what is right and what is healthy… 
Hundreds of runners, ranging from collegiate, to professional, to retired, gave her comment kudos for her honesty regarding a struggle that so many high school and college-level competitors face but is hardly addressed. We applaud her not only for sharing her journey, but for also being brave enough to let go of the bad stuff.