A Chat with Esther Erb, 2014 U.S. Marathon Champion
Despite a few setbacks, Esther Erb ran a gutsy race to win the championship.
Heading out the door? Read this article on the new Outside+ app available now on iOS devices for members! Download the app.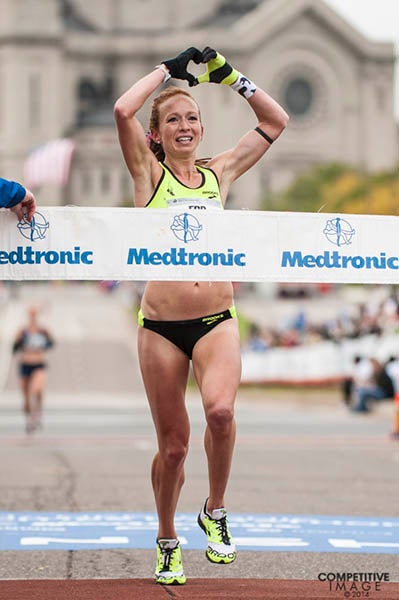 Insomnia, shoe issues and a stop at the port-a-john was not enough to keep 28-year-old Esther Erb from winning the USA Marathon Championship at the Twin Cities Marathon on Sunday morning. Erb, a professional runner for New York Athletic Club and Brooks, as well as a coach at Rider University in Lamberville, N.J., won the event in a time of 2:34:01, only 8 seconds ahead of second-place finisher Heather Lieberg. The win secures her a spot on the starting line at the 2015 World Championships in Beijing.
Knowledge of the course helped guide Erb to her victory. This is the third time she has run Twin Cities. After spending the first half of the race 40 seconds behind leaders Lieberg and Brianna Nelson, she made her move at mile 16. "I knew there was a quick mile at 15 followed by a slower mile at 16," says Erb. "In past years, I have over adjusted on mile 16 to bring it back to the pace I was supposed to be going. This year I decided that mile 16 was my time to go."
After gaining 20 seconds on Lieberg and Nelson, Erb began to face stomach issues. After spending 30 seconds in a port-a-john at mile 20, Erb re-entered the race and used her experience on the long hill from miles 21 to 23 to stay in the race.
"I kept on closing in on them at Summit Hill. I know that hill well. I know how it's hard, but the hardest part about it is looking at your watch and realizing how slow you are running. I just kept on pushing up the hill and made it up faster than my last two times."
When Erb won the 10K at D3 Nationals while at Case Western University, she had been 5 meters behind the leader toward the end. "I remember there was a point in the final straightaway where I thought, 'Why am I here if not to win? How did I come this far not to win.'" She channeled that feeling to catch the leaders in the remaining miles.
Erb's final goal of Twin Cities was to use her strength on downhills to run her last mile faster than 5:35. She took the lead and never looked back. Despite her stop at mile 20, she ran the second half of the race a minute faster than the first half.
Stomach issues were not the only obstacles Erb faced on race day. She also could not get her racing flats from Brooks in time for the race. "I ended up ordering them off of eBay! I won a national championship in shoes I ordered off of eBay. Thankfully someone had my size!"
Insomnia also plagued Erb the night before the race. But a positive attitude helped calm her nerves.
"That was a thing I thought of the night before the race when I couldn't sleep was that tomorrow I'm just going out to do my favorite thing. Running a marathon is my favorite thing to do. There was nothing I would rather do than go run. "
Next up for Erb is USATF Club Cross Country Nationals in December. In the spring, she will hit the track with a focus on lowering her 10K time. Then she will prepare for the marathon at the IAAF World Championships in August, with a tentative goal of finishing in the top 20.
For now Erb is focused on a week of recovery. She's also contemplating a reward for her win: a tattoo. As a music major, Erb says her favorite aria was St. Matthew's Passion by Johann Sebastian Bach. Her planned tattoo will say, "Aus Liebe will mein Heiland sterben," meaning "Out of love my Savior is willing to die."
Erb says, "My major focus in life is to do everything out of love, not out of hate, not out of spite or contemp. I hope that shows in the way that I run. It really makes my day when anyone notices that I am smiling from start to finish."