Which Celebrity Runner Are You?
Want to know which celebrity runner you are most like? Take this quiz to find out if you're more Oprah Winfrey or Will Ferrell.
Heading out the door? Read this article on the new Outside+ app available now on iOS devices for members! Download the app.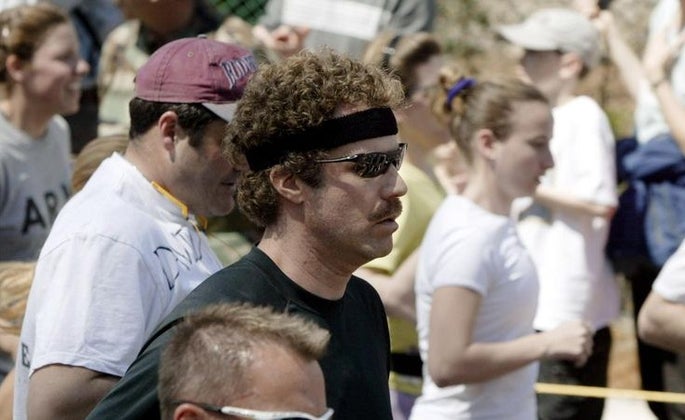 Have you every wondered what celebrity runner you're most like? Now, you'll finally have the answer. Choose the description that best matches your runner personality—and find out which celebrity it matches below!
The Descriptions
1. You're the runner most likely to crack a joke or go streaking. You might not know what to do with your hands, but you're dedicated to the sport.
2. You run because you practice yoga, and you practice yoga because you run. While you've been known to Walk the Line, you'd rather run Wild.
3. You've been through some changes in your life. In high school, you were a popular jock and your best friend was always carrying around a big brick phone.
4. Running isn't your first love. You came to the sport by way of another activity, but it turns out, running is a real ace.
5. You're known for your explosive temper. A post-race meal with you is like being in Hell's Kitchen.
6. You're so well known, people base their marathon goals on beating you. For you, running is about finishing.
7. You're a runner with swagger. You might hit the road with dark shades or a shiny shirt.
8. Being healthy and active are very important to you. Isn't it ironic how much you love running?
9. Running helped you shed serious pounds and get out of Cleveland.
10. You aren't new to the running game. It's been part of your life since childhood. You're running routes usually include a view of Russia.
Did you pick a number? Good, now go ahead and find your celeb!
The Celebrities
1. Will Ferrell—The SNL alum and iconic comedic actor runs four-to-six miles every other day and has completed three marathons.
2. Reese Witherspoon—The Academy Award winner balances her busy schedule with one to three yoga sessions and three-to-four runs a week.
3. Mario Lopez—The current host of Extra and former star of Saved by the Bell is a long time runner, who stays fit by hitting the gym and running with a stroller.
4. Caroline Wozniacki—The former WTA (Women's Tennis Association) No. 1 ranked player ran her first marathon, the New York City Marathon in 3:26:33.
5. Gordon Ramsay—The celebrity chef with a reputation for a hot temper is an avid marathoner. He's even completed and Ironman triathlon.
6. Oprah Winfrey—The media mogul completed the Marine Corps Marathon in 1994. Celebrities still try to finish ahead of the Oprah Line, her 4-hour-and-29-minute finishing time.
7. Sean Combs—The hip hop producer and rapper tackled the New York City Marathon in 2003. He finished in 4:14:56 and raised $2 million for New York schools.
8. Alanis Morissette—One of the 90s most popular songstresses calls kale her best friend, practices yoga and runs regularly.
9. Drew Carey—The svelte host of The Price is Right was once the portly star of the Drew Carey Show. He lost more than 80 pounds by running and cutting back the carbs.
10. Sarah Palin—The former vice presidential candidate and governor of Alaska grew up running, thanks to her track coach father.