Brooks Wants To Create The Perfect Runner Emoji
Because we all know a little man in jeans and a polo shirt is not an appropriate runner emoji.
Heading out the door? Read this article on the new Outside+ app available now on iOS devices for members! Download the app.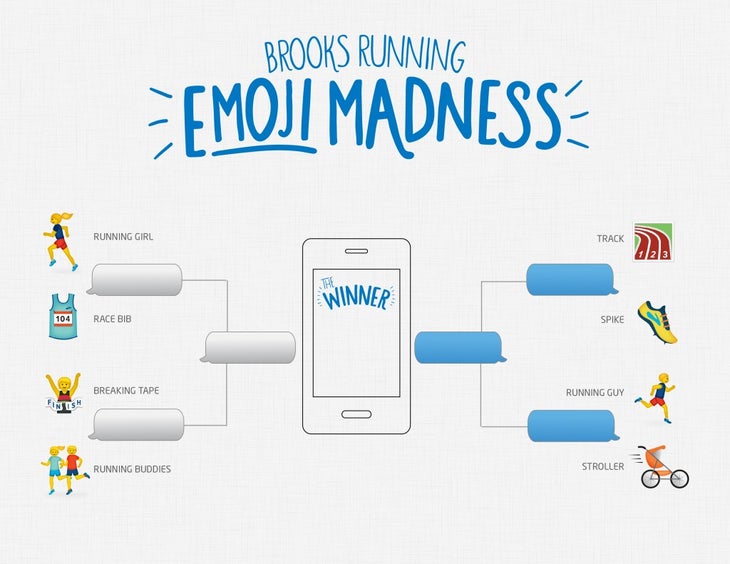 Don't lie—switching over to that emoji keyboard is something you do daily, whether you admit it or not. And as you've probably noticed, there's only one kind-of runner emoji—and it doesn't have a female option, nor does it have the person wearing actual running clothes. Texting/Instagram/Twitter fail.
Brooks Running wants to change that. In their continued quest to help everyone run happy and "represent the truth and joy of running," they created a March Madness-esque bracket—an Emoji Madness, if you will—to track votes for the winning choice on their blog. (Because let's face it—most of our real MM brackets are busted already. [Insert poop emoji.])
Runners can participate on Twitter for their favorite pick starting on Saturday in an "elite 8" type round of voting. Once the final voting is done, yes—Brooks will be requesting that the first-place emoji be added to keyboards everywhere.
So whether you're sulking about your real brackets, pissed off while typing a #runchat tweet without an accurate symbol to use or just want to participate in a cheesy, creative and definitely fun contest, cast your vote starting on this weekend!
Even if you don't, we all know that the winner will be the most-clicked emoji when posting those #runspiration pictures.