Boston Marathon Wellesley Kissing Mystery Finally Solved
Barbara Tatge tried a new twist on an old tradition and the results were surprising.
Heading out the door? Read this article on the new Outside+ app available now on iOS devices for members! Download the app.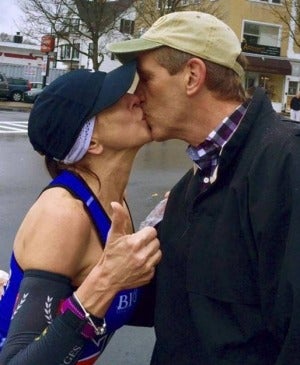 While running the Boston Marathon last month, Barbara Tatge decided to put a new spin on an old tradition. On a dare from her daughter Paige, she kissed a random man as she ran through Wellesley, a reverse of male runners kissing female coeds. However after the race, she had a nagging feeling that she should have gotten her mystery man's name.
Tatge and her daughter used social media to attempt to find the kisser's identity, which ended up going viral. When she finally got an answer, it was unexpected. Instead of hearing from the mystery man, she received a letter from his wife, who was also running the marathon.
The couple requested to remain anonymous but did respond to Tatge. "When this story aired on the news, we were pretty surprised," the wife wrote. "For me, I'm not mad. Believe me, our friends have gotten a lot of mileage out of this story and I have thoroughly enjoyed watching them give my husband grief!"
Tatge said that the man's wife was "a great sport, and he's fortunate to be married to someone like her." As for the media attention, Tatge wishes it would quietly go away for now. "In all sincerity, I apologize if the media firestorm has caused him any discomfort."
Tatge is planning on trying to qualify for Boston in 2017. And she says that next time, "I will revert to only kissing single men…"