BOLDERBoulder Returns on Memorial Day to a Community That Needs It
The iconic road race brings with it a sense of hope.
Photo: Helen H. Richardson/MediaNews Group/The Denver Post via Getty Images
Heading out the door? Read this article on the new Outside+ app available now on iOS devices for members! Download the app.
As one of the more attainable road race distances, there's no shortage of 10Ks in the U.S. In 2021, there were 6,142 events across the country—a 31 percent increase from 2019, before the pandemic wreaked havoc on in-person events, according to an annual industry report from RunSignup. But few are as well-known as BOLDERBoulder, which returns to Boulder, Colorado, this weekend after a two-year hiatus.
"BOLDERBoulder is our city's Boston Marathon," says Ric Rojas, who won the inaugural race in 1979—beating out Frank Shorter, another Boulder local who became the first American in 64 years to win the Olympic marathon in 1972. Fun fact: Rojas' daughter Nell, the top American woman at the last two Boston Marathons, won the BOLDERBoulder female citizen's wave title in 2019, the last time the race was held.
And like the return of the Boston Marathon, the 2022 BOLDERBoulder race promises to be especially meaningful. "After what this community has gone through in the past two years—the shooting at King Soopers, the horrible fires, the pandemic—it's going to be a really healing moment," says Kara Goucher, who volunteered at BOLDERBoulder as a University of Colorado Boulder student and ran the 2019 race with her family. "We've all been doing our best to keep our distance and follow protocols, so to be alongside thousands of people doing what they love and thousands of people cheering them on is really exciting."
RELATED: Kara Goucher's Advice to Her Younger Self: "Believe in Your Power"
The "BOLDER" part of the race name is meant to connote strength, says race director Cliff Bosley, whose father Steve founded the event (Cliff also ran the 1979 race, when he was just 12). "It conveys the pride in how people view Boulder," he says. "There's a crazy high percentage of people who do endurance sports here," adds Rojas. "So 'bolder' is quite reflective of the community in general. People don't hold back here, they really go for it."
The term is especially apt this year. "When life is so heavy, it's bold to stand up and reclaim some happiness," says Goucher. "We see Boulder Strong signs all over town, but I really feel like Boulder has proven its strength in the last couple of years—people have been there for each other, mourned with each other, and lifted each other up. They're survivors."
It's that sense of community that has turned BOLDERBoulder into a destination race with a reputation of one of the largest and most respected community running events in the world. "In the early years, the race was just about locals—Ric was local, Frank was local," says Bosley. "There were just a ton of really fast men and women who came here to train together." Back in 1979, there were only around 2,200 runners; in recent years, says Bosley, more than 50,000 people from all over the world come to run BOLDERBoulder.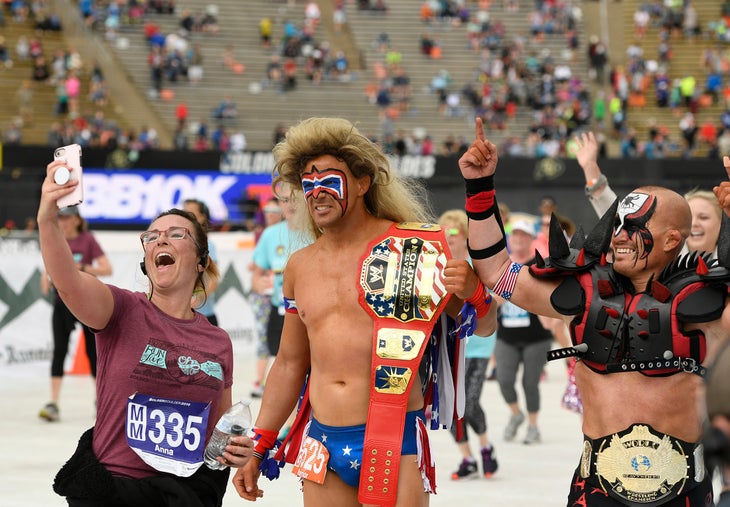 And some of those runners are the most recognizable names in the sport, who will be vying for one of the largest non-marathon prize purses in the world (more than $166,300 is allocated for the athletes). The pro race includes big names like local favorite Nell Rojas, who returns to compete against Olympian Aliphine Tuliamuk, Puma athlete and Boulder resident Sara Vaughn, ASICS athlete Makenna Myler, and more.
Myler, who will be racing her first BOLDERBOULDER, was drawn to the race because of its reputation, in terms of difficulty and community. "I gravitate toward challenges and I think it's going to be fun not to race for time, but for the purity of racing—in that everyone is experiencing that same toughness," says Myler. "And hearing that feedback from other elite runners, that it's kind of almost like the Olympics with the way the crowd cheers you on."
One unique aspect is that the professional races don't start until after the rest of the waves, which allows non-elite runners to cross the finish line at the University of Colorado's Folsom Field and settle into the stadium seats to watch the pros do what they do best. (Another fun fact: BOULDERBoulder actually pioneered wave starts in 1983.) "Knowing that all the amateur runners—who just experienced the same thing you're doing—will be waiting in the stadium for us sounds awesome to me," says Myler. "That sense of community has always spurred me on in running."
RELATED: 3 Pro Runners and the Fast Women Who Raised Them
But, above all, BOLDERBoulder is a celebration. "It's the unofficial kickoff to summer, and whether you race or run or jog or walk or some variation of all four, it's meant to be fun," says Bosley. There's no shortage of costumes, and a slip 'n' slide on Cedar Street has become an iconic part of the course. "It's part of the culture of the city," says Goucher. "If you're not running it, you're cheering at your favorite spot or going to the stadium. It's a really pure, wholesome experience."
This year also marks the 40th anniversary of Frank Shorter's Olympic gold medal, and Shorter himself will be on the starter platform, firing the starting pistol 85 times (once for each wave), says Bosley. And, "in the stadium, we host a Memorial Day tribute that features a 21-gun salute, Color Guard, the playing of Taps, a fly-over by the Colorado Air National Guard, and an exhibition from the Mile-Hi Sky Diving Team," he adds.
No matter how Boulder residents plan to participate, Monday's race will be a welcome return to in-person events. "I think it's just so important to keep showing up as a community," says Myler. "Events like this bring hope to people." "For a lot of us, running is the way we feel strong," adds Goucher. "The energy of that, being able to celebrate with so many others, we've missed that. We've lost a lot the last few years, but we haven't lost our community."