My Biggest Fan: Debbie LaFond
From racing cars to losing weight, Debbie LaFond's family from Eastlake, Ohio, is an unbeatable team.
Heading out the door? Read this article on the new Outside+ app available now on iOS devices for members! Download the app.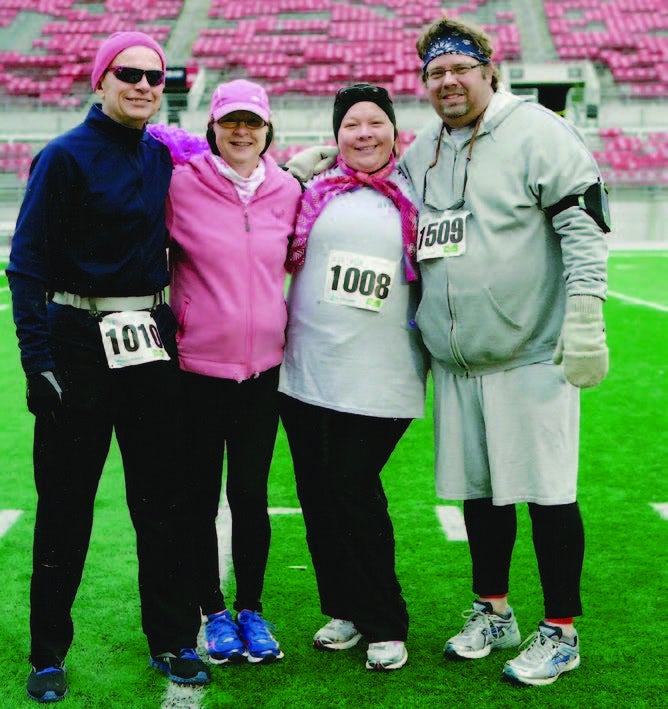 Six year ago my husband, Maurice, started walking and then running with me. Together we lost 120 pounds (80 for him, 40 for me), and we have kept the weight off. We began our journey running 5Ks for charity, and now I train for half marathons and Maurice trains for fulls. We often race separately, but no matter who finishes first, one of us always comes back and runs with the other to the finish.
But long before I started running, I had a passion for another sort of racing: sports cars! Maurice always served as my crew chief and Beth, my daughter, crewed for me as well. During my 30-year stint, I was always the odd girl out—less than half of 1 percent of racers were female. It was tough to be in the minority, but it was fun to beat the guys.
I think that the transition to running was easier than I had anticipated, because the years of racing cars gave me a mental edge. Also, I was already lifting weights and practicing yoga as part of my training. I still love to participate in car races with my family. We crew or official, and at the end of the day we run around the track.
When I decided to run my first half marathon last year, two days after my 57th birthday, Maurice offered to pace me. This was a true test of our running-partner relationship! Emotions run high when you're at your limit, and he was focused on helping me meet my goal of finishing under 2:30. (Maybe a little too focused when I had to stop to use the bathroom—when I came out he told me I had 7 minutes to make up. Really!) But I was grateful for his discipline when I made it in 2:25.
Beth gave me such a huge, smothering hug in celebration of my accomplishment that I felt like I couldn't breathe. I ended up going to medical for cautionary reasons! We had a big laugh about it later.
This past spring, Beth decided to jump on the family bandwagon to take up walking. She's now running three days a week through the Couch-to-5K app and has lost almost 45 pounds. I love my two biggest fans—and I'm their biggest fan too. Without their efforts and support, we wouldn't be the healthier and happier family that we are today.
Who's your biggest fan? Email your submission to editorial@womensrunning.com! Featured submissions win some sweet WR swag and a free subscription (or renewal) for you and your fan!