How The Big Sur Marathon Served More Than 5,000 Kids
The event was the largest kids event in race history—outshining the actual marathon numbers!
Heading out the door? Read this article on the new Outside+ app available now on iOS devices for members! Download the app.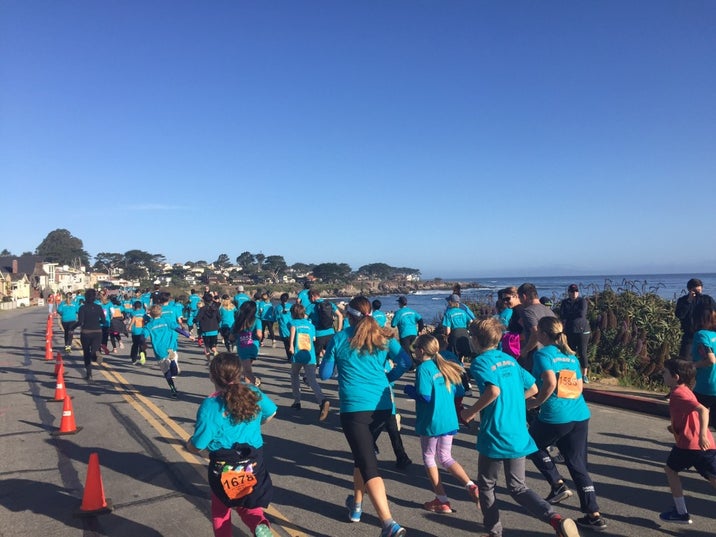 Big Sur International Marathon (BSIM) is known for many things: a stunning and challenging course, the on-course baby grand piano, Bixby Bridge, to name a few. Even with all its charm and challenges, the Big Sur Marathon main event isn't the biggest—that label goes to the By the Bay 3K the Saturday before BSIM. The ninth running of the youth-centric event drew more than 5,400 runners this past Saturday—to compare, the marathon has 4,500 registered runners—making it the largest kids' event in Big Sur history. Race organizers credit the cash prizes and tradition with the growth of the event.
The event, which is a goal race for students participating in Big Sur's JUST RUN program, begins and ends overlooking the Pacific Ocean in Lovers Point Park in Pacific Grove, Calif. Racers, representing 44 different Monterey County elementary and middle schools, went off in five color-coded waves—with a focus on fun over fast.
Related: How To Include Your Family In Your Runner Life
"I like being able to run with family and friends, without being pressured to come in first," says 13-year-old Ruksheen Kasad from Seaside, who has run this event since she was in kindergarten and also runs track and field.
JUST RUN is a free youth fitness program developed by BSIM. It promotes exercise, running, good citizenship and healthy eating. Kasad, a participant in the program, said she also planned to volunteer at the Marathon on Sunday.
This school year, 13,500 students from 19 states participated in JUST RUN and have logged 390,000 miles. Recent the program, which was recognized as National Youth Program of the Year by Running USA in 2015, reached three million miles run since the program was started in 2004.
"Running the By the Bay 3K gives children a sense of pride and accomplishment," says JUST RUN director Susan Love. "Big Sur International Marathon developed this program to instill a lifelong love of running in kids. We are making a difference step by step."
Local students, families and teachers have a friendly competition to see which Monterey County schools have the highest number of participants and percentage of participants. Winning schools can earn as much as $1,500 in prize money.
Related: Another Mother Runner Launches Training Club
"Our P.E. teacher really encourages us to run," says 13-year-old Adrienne Wood, a classmate and teammate of Kasad's at the International School of Monterey. "Our school usually wins. We have more than 400 kids here, that's most of our school!"
A cash purse of $13,800 was awarded to 20 schools represented at the By the Bay 3K, including the International School of Monterey, Wood and Kasad's school, who won for highest percentage of participants for schools with 375 students or more.
Since this is the first race ever for many participants, each wave gets a pre-race talk with helpful tips and fun reminders. The advice is a good reminder for all runners:
1. Run in a straight line, not a wiggly line.
2. Run on the right and pass on the left, just like cars.
3. Celebrate at the finish line because this is fun!
4. Start slow.
5. High fives are encouraged.
All racers receive a race T-shirt and wear them on race day, which made for an impressive display of bright blue shirts set against the ocean view back drop. Participants, some as young as 4 years old, also get a finisher's medal, water, snacks and plenty of kudos. And just in case parents and children become separated, there is a "Lost Parents" zone in the staging area.
To learn more or register for the 2017 event, go to bsim.org. You can learn about JUST RUN at justrun.org.