Why Bentonville, Arkansas Is The Perfect Weekend Getaway For Runners
With great trails and even better food, this small midwest town is a haven for outdoor enthusiasts.
Heading out the door? Read this article on the new Outside+ app available now on iOS devices for members! Download the app.
Pack your running shoes—we're headed to Arkansas.
Quaint and quiet, the small-town Bentonville, Arkansas, with a population of 50,000 people, has recently become quite the popular outdoor destination. According to data from STR, a global analytics hospitality company, hotels in the Fayetteville/Bentonville metro area have gained 64 percent in revenue per available rooms from 2011 to 2016—and it's still growing.
Still questioning why Bentonville, Arkansas? Outside Magazine recently included the destination on its list of the top 25 best towns, citing the mountain biking scene, trails and advocacy.
Here are some of the top reasons to visit Bentonville for a weekend getaway.
Running Trails
Whether you're looking for paved paths or uneven terrain, Bentonville's running scene has it all. The trails are breathtaking, especially in the autumn. Single track trails are lined with trees, autumn leaves and wildlife.
During my stay, Altra Running Shoes and Rush Running took me out to Blowing Springs Park for a scenic 10K run. The single-track Blowing Springs trail was well marked and offered plenty of rolling hills. For beautiful lake views and even more inclines, head to Lake Bella Vista Park, where runners will find trails for miles. Pop into a Rush Running store for running guides or to take part in one of their run groups. Check out some of their events to turn your trip into a race destination.

Outdoor Adventures
If you're up for some biking, you're in the right place. Hop on two wheels to tour the area. Whether you want a short or long ride, Bentonville offers something for every cyclist. Here are a few options:
If biking isn't your thing, you can hop on these trails for a nice hike. The Ozark Mountains of Northwest Arkansas is another great destination for outdoor fun. Fishing is also extremely popular in the area, especially on Beaver Lake and on the White River below Beaver Dam.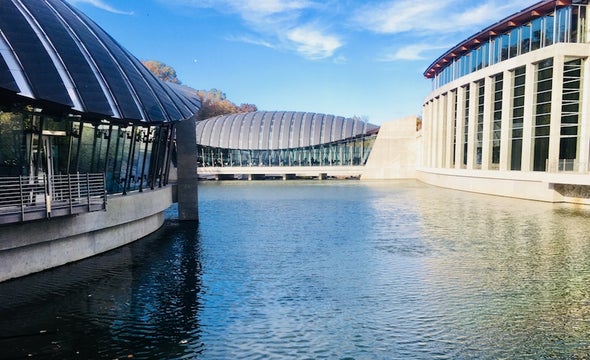 Must-See Spots in Bentonville
There is more than running and biking in Bentonville. So, after your exercise, head downtown for the day.
Check out the Crystal Bridges Art Museum. Founded by the Walton Family Foundation and open to the public November 11, 2011, this American art museum is home to incredible paintings, photography, sculptures and more, all surrounded by lush landscape and lake views. Even the building itself is eye-catching. The museum offers walking trails from its 120-acre park to downtown Bentonville.
From the museum, walk to the downtown square, which is home to cute boutique shops and bustling restaurants. Choose from traditional Southern cuisine to farm-to-table dishes; you won't go hungry here. If you love beer, then stop by Bentonville's first brewey, the Bike Rack Brewery. The atmosphere is laid back with live music, great food and plenty of good beer to choose from. Be sure to check out the food trucks just steps away from the brewery (you can bring the food inside).
The Kind Kitchen, which was voted Best Vegetarian for Northwest Arkansas, offers organic dishes and healthy juices. We got a vegetarian burrito and fried pickles, which I was pleased to discover were not heavily fried, yet was loaded with flavor! Warning—you'll probably have to wait in a line, but it's worth it.
For a nice, sit-down dinner, try The Hive in the 21C Museum Hotel. The chef has redefined country cooking. Comfort food is typically heavy, but his dishes are light and tasty. Everything is seasonal and fresh. A popular appetizer is the perfectly cooked 25-minute egg—you'll be glad you ordered it. Don't forget to save room for desert, or try the free cotton candy that is delivered with your check. After eating, walk around the hotel and admire the complimentary contemporary art museum.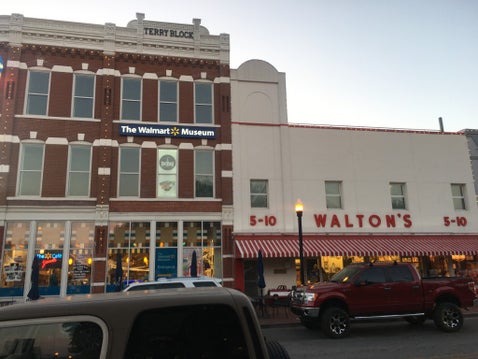 Finally, head over to The Walmart Museum. Home to the Walmart Headquarters, the Walton Family did a wonderful job developing Bentonville into a lively place to visit and live. The Walton's 5 & 10 shop will make you feel like you've stepped back into the 50's. Next, journey to the start of Walmart to see the first products sold, discover how the business developed, and find out what the company is doing to give back today. Give yourself about 30 to 60 minutes to walk around. Finish your tour in the Spark Café, where you can treat yourself to an ice cream cone or milkshake. Admission is free.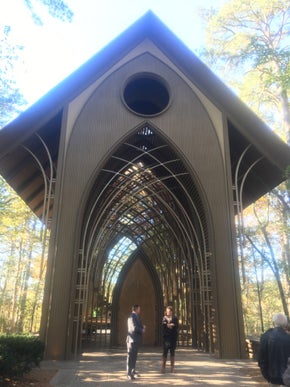 If you're up for a 10- to 15-minute drive, check out the Mildred B. Cooper Chapel. It's on a hilltop overlooking Lake Norwood surrounded by beautiful walking trails. The Gothic-style chapel, constructed with 15 arches, towers 50 feet high. The structure is transparent, so it offers stunning patterns of light and shadows. After admiring the architecture, drive another 10 minutes to the Missouri state line. Nothing fancy here but you can say that you stepped into another state while enjoying your trip to Arkansas.