She's Totally Having A Beautiful Love Affair With Running
Sorry, triathlon, her real love is for running.
Heading out the door? Read this article on the new Outside+ app available now on iOS devices for members! Download the app.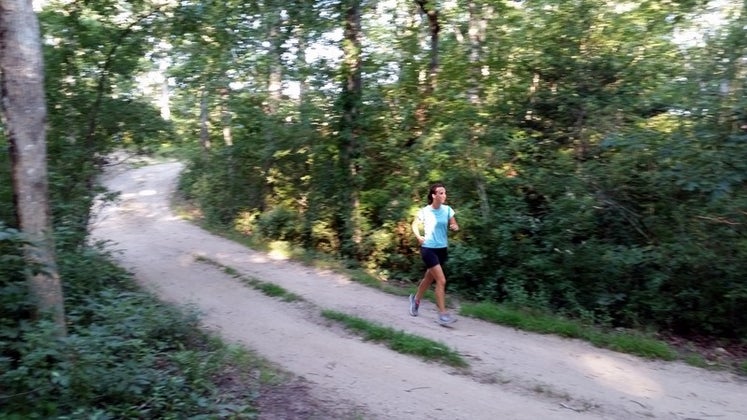 This summer, I got around.
In ponds, forests and public places.
As a marathoner in my 20s, I was fond of long, slow runs and proud of needing only an old pair of sneakers to find my happy place. But with the responsibilities of my 30s, I found myself barely running 26.2 miles per month. This spring, when I saw the announcement for my hometown's sprint triathlon, I signed up, feeling moved to cross something off my bucket list and excited about cross-training outdoors all summer.
My weekly ritual begins with a rendezvous at dawn. My girlfriend and I hop a fence, hike through a serene nature preserve and become the first humans of the day—it actually feels like ever—to experience Ice House Pond. Heads down, we glide across a scene that would bring Annie Dillard to tears. A tall grove of pitch pines looks on while we pull, breathe and kick our way through the fresh water.  Afterward, we float belly-up in post-workout bliss listening and searching for catbirds and ospreys. But, we can't ignore the call to return to our own nests where our young are waiting.
RELATED: One Runner's Crazy Life Adventure To Find Her Love For Running
When my neighbor's roosters sound more like fire alarms, I head out at first light and try to remember how to ride a bike again. My course is hilly and quiet, except for a bunny that darts in front, nearly causing a major calamity. Cycling to a bakery the next town over so I can surprise my family with cinnamon muffins is a high point. But, by the end of July, although I've still not crashed, I have somehow damaged all three bikes I've borrowed. I'm left wondering about a sport that has me bringing my cellphone along, makes my arms fall asleep and has yet to bless me with its promised sexy biker's legs.
On foot, though, it's all so natural. I don't fear downhills. I can take in a sunrise as it changes from a shy peek to an all-out bear hug. Cantering along a straightaway, I can (safely) become entranced with its powerful colors, its champagnes and ochers that change faster than the moods of my passionate toddler. I stop to pick up lucky pennies and sample the season's first blackberries. During a beach run, deer surprise me. Trash found at the shoreline comes home with me. My usual route can't bore me; conservation trails and private dirt roads beckon around almost every turn. When my head is above water, anything is possible; while jogging through a frost bottom, a cool fog bank envelops my entire being in magical, misty mystique.
But, perhaps even more than the pleasure I glean from running is that satisfying feeling I have afterward, which beats any spa treatment. My lungs are refreshed, my head is clear, my muscles pulse and my pores cleanse.
RELATED: Falling In And Out Of Love With Running
After a few weeks of triathlon training, I realize the swims and rides are just a refreshing detour, returning me to my devotion to running. When I click on the gray "submit" box, officially registering for a local half marathon, I am relieved. I let go of the long bike-run workouts and thrust myself into my beloved weekly 8-miler, assured a heavier running schedule will still lead me to the finish line of both races.
Cross-training can be a beautiful and juicy affair, but the thing is, I am no hussy. Running, you had me at hello.