The #1 Reason To Run A Marathon Or Half
If you need some inspiration, read this story.
Heading out the door? Read this article on the new Outside+ app available now on iOS devices for members! Download the app.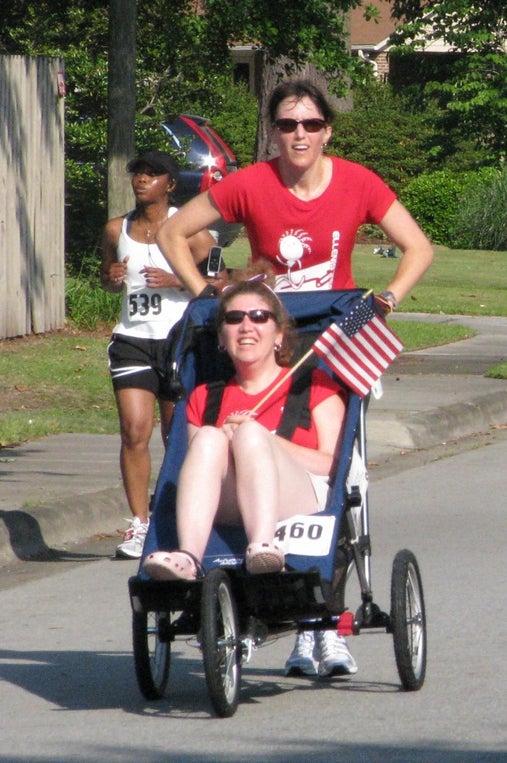 Because there are people who want to, and simply can't.
Like most of us, you probably never think twice about the ability to physically run. It's a relatively inexpensive way to work out, you don't have to pay for a babysitter (just a stroller), and you can do it almost anywhere. But have you ever considered if a day came when someone said you weren't able to run again? The loss of independence would be pretty infuriating, right? On top of that, what if you couldn't walk, dress yourself, brush your own hair or feed yourself…and your life expectancy was also shrunk down to 5 years or less.
In 2001, a young woman received news in a Boston hospital that the mysterious symptoms she had been suffering, to an increasing degree for months, were not a fixable problem. She had ALS, arguably the worst diagnosis a person can get, one without a cure. She was an active-duty nurse in the Navy who had been an outstanding athlete in high school and college.  She and her husband reveled in the outdoors and shared an active lifestyle. Then it all began to change.
Her name is Ellen Corindia, and 14 years later, she's doing better than an average patient would be with the disease, thriving with an indomitable spirit and a relentless ability to overcome adversity. Yes, she is in a wheelchair and uses a computer to speak, but she hasn't let ALS stop her from continuing to travel the world, being an unstoppable advocate, or just plain having fun. As Ellen often says, "She isn't living with ALS, ALS is living with her!"
On any given day Ellen can be found skiing with her boyfriend, Leif, giving a motivational speech to a local high school, or traveling across the country to attend fundraisers for her friend, Augie Nieto, founder of Life Fitness and 21-time marathon finisher before he was diagnosed with ALS himself 11 years ago. He is now the inspiration and face behind Augie's Quest, a nonprofit aimed at raising awareness and funds for the debilitating disease. Because of her friendship with Augie and her connection to the cause, Ellen will complete a half marathon this October—Rock 'n' Roll Brooklyn—pushed her Uncle Bill, boyfriend Leif, cousin Elizabeth and sister Jennifer, all of who are raising funds for the case. Their team?  "Pushing Ellen Team."—a perfect name.
Find out more about and get involved with Augie's Quest, which has an army of more than 225 runners training and is adding new runners each day, bringing us closer to a cure for ALS.