She Conquered A Marathon After A Debilitating Stroke
Kathy Nguyen ran the LA Marathon with the amazing medical team who saved her life.
Heading out the door? Read this article on the new Outside+ app available now on iOS devices for members! Download the app.
A former patient at the University of Southern California (USC) Comprehensive Stroke and Cerebrovascular Center at Keck Medicine of USC ran in the Skechers Performance Los Angeles Marathon last weekend. She crossed the finish line, accompanied by the treatment team that saved her life, in a time of 4 hours, 40 minutes, 20 seconds.
Prior to her stroke, Kathy Nguyen, a 41-year-old wife and mother of two, was in excellent shape. The former cardio kickboxing instructor had nine marathons and an IRONMAN triathlon under her belt. In March 2015, Nguyen was visiting family in her hometown of La Puente, Calif. when she started experiencing debilitating headaches and a dry cough that she attributed to feeling under the weather. She collapsed at a family brunch and was taken via ambulance to a local emergency room.
After performing a CAT scan, hospital staff initially ruled Nguyen's unconscious state as a bid for attention. Nguyen's husband insisted on a second opinion from a radiologist, who confirmed that Nguyen had suffered from serious bleeding in and around her brain. Nguyen required life support and an external ventricular drain was placed to relieve pressure inside her head, but doctors could not determine the source of the bleed.
"By this time, the bleed was so severe that the neurosurgeon told my family I would be lucky to wake up," Nguyen recounted. "Even if I did wake up, there was no guarantee I would ever be able to walk or even speak again."
Nguyen was transferred to Keck Medical Center of USC for evaluation by their comprehensive cerebrovascular stroke team. Upon arriving at Keck Medical Center, she received another CAT scan that helped William Mack, MD, associate professor of Neurological Surgery, find the aneurysm that caused the bleed. He quickly recognized the complexity of the problem.
Related: One Runner's Account Of Racing After A Stroke
"There was a ruptured aneurysm that involved the entire left vertebral artery, including the posterior inferior cerebellar artery (PICA), which provides blood to part of the patient's brainstem," said Jonathan Russin, MD, associate surgical director at the USC Neurorestoration Center. "Cutting off the blood supply to the artery would also cut off blood to the brainstem, leading to brain damage or even death. "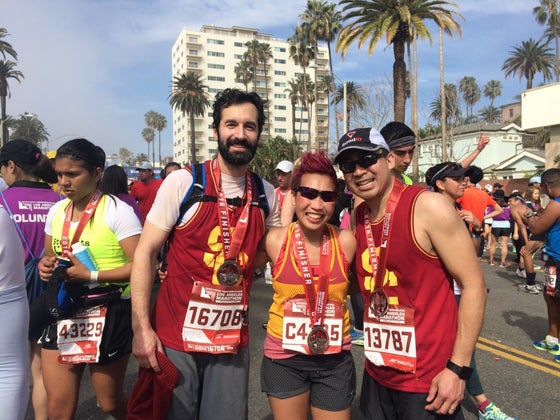 Russin helped save Nguyen's life with a PICA-PICA bypass, which involves suturing the right and left PICAs together in order to ensure proper blood flow to the brainstem while preventing additional bleeding from the aneurysm. The USC Comprehensive Stroke and Cerebrovascular Center is one of a handful of centers in the country that can perform this rare procedure. Immediately following the bypass, Mack and his team blocked the vertebral artery and the aneurysm through endovascular coiling.
On Friday, March 13, Nguyen woke up. "Friday the 13th has always been my lucky day," she said. "My twins were born on that day."
Over the next two weeks, Nguyen made a remarkable recovery under the watchful eye of her treatment team. Nurses were available around the clock to assist Kathy with everything from comfort and support to basic mobility. Nguyen also had access to a speech therapist, occupational therapist and physical therapist who all contributed her cohesive treatment and overall wellness.
"Kathy's motivation and commitment to physical fitness enabled her to engage in high-intensity activities soon after her surgery," said Cherise Lathan, PT, DPT, physical therapist at Keck Medical Center. "There are not many patients that I can push to do circuit training after a stroke. But her spirit inspired me to push myself and join her for her comeback race."
While Nguyen lost much of her former strength after her stroke, she was determined to race again. "When I was a fitness instructor, I would always tell my students to give every class their all and leave with no regrets," she said. "That's how I want to live my life. I knew I wanted to run another marathon."
In a gesture of gratitude, Nguyen is raising money for the USC Comprehensive Stroke and Cerebrovascular Center. "In addition to raising awareness for brain aneurysm research, I wanted thank my treatment team, especially all the nurses at 7 South ICU. I would not be here today if it were not for them. Having elderly parents, I have dealt with medical staff many times in the past, and nothing has compared to how well I was treated at Keck."
As a testament to the bonds she established in her time at Keck Medical Center, a few members of Nguyen's treatment team joined her for at least a portion of the marathon. Joseph Hendrix, physician assistant at the neurosciences clinic, Lathan and Russin accompanied her for the entire distance.
The marathon was Russin's first. "She initially asked me to run the last mile with her," he said. "But if she can run a marathon after recovering from complex brain surgery, then I want to be there for every step."
Related: One Runner Is Fighting To Make The World Safer For Every Mother