How Running Saved Actress Lyndie Greenwood's Life
Even on 16-hour set days, actress Lyndie Greenwood likes to start the morning by getting in 4 miles.
Heading out the door? Read this article on the new Outside+ app available now on iOS devices for members! Download the app.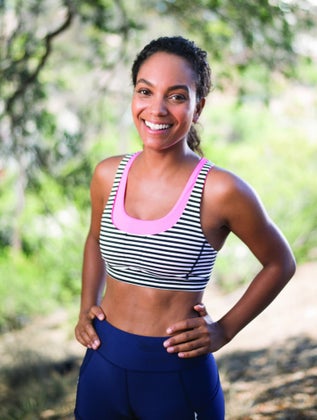 Like her character on Fox's "Sleepy Hollow," actress Lyndie Greenwood has overcome personal challenges.
"Lyndie the runner is probably the strongest version of myself—the most focused, the most capable," says Greenwood. "Jenny Mills is, as much as she's got a chip on her shoulder, very smart, very intelligent and a survivor. And I think I'm a survivor."
The 32-year-old actress, who plays Jenny on the popular television series, says her love for running influences her acting. However, the Toronto native, who relocated to Atlanta for filming, wasn't always into fitness. As she explains it, running saved her life from some bad habits she was trying to break.
"When I first started, it was sort of just me," explains Greenwood, who's been running for eight years now and averages 4 miles a day. "I woke up and thought I needed to change my lifestyle a bit. I can't really explain it; it was kind of like Forrest Gump."
After spending much of her early 20s bartending and living the "party life," Greenwood impulsively decided to lace up to reverse her habits, something she says keeps her level.
Related: Behind The Scenes Of Our Cover Shoot With Lyndie Greenwood
"I'm in a better mood, I'm more grounded, I'm more aware," says Greenwood, who always tries to start her morning with a run, even on 16-hour set days. "But if I have to sacrifice too much sleep to get a run in, then I'll skip the run. Your body needs sleep."
Growing up in Canada, Greenwood remembers her parents always being active, but it was her cousin, a former aspiring Olympian, who stands out in her memory.
"I remember seeing her at this track meet. All these girls started together, then this one girl took off and passed them all. She left them all in the dust."
Although Greenwood wouldn't pick up running until years later, she's glad she finally flipped the switch. "Running makes me a healthier person overall. The industry can be emotionally taxing, so running really keeps me grounded," she explains. "I'm grateful for my previous bartending and wild partying years that led me to running."
Greenwood admits that she is not immune to the pressures Hollywood—or society in general—places on women. But she does recognize the positive shift toward a better body image.
"We aren't in the same industry we were once in," she explains. "Women are taking that power back and saying, 'You know what? I'm not going to be hungry all the time anymore.'"
Greenwood laughs as she shares her own philosophy on really being happy in life. "I know I've been skinnier and less active and felt way crappier about myself. I also really love food, and I've reached the conclusion that I'm going to eat. I'm an eater, so I'm going to eat. I work out as much as I can, I eat and this is what you get. Take it or leave it."
Related: This Is How One Actress Does A Million Workouts