A Runner's Thoughts When Getting Back Into It
We've all had these thoughts on our first run back after an extended break.
Heading out the door? Read this article on the new Outside+ app available now on iOS devices for members! Download the app.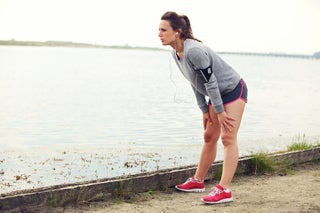 It happens to the best of us—no matter how easy it is to lace up your sneakers, it's always easier to just put on your slippers. Before you know it, you've taken a leave of absence from your usual running routine.  While it feels pretty great to kick back with some Netflix and pizza at first, eventually you'll realize that you know all the words to "Pinot Noir," and the delivery guy greets you by your first name. Finally you recommit to exercise and haul yourself off that couch, ready to run like the wind! Or you've been sidelined by injury for months and finally got your doctor's blessing to lace up after some long stationary months—you're ready to get that PR! That is, until you take those first couple strides. Then the positive thoughts start to shift and look like this:
Before
Ok, I have officially fallen off the metaphorical treadmill—I haven't seen the real deal in a while. I swear I was just training for that half marathon last week, but I guess that was more last year. In my defense, work has been really busy, and you know—winter. But spring has sprung, and it's time to get back out there. This is going to feel amazing!
Sneakers laced, water bottle filled, playlist perfected. I can feel the runner's high already. Just gotta put one foot in front of the other. Totally doable.
During
How? How can it be this hard to literally put one foot in front of the other?? It's like walking, just faster, and you walk all the time. Just go faster!
Alright, time check. I've been running for…SEVEN MINUTES?? No. Nope. Not possible.
Man, I'm sweating a lot. I cannot be this out of shape. Maybe I'm one of those people with excessive perspiration. Gotta Google that when I get home—if I ever make it home.
Really regretting all those times I skipped the gym to watch a Real Housewives marathon. First thing tomorrow I'm going to renew my membership and ask if they get Bravo.
Toward the end
This.
Is.
So.
Hard.
Ooo I love that girl's leggings! I feel like I've seen them somewhere though. Wait—I saw them on that girl a few minutes ago. Did she lap me??
Ok, pick up the pace. Only a little farther. That wouldn't be so bad if my legs weren't made of wood. No, not wood. Cement. Two leg-shaped blocks of cement.
Oh thank god, I can see the house. Please don't let me be hallucinating.
After
YES. Look at me, everyone! I am a runner again! Let's check my distance. Hmm, my GPS is clearly broken because it says I only ran 3 miles, and I'm pretty sure it was closer to 20.
That wasn't so bad. I thought I'd be in a lot of pain but I feel pretty great! Can't wait to get back out there tomorrow.
The next morning
Owwwwwww.
Alison Barsalona is a stay-at-home mom to one baby and one beagle.  She is working on getting her running and fitness groove back and perfecting the art of the jogging stroller.