A Love Letter To Fall Running
We are all waiting for our favorite running season to finally arrive.
Heading out the door? Read this article on the new Outside+ app available now on iOS devices for members! Download the app.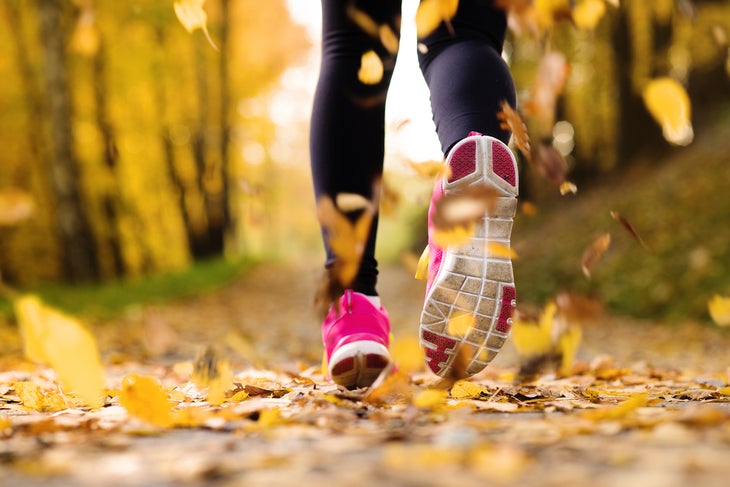 Dear Fall Running,
I've been waiting for you my whole life. Or at least, all summer. Slogging through highs in the upper 90s and humidity upwards of 80 percent on a daily basis wears on a person, but I persevered, knowing you were out there. Yes, you play hard to get at first, with the cooler mornings but hot days, and those random Indian summers we all love to hate. But once you commit, you really commit, and runners everywhere rejoice. Suddenly, it feels like all of our suffering is worth it as we watch our paces get faster and faster with seemingly no effort. Heart rate training seems actually possible while doing something more than a walk. There's a reason why so many races happen during you, you beautiful season.
Temperatures aside, your scenery is breathtaking. Is there anything more peaceful than a long run with colorful leaves falling all around? I think not. Of course, there's that whole clothing issue that can be challenging as the mornings start out cool and the days warm up, but that's neither here nor there. And yes, I've been known to break out my long sleeves a little prematurely and regret it immediately, but I can't help but be excited that you're finally here.
Yes, fall running, you are my one true love. The other seasons are great, too, but there is just something about finally feeling fast again, finishing my long run with an appropriate yet not overwhelming amount of sweat, and curling up on my couch for the rest of the day to watch football. I love you, fall running.
Yours forever,
T-Rex Runner