A Day in the Life of an Athlete at the World Championships
What is it really like to be an athlete at the World Athletics Championships? We spoke to 2022 Team USA athlete Emily Infeld to find out.
Photo: AFP via Getty Images
Heading out the door? Read this article on the new Outside+ app available now on iOS devices for members! Download the app.
By the time an athlete is situated in the blocks or on the start line, they've already gone through a slew of activities leading up to their race. From eating Team USA-provided food to sitting in a tense call room, a day in the life of a World Athletics Championships Team USA athlete can be a whirlwind before the race even begins.
Professional runner, Olympian, and former World Athletics Championships Team USA member in the 5,000 meters in 2022 Emily Infeld tells us what makes up a day in the life of an athlete in Budapest.
RELATED: Catch all the Live Updates from the World Athletics Championships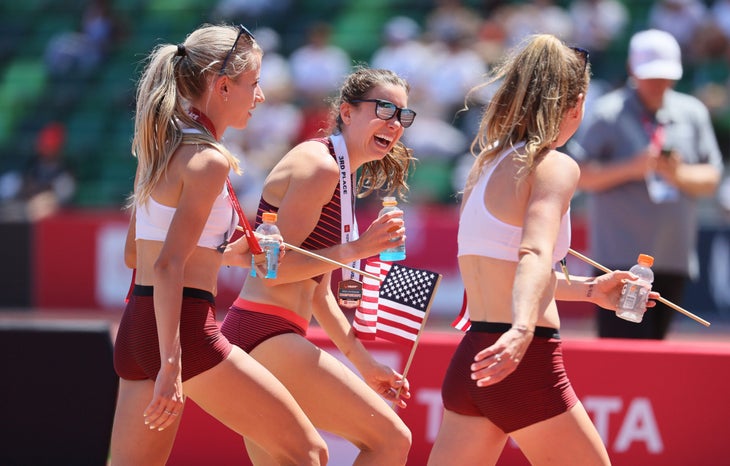 Lodging
Unlike with the Olympics, there is no "athlete village" at the World Athletics Championships. Instead, Team USA usually stays together in a hotel that is located close to the practice and racing venues.
"It's fun being in one hotel with all the other Team USA athletes," Infeld shares. "You get to meet other runners, jumpers, and throwers, and it's especially nice to share meals together at the hotel."
In addition to staying at a hotel together, Infeld says that athletes have access to a full medical team at the hotel—sports medicine doctors, chiropractors, massage therapists, physical therapists—to make sure that athletes are receiving top-of-the-line care in a convenient place.
Infeld also says that, since the Championships are international this year, it's likely most Team USA athletes will stick around until the end of the week to see their teammates compete.
"Last year, with the Championships being held in Eugene, it was understandable that some Team USA athletes departed after their events were done because it was easier to travel home from Oregon," Infeld says. "It's special to see that this year, many Team USA athletes are staying for the full week and cheering each other on right until the final event."
Food
Team USA takes fueling its athletes seriously and brings chefs and dieticians with them to the World Athletics Championships.
"Having food prepared and available for you in the hotel helps to make sure you're fueling your best.I can say that I've possibly never fueled better than at a World Athletics Championship because the quality and availability of food for Team USA is amazing," Infeld shares. "Even when you head to the practice track or race venue, the dieticians make sure you have access to Gatorade slushies, protein smoothies, and more to keep you fueled."
U.S. athletes are usually given hours in which they can stop by a designated area of the Team USA hotel to eat or pick up breakfast, lunch, dinner, and snacks. Athletes have races at different times of day, so the chefs and dieticians make sure there are a range of food options during the day to accommodate all athletes' schedules.
"The chefs and dieticians prepare every kind of food you could ever want," Infeld says. "Team USA truly has fueling dialed in for athletes when we're at a big event like the World Athletics Championships."
Practice Sessions
Although athletes arrive at the host city race-ready, many will still have pre-race practice sessions before their heats or finals to stay sharp. Since the main track that viewers see on TV is used primarily for races, that means athletes must practice at an alternative nearby track.
"Although I can't speak to exactly what the plan is in Budapest, generally there is a practice track that teams can use at assigned times," Infeld says. "Sometimes, your practice time at the track may be shared with another country's team to accommodate the sheer number of countries and athletes at the Championships."
Other times, athletes may opt to find a quiet trail or space away from the venue or practice track to do their own workout and collect their thoughts without the hubbub of competition encircling them. Each athlete's workouts and pre-race sessions will differ when they arrive in the host city.
Pre-Race
Before a race, all athletes must go through the tense process of heading to what is known as "the call room." The call room is a holding space where athletes receive their bibs, lane assignments, and any final instructions from officials.
At non-championship meets, Infeld says that you may be able to show up to the venue about 45 minutes before your race, but that, at an event as large as the World Athletics Championship, it's not uncommon for athletes to need to be at the call room 60 to 90 minutes ahead of time.
"Some call rooms and areas will have room for you to do strides, stretch, and continue warming up," Infeld says. "Other times, you need to warm up hours before your race and plan on minimal warmups once you're in the call room. It totally varies by meet."
The hope is that athletes are able to remain out of the sun and in a cool space before being brought up into the heat of the track. "It's very hot in Budapest it seems, so hopefully athletes are not being brought up from the call room to the track until just before it's time to race," Infeld says. "Although 10 or 15 minutes might not sound like a long time, it can feel like forever as an athlete waiting to perform with the sun raising your internal temperature."
Infeld says that it's unlikely that athletes get a long warmup period once on the track. When athletes arrive at the track, it's "go time."
Post-Race
When a race finishes, athletes are likely either on the high of medaling or are grappling with not meeting their goals. Either way, athletes are shepherded off the track to make way for the next race.
"It's likely that athletes who medal are immediately taken to drug testing," Infeld shares. "Even if you medal, you may have to initially skip speaking to the media since officials want you to drug test right away."
If you aren't selected for drug testing, race officials will guide you toward the post-race area, which can involve speaking to the media and heading to ice baths and other recovery-related activities.
Athletes may stay at the venue to cheer on others, as we saw with Sha'Carri Richardson supporting her former Louisiana State University teammate Mondo Duplantis in the men's pole vault.
"Regardless of how you do in your race, any big competition comes with highs and lows," Infeld says. "It's so hard when you finish short of your goal because it's an immediate gut-wrenching feeling.But I hope that all athletes can find balance in the highs and lows at the world championships.At the end of the day, it is so cool to see everyone running, jumping, and throwing their hearts out—it really is incredible."