91 Going on 26.2
Age and cancer won't stop Harriette Thompson from running the Suja Rock 'n' Roll San Diego Marathon to benefit the LLS Society.
Heading out the door? Read this article on the new Outside+ app available now on iOS devices for members! Download the app.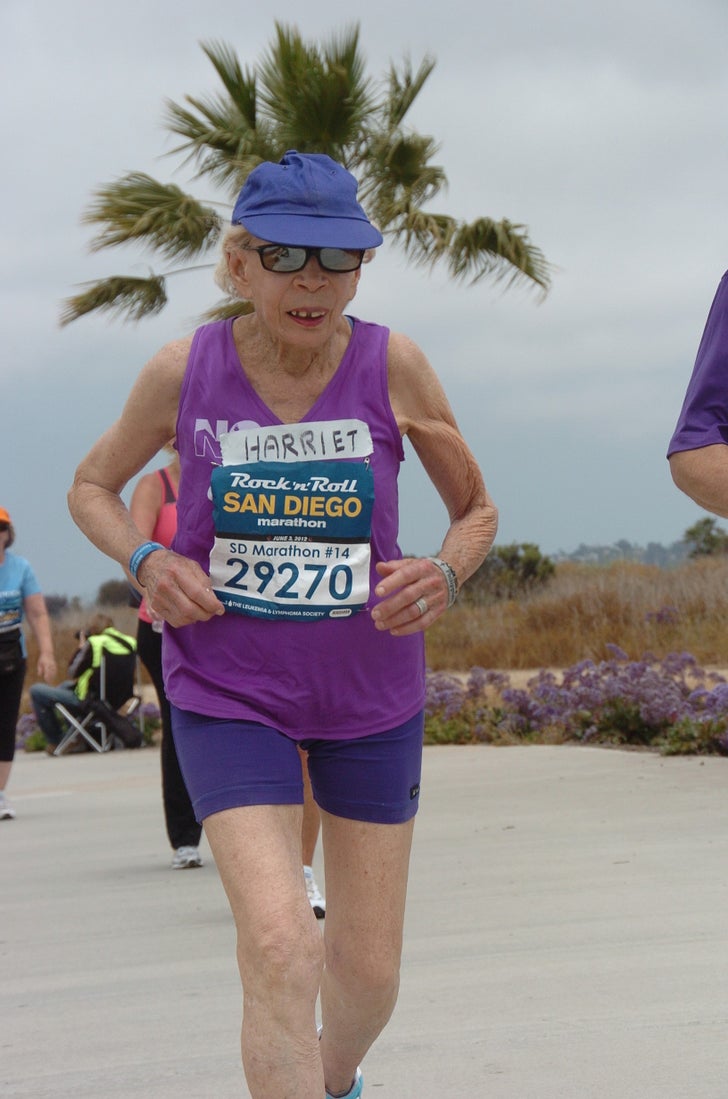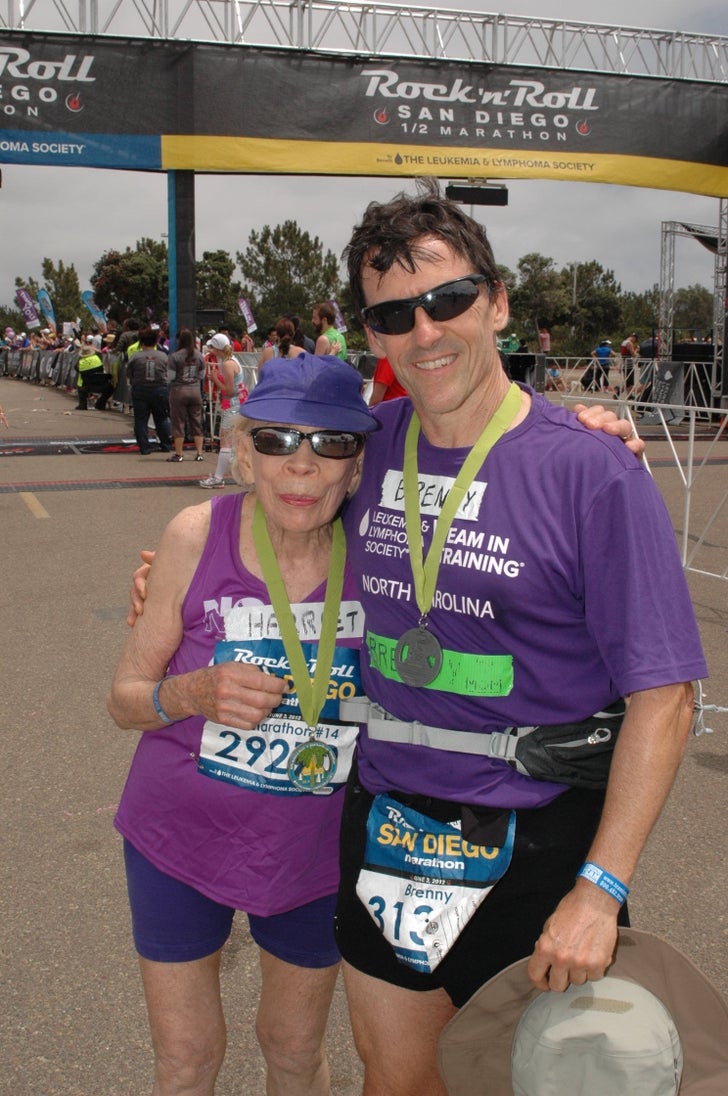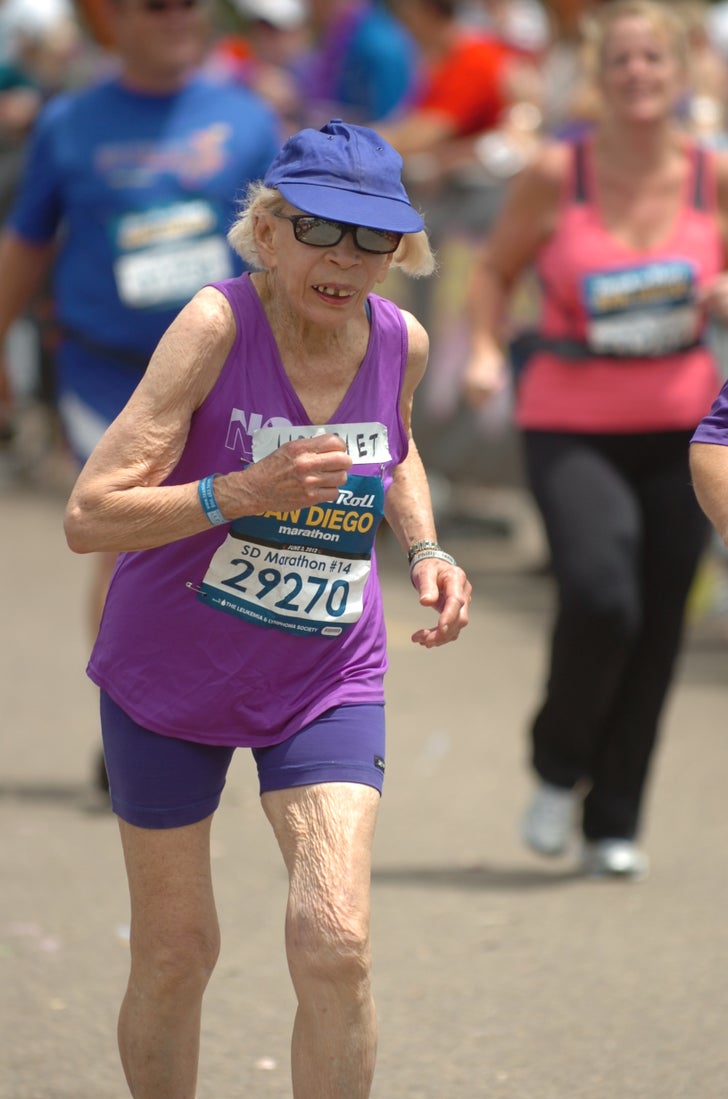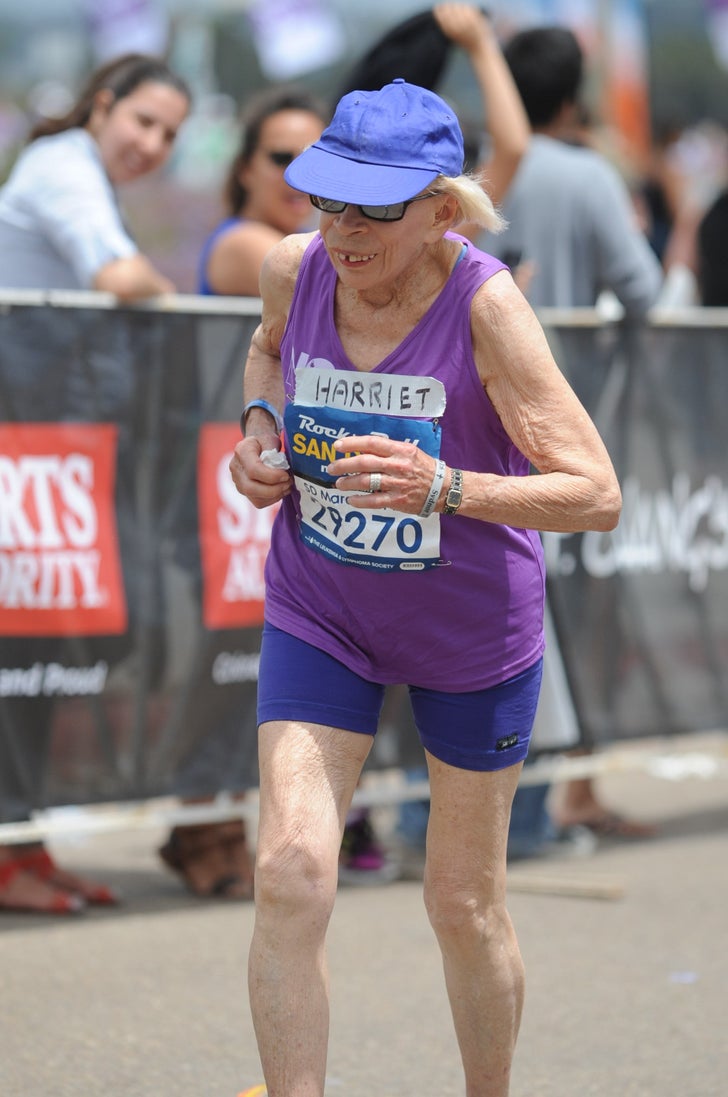 Like so many runners and walkers, Harriette Thompson is dealing with pain leading up to Sunday's Suja Rock 'n' Roll San Diego Marathon to benefit the Leukemia and Lymphoma Society. Only Thompson isn't battling tight hamstrings, burning plantar fasciitis or sharp shin splints.
The Charlotte, N.C., resident is fighting skin cancer that has left red, open wounds on her legs. It's Thompson's second bout with the disease—in 1987 she dealt with cancer of the palate.
Regarding her current battle, Thompson says, "It feels like there's needles in my legs. Or rubber bands pulling the skin together, making it tighten."
There's one other detail that makes Thompson's quest Sunday a challenge.
She's 91 years old.
Like a Zonie escaping the Arizona desert heat, Thompson is a San Diego regular every June. Sunday's Suja Rock 'n' Roll Marathon and Half Marathon marks the 17th edition of the event that kicked off what is now a global brand. Thompson, always opting for the marathon, has missed only two of the San Diego races. She missed the event's 1998 debut and was unable to enter last year because she was undergoing treatment for skin cancer.
Having walked no farther than 11 miles in training, Thompson jumped into the 1999 Rock 'n' Roll Marathon after learning someone she knew was tackling the distance.
"I heard about a friend in our church choir gathering checks from people," says Thompson, who has five children and 10 grandchildren. "I found out it was for a [charity] cause to walk a marathon in San Diego. I thought, 'Well, I can do that.'"
"I was 76. I thought, 'This must be The Spirit of 76.'"
She finished the  race just ahead of the cut-off time, in 7 hours, 5 minutes. Her personal best in San Diego is 6 hours, 7 minutes.
Thompson cites genetics, a healthy diet and active lifestyle for enabling her to chase the marathon goal into her 90s.
"I never think of myself as being 90," she says. "It's just a number."
Harriette's husband of 66 years, Sydnor, a long-time North Carolina judge, lists another reason for his wife's longevity.
"She's absolutely independent," Sydnor says.
That she is. Harriette began playing the piano at 4, gave her first recital at 7 and later played three solo recitals at Carnegie Hall. As a teenager, she often completed a different sort of marathon, cycling 13 miles from Carlisle, Penn., to Mechanicsburg, Penn., and back for piano lessons.
In the early 1940s at Dickenson College in Carlisle, Thompson, whose maiden name was Line, was reprimanded for rollerskating to class. "Miss Line," the Dean of Women said, "young ladies do not roller skate to class. And young ladies do not wear ski pants to school."
Thompson respected the Dean's wardrobe wish.
"But I did not stop roller skating," she says. "I loved getting to class early and that was the best way to get there."
Another sign of Thompson's independence: wanting her five children to be exposed to another culture and learn a foreign language. Twice she moved the kids to Vienna, Austria, for a year while Sydnor stayed stateside to support the family.
As for training, Thompson tries to exercise for an hour, five times a week. She practices yoga twice a week, takes a dance class, jumps on an elliptical trainer, plus walks and jogs in her neighborhood.
In the final weeks leading up to Sunday's race, Thompson underwent nine radiation treatments to fight the skin cancer in her legs. "The doctor thought they'd heal up and be fine," Thompson says. "But they're not healing as fast as they thought they would."
The treatments have limited her training. Her longest run/walk leading up to the race is only six miles. "I wish I hadn't had the radiation," she said. "I hope I can make a good showing [Sunday]."
Thompson, who ran a 5K on Memorial Day, knows her example has inspired many, but she downplays her feats.
"A lot of people want to have their picture taken with me because they feel I'm so rare," she says. "But I'm just old. I don't feel anything remarkable about it."
Interestingly, Thompson hasn't lined up for any other marathons—only Rock 'n' Roll San Diego.
Thompson is running to break the women's masters marathon record and will be starting in the first marathon corral to pursue that goal. The current record is 8 hours, 53 minutes, 8 seconds for her age group.
"My passion is mainly to help the research for leukemia and lymphoma," she says. In addition to her cancer battles, Thompson lost a brother-in-law to leukemia and a brother to lymphoma.
The Leukemia & Lymphoma Society has been Rock 'n' Roll San Diego's title charity since the race's 1998 inception. Since then, runners and walkers participating in the race have raised more than $176 million—and Thompson has raised nearly $100,000 for the cause.
Says Thompson's son Sydnor, "It shows she's running for more than just recognition, more than competition. She believes in the cause she's running for. That's emblematic of her life. She just wants to go for it."