91, Cancer Survivor, and Record Breaker
She did it! 91 year old cancer survivor Harriette Thompson completed the Suja Rock 'n' Roll San Diego Marathon in record time!
Heading out the door? Read this article on the new Outside+ app available now on iOS devices for members! Download the app.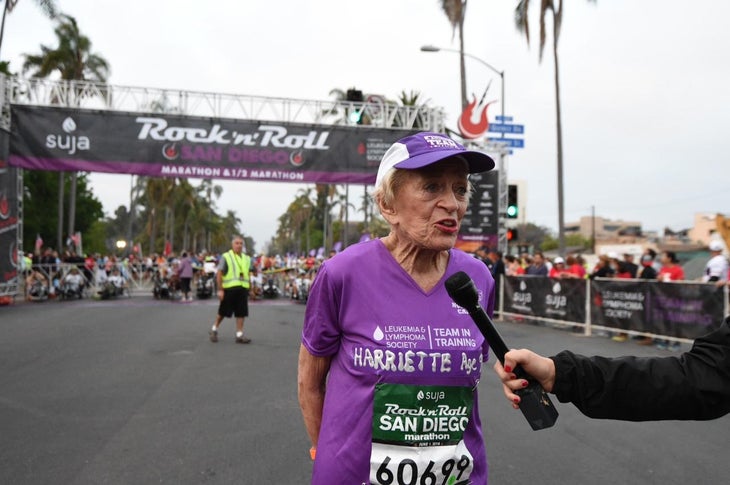 When Harriette Thompson began her Sunday jog, the San Diego temperature barely pushed 60 degrees. The time was 6:15 a.m. The sky was gray. Cloud-cover blocked the sun.
More than seven hours later, the sun now baking the pavement, the temperature pushing 76, Thompson descended downtown's 13th Avenue. Her walking gait leaned decidedly to the left. Then she began jogging. And the few remaining spectators, volunteers and runners from the Suja Rock 'n' Roll San Diego Marathon started cheering.
"All right, Harriette!" someone screamed.
Upon crossing the finish line, Thompson was surrounded, first by medical personnel, then a gaggle of TV and still photographers. Writers circled, toting pens, notebooks and recorders.
"Way to go young lady!" hollered a gentleman.
"I don't deserve all this attention," said Thompson, who lives in Charlotte, N.C.
So why all the fuss?
Because Harriette Thompson is 91 years young. And by finishing the race in 7 hours, 7 minutes and 42 seconds, Thompson set a world record for the fastest marathon ever by a woman 90 years or older. The previous mark was 9 hours, 53 minutes by Gladys Burrill at the 2010 Honolulu Marathon. Burrill was 92 at the time.
"I feel wonderful," said Thompson more than 10 minutes after finishing, relaxing in the shade beneath a tent. "I feel relieved. But I'm interested in getting into a cold shower and falling into bed for a while."
Thompson's marathon feat serves as a testament to blessed genetics and a healthy lifestyle, the latter encompassing diet, exercise and attitude.
Incredibly, she didn't run her first marathon until she was 76 years old. A church friend had run a marathon for a charity and Thompson figured, "Why not me?"
Having beat cancer of the palate in 1987, Thompson, too, wanted to run for a cause. She selected the Leukemia & Lymphoma Society. Sunday's Suja Rock 'n' Roll Marathon was her 15th 26.2-miler. All have been in San Diego, all at the race that started Rock 'n' Roll running brand.
"I never try to compete," Thompson said. "I just try to make money for the Leukemia & Lymphoma society.
Thompson's quest Sunday was made more difficulty because she has been battling cancer for a second time, this time of the skin. She underwent nine radiation treatments within 11 days, the last coming about four weeks before the marathon.
The treatments left red, open wounds on both legs, which were shielded today by white tights and bandages on the abrasions. Slow recovery from the radiation cut back her training. Her longest run/walk leading up to the marathon: six miles.
And yet through 13 miles, she said to herself, "This isn't so bad."
Four to five miles later, with her legs aching, Thompson's thoughts changed.
"Around Mile 17 or 18, I began thinking, 'This is sort of crazy. I'm not sure if I'm going to make it.'"
So what steeled her to the finish?
Her 55-year-old son, Brenneman, who ran beside his mother, helped immensely.
"Anytime I needed anything, he was there for me," said Harriette. "Water, Vaseline, Gatorade, PowerBars, Gu, bananas, oranges, pretzels."
Thompson is a former concert pianist who played at Carnegie Hall three times. One way she dealt with drudgery of the marathon: not by listening to the bands spread across the course but by mentally playing old piano pieces she had performed in the past.
"I do think the discipline required to play the piano has helped my running," she said.
After the TV shooters bagged Thompson's sound bites and the still photographers captured the woman's effervescent smile, Thompson was escorted to the Leukemia & Lymphoma Society's Team-In-Training tent. She was greeted by TNT volunteers, runners and walkers who joined hands and formed a tunnel for Thompson to walk beneath.
She sat down for an interview with a local journalist. Inevitably, the conversation turned to the future. She's 91. She didn't just break Burrill's 90-plus world record. Thompson treated the mark as if she'd slammed a porcelain vase against a brick wall. She shattered the thing, besting Burrill's record by 2 hours, 45 minutes.
So what now? Will she be back in San Diego come 2015?
"I'm sort of surprised I'm still here," she said.
A pause.
"I believe this will be my last time."
Then she smiled, her red lipstick still in place, her eyes touched by a bit of makeup.
"My friends remind me that I say that every year," said Thompson.
Then, having pushed her body for 7 hours, 7 minutes, 42 seconds, most of it under the sapping sun, Thompson spoke the truth.
"If I'm sill (alive)," she said, "I'll be back next year."