9 Things That Runners Can Only Say To Other Runners
These are conversations that could only be had between running buddies (because they are the only ones who get your taper tantrum).
Heading out the door? Read this article on the new Outside+ app available now on iOS devices for members! Download the app.
Weird stuff doesn't only happen when you change your dating profile to have photos of just you running. Runners say weird stuff to each other, too. These, of course, are only things that our fellow runners will understand. Throw in a loss of filter, a taper week and a LOT of crazy…and here you go.
1. Taper Crazies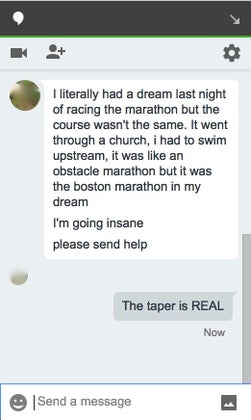 And our other teammate dreamt that she showed up at the start line with nothing but a yogurt in her hand. Yeah, it's getting WEIRD.
2. The "Easy" Runs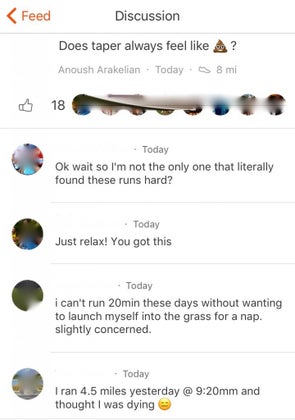 It doesn't matter how many times you run a marathon, you never really remember how bad your legs feel during taper week. The less you work out, the more tired you feel…I will never understand.
3. You can BQ every part of life.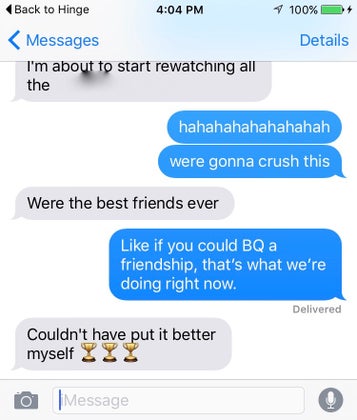 Yes, you can turn "Boston Qualifying" into a verb that can be inserted into all other portions of life. " To BQ" = to be a bo$$.
4. Dating is HARD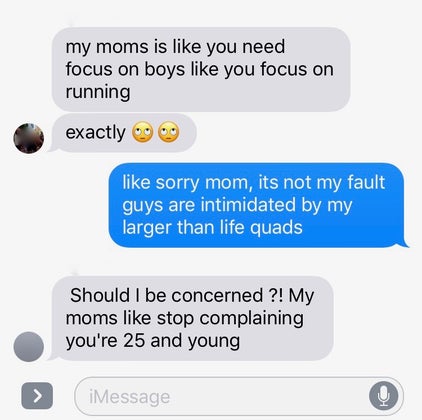 In the words of Run, Selfie Repeat, "Running a marathon is easier than dating in NYC." So moms all around, stop worrying; there are people who will accept our badass quads and beer drinking ways!
5. NSFW Texts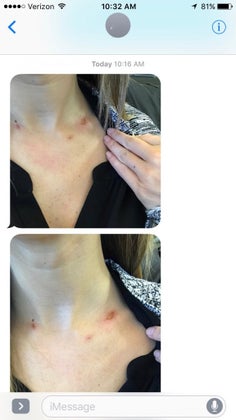 When your gal pal wants to show you how bad she chafed in her new sports bra, and your texts come up on your 30 inch monitor at work. And then you find yourself having to explain how non-sexual these texts actually are…
6. Born to Run?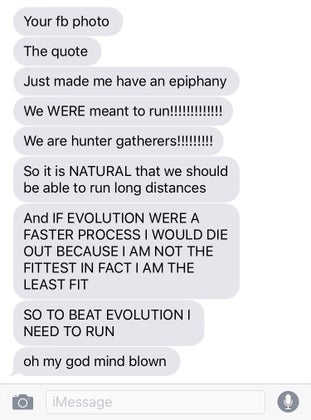 How many times have I read Born to Run you ask? Oh, only a few. The captions of my photos are only quotes from it 80 percent of the time.
7. I have "plans" this week!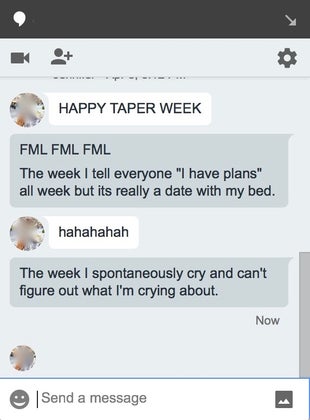 I'm pretty sure crying on a date won't go over so well, and I'm almost positive I could tear up watching an episode of The Office right now. It's not pretty.
8. Feed me and tell me I'm pretty…FAST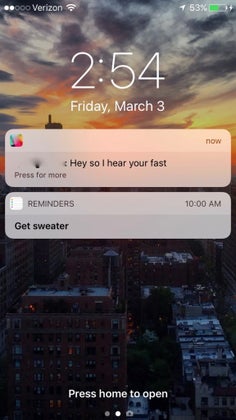 Well, you've caught my attention now! Other intros could be: "Hey, how are you?" or "Hey, lovely weather we're having," etc.
9. Part time coach, part time therapist.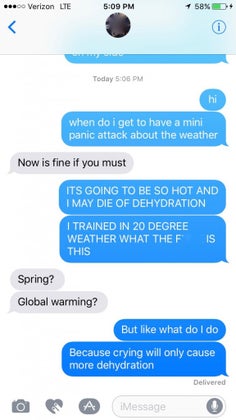 Sometimes I wonder why coaching can cost a lot and then I remember that it also comes with part time therapy. At least we're slightly logical here and resolve NOT to cry about the weather. Yet.