80-Year-Old Woman Sets A Half Marathon Record
Age hasn't slowed this runner, mother and grandmother down. In fact it's only made her run faster. 
Heading out the door? Read this article on the new Outside+ app available now on iOS devices for members! Download the app.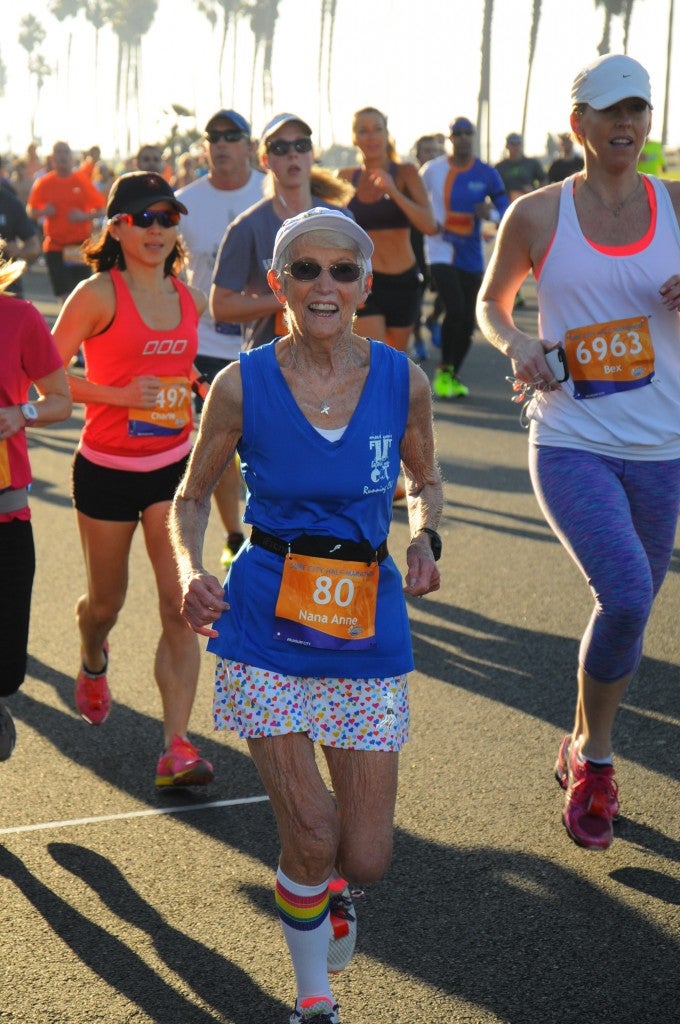 *Content courtesy of Competitor.com
More than 19,000 participants ran in the Surf City USA Marathon and Half Marathon in Huntington Beach, Calif., last weekend. Among them, Anne Garrett, 80, of Oceanside, Calif., set an unofficial national half marathon record in the women's 80 to 84 age division with a time of 2:13:23.
"I didn't even know my time until I ran over the finish line," says Garrett who recently celebrated her 81st birthday yesterday. "I had a new Garmin and I wasn't too sure how to use it properly. I must've accidentally hit a wrong button, but it was a lovely surprise."
A photo post of Garrett's record on the Surf City USA Marathon Facebook page has garnered more than 2,000 "likes."
Yet at the ripe age of 80, this isn't Garrett's first half marathon record. Last October in Portland, Maine, she set a national age-group half marathon record of 2:14:58. Although the record is still pending because the course did not meet USATF criteria, at the time it was still a personal record at best.
What's even more impressive about Garrett's half marathon times is that they keep getting faster—an unusual trend for runners her age. "The year before I did a half marathon in Santa Rosa with my grandson, and I did a 2:15 there. I went from 2:15 to 2:14 to 2:13. So maybe if I do another one next year, I'll manage 2:12," says Garrett.
It's hard to believe with maintaining such speed that Garrett had only started running nine years ago. Before then she was a race walker and assistant race walking coach for a  friend's walking group called Walk This Way. At the age of 64, Garrett race walked her first marathon in 5 hours and 19 minutes—an almost 12-minute mile pace.
On her 72nd birthday, Garrett decided to race walk what was known back then as the Pacific Shoreline Half Marathon, today's Surf City Half Marathon, while her daughter Jayne Klein ran the race. Instead of walking, though, Garrett started to run the entire course and came first in her age division. It seems she was a natural.
Along with running races, Garrett is also a spokeswoman for the Move Your Feet Before You Eat Foundation, a Southern California-based nonprofit that aims to incorporate regular physical fitness into the daily lives of youths.
For now, Garrett hasn't signed up for any upcoming races, but she says she'll most likely participate in the Carlsbad 5000 this March, a race she does every year.
"It pays off to be an old runner, but a fast runner," she says. "As I get older, though, I'll be more selective about my races, and who knows where I'll go next!"