8 Types Of Summer Runners You Always See
As summer officially winds down (despite the rising temps), we reflect on some of our favorite spotted summer runners.
Heading out the door? Read this article on the new Outside+ app available now on iOS devices for members! Download the app.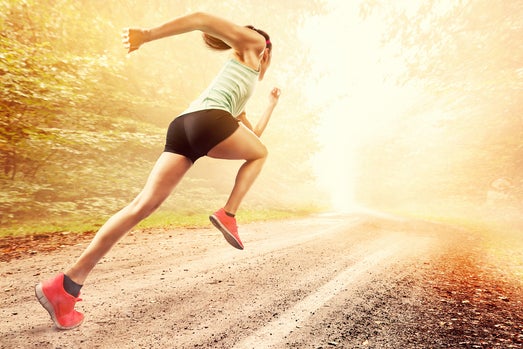 Every year, as soon as the temperatures rise, lots of runners trade the treadmill for the great outdoors. Besides how crowded your usual route has become, this summer you probably noticed certain kinds of runners that seemed to appear once the weather got warm. You know the types; maybe you're one of them yourself. So before the season comes to a close, let's reflect on our favorite summer runners.
Related: Fashionable Runners You Always Spot
The newbie
Let's face it—no one has ever been motivated to start a fitness routine in the dead of winter. Something about summer screams, "I can do this!" and many first-timers hit the road in the bright sunshine. You'll recognize her by her brand-new sneakers, easy and awesome pace, and her triumphant I just ran a MILE! accomplished grin when she finishes. Kudos, girl!
The sun-riser
Ninety-degree temperatures just won't do for this runner. She wants her vitamin D but not the sunburn, thank you very much. Her alarm goes off when it's still dark and she's already on mile 3 when the sun comes up. And it doesn't hurt that the gorgeous sunrises are a killer background for running #selfies.
The all-about-that racer
She looks forward to the warm weather race season all year and packs June, July and August with 5Ks, 10Ks, and half marathons. She may be more flexible with her training during the other three seasons, but when summer rolls around, watch out—there will be no margarita Friday nights or lazy beach Saturdays for her. Just early bedtimes and long runs. She's all about that race, and that's just the way she likes it.
Related: 0 to 5K to Half Marathon Training Plan
The playground powerhouse
This runner is all about the all-in-one workout. She heads to the local park to run her laps and then uses the playground equipment for a surprisingly effective strength workout. The monkey bars become her pull-up bar, the slide is ideal for incline sit-ups, and the park bench is perfect for box jumps. She leaves with a great workout and the kids in awe.
The high-nooner
She waits all year for the hot weather and loves to run when the midday sun is strongest. Other people may stare and wonder what kind of crazy you have to be to run in the sun but with a little SPF, she's good to go. Like a yogi who loves her Bikram, this runner thinks there's nothing better than a tempo run in high temps.
The fluorescent fashionista
For her, half the fun of warm-weather running is getting to bust out her summer gear in all its neon glory. From her lime-green kicks to her hot-pink sports bra, this runner looks half hardcore athlete, half 80's superstar. Bonus: She can run at night without worrying that cars won't see her.
The dog whisperer
This runner knows that exercise is just as important for Fido as it is for her, and she looks forward to the months when they can run together. She can't think of any running partner who will keep her more accountable than woman's best friend and she never flakes on their dates. You can find her jogging through grassy parks, woodsy trails, and taking turns drinking from the water fountain with her furry friend.
The sweaty sister
This girl runs hard and has the sweat stains to prove it. It's not a good run for her if she doesn't come home drenched. She had to peel off her shirt halfway through and readjust her headband a dozen times (and don't get her started on the nightmare that is a sweaty wedgie) but she wears her perspiration like a badass badge of honor. Plus she knows that a post-run shower or swim always feels better the sweatier you are.