8 Podcasts That Are Perfect For Runners
If you need some encouragement during your workout, these podcasts are informative and entertaining.
Heading out the door? Read this article on the new Outside+ app available now on iOS devices for members! Download the app.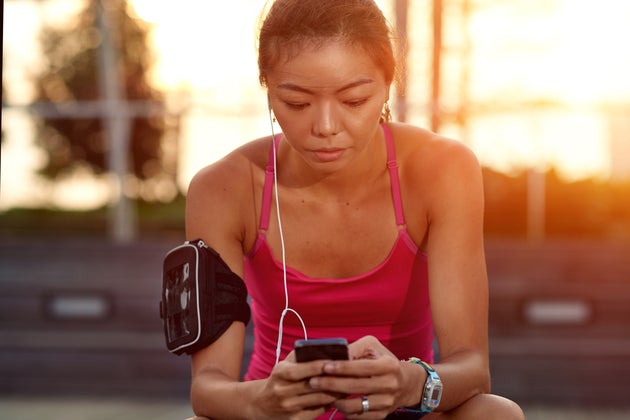 When trying to adopt a healthier lifestyle, we often don't know where to start. Personal trainers can be daunting and the internet offers up far too many options. Sometimes all we need is a little guidance to set us on the right track. With these awesome podcasts, available on free-to-use, free-to-download podcasting platform, Acast, it's like having your own personal trainer and nutritionist in your pocket! The best part? No gym subscription or trainer fees required!
Caitlin Thompson, director of content at Acast, has shared her picks for the best podcasts to get you up and running in time for summer. Whether you want to kill some time on your commute or need some encouragement during your workout, these podcasts are informative and entertaining.
Another Mother Runner
Host Sarah Bowen Shea, mom of three and marathon veteran, is joined by a variety of co-hosts and guest experts as they discuss an array of topics important to moms who run. Whether you're busy looking after the house, out on a jog or sitting at your desk replying to endless emails, let Another Mother Runner do the talking – even on the uphills!
I'll Have Another
Started by former cover runner Lindsey Hein, this girl-talk podcast sits down with runners from all walks of life and covers everything from racing, to running, to family, to TV shows, to books, to anything else the might pop up in conversation. Hein's radio-ready voice and spunky personality makes a basic conversation between women runners very entertaining to pass the miles.
Fat Burning Man
Want to look lean and learn how to burn fat with ease? Maybe it's time to turn back the nutritional clock and try eating the caveman way. Abel James answers your questions and interviews leaders in the paleo, primal, evolutionary and ancestral fields to share secrets about losing fat, building muscle and improving your overall health.
Bulletproof Radio
Technology has come a long way and Dave Asprey, the host of this series, has spent many years testing out every method available to discover the simplest ways we can be better at, well, everything! Join him in this series as he helps you take control of every aspect of your life by using technology to give you all the tools to improve your biochemistry and upgrade your body, your mind and your life.
Happier with Gretchen Rubin
It's no secret that the key to a healthier body is a healthier mind. Forming good habits is essential to maintaining a healthy lifestyle and in this series, Gretchen Rubin, bestselling author of The Happiness Project, shares her practical and manageable advice to help you do just that. Exploring techniques such as the "Strategy of Convenience" to get herself back to the gym in episode 42, Gretchen talks through the simple ways to not only embrace these good habits, but also to ensure they stick.
Related: The One Bad Habit You Need To Stop If You Want To Lose Weight
Radio Cherry Bombe
Food is essential to our lives, but often when we're caught up in diets and healthy eating, we forget to think about what we're putting in our mouth as anything other than calories. We're firm believers in everything in moderation, and learning to appreciate food and understand its benefits (including the occasional treat!), helps us to form a healthier relationship with it. Follow Radio Cherry Bombe to listen to conversations with influential and interesting women from the world of food. Whether they grow it, serve it, make it or even style it, they have one thing in common; they ALL love it.
Yoga Download
Yoga is a fantastic workout for both the body and mind, and with their free 20 minute sessions, Yoga Download is perfect for those who want to fit a quick workout into their hectic day. One of our favorite things about these episodes is they are in no particular order. Whether you want to focus on abs, perfect your poses or simply unwind with some gentle breathing practice, choose an episode that suits your mood.
Related: These Are The Best Yoga Poses For Runners
A Few Things
Sometimes all we need is a few little hacks to simplify our lives, and in this series, hosts Claire Mazur and Erica Cerulo discuss the latest across topics such as food, fitness, beauty and technology. Listen to episode 22 where they discuss their "hanger management" and rundown their best good-for-you snacks to keep you feeling healthy.
Caitlin Thompson is the Director of Content at Acast, the free-to-use, free-to-download, podcasting platform, available at the Apple App store and Google play.