6 Real Struggles Of Running While On Vacay
To run or to be super good at sipping margs at the pool? The struggle is real while on vacation.
Heading out the door? Read this article on the new Outside+ app available now on iOS devices for members! Download the app.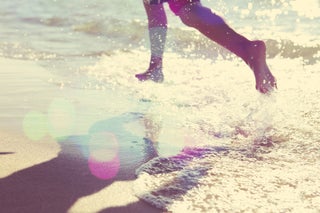 Ah, summer. It's the time of year for sun, fun, and the long-anticipated vacation. And while you may choose to leave your sneakers at home and just relax for a week (it is a vacation, after all!), many of us look forward to lacing up in a new locale. It's a great way to stretch your legs after a long drive or flight, sight-see on foot and maintain your running routine (not to mention burn off all the buffet action). But working out while traveling can be tricky—it's easy to forget to pack a piece of your gear or lose your motivation. Here's a sampling of some of the roadblocks to running in between relaxing—and the thoughts you might have when they happen.
1. When you reach for your iPod and your favorite running playlist only to discover you used your headphones to watch a movie on the plane…and left them there: "Why did I have to watch Bridesmaids for the 100th time??"
2. When you realize you forgot to pack one key piece of your running wardrobe: "Maybe if I wear two bikini tops at once it will feel like a sports bra?"
3. When you have serious FOMO about fun activities: "What if I go for a run and everyone goes swimming with the dolphins without me?!"
4. When you ask the concierge to recommend a scenic running route, mentally memorize it, and then get lost halfway through: "Was it a right at the beach or a left at the surf shop? Because that palm tree is starting to look awfully familiar…"
5. When you go to the hotel gym to find it only has one treadmill that's being occupied by someone trying it out "for fun": "Come on buddy, you've been looking for the start button for 5 minutes. Allow me to demonstrate a couple miles and it's all yours."
6. When you indulge in one too many poolside cocktails and seriously lose your motivation to run: "No time to run, I'm too busy being the mayor of Margaritaville!"