GIFs Explain The Hazards Of Winter Running
Heading out the door? Read this article on the new Outside+ app available now on iOS devices for members! Download the app.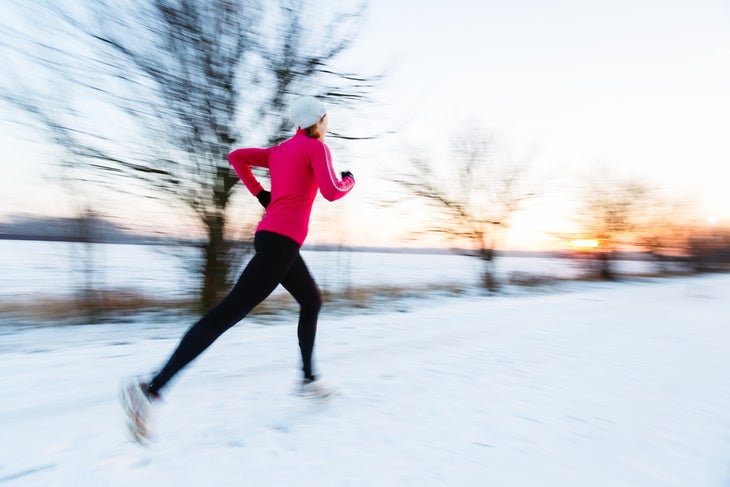 Republished with permission from Run. Crave. Conquer.
When it's above 30 degrees in winter, running is mandatory. That's my rule. It feels balmy in comparison to 20s or below, and I get excited about things like wearing my lightweight running headband and taking my iPhone outside without the battery dying in seconds—oh, the luxury!
Tonight I ran past a digital sign that flashed the temperature (37 WHOLE DEGREES) and wondered why I didn't see any other runners taking advantage of this good fortune. Probably because it had been raining all day, or because monster piles of melting snow create their own hazards. For instance…
Every shiny bit of sidewalk is a trap.
Is it just the sheen of moisture, or is it a wet ice patch of death? Run over it with your worn-out training shoes and find out!
Puddles are actually hurdles.
Running isn't enough of a workout—better make the route an obstacle course. Jump over the melting snow or succumb to wet, squishy socks.
Unshoveled sidewalks are your enemy.
And so are the lazy homeowners who neglected to shovel them. Cross the ice rink with caution, then commence normal running.
Despite these bothersome challenges, running in fairer winter temperatures is delightful. It's a reprieve from the harsh, cheek-pinking cold and a reminder that it's not so terrible running in January after all. For every single-digit day, there's a 37-degree day that feels like bliss.
Your turn: What's your favorite winter running weather? Share your thoughts with @WomensRunning and @LWynalek on Twitter!