5 Running "Firsts" Worth Recognizing
They say you never forget your first. It is so true with these running milestones.
Heading out the door? Read this article on the new Outside+ app available now on iOS devices for members! Download the app.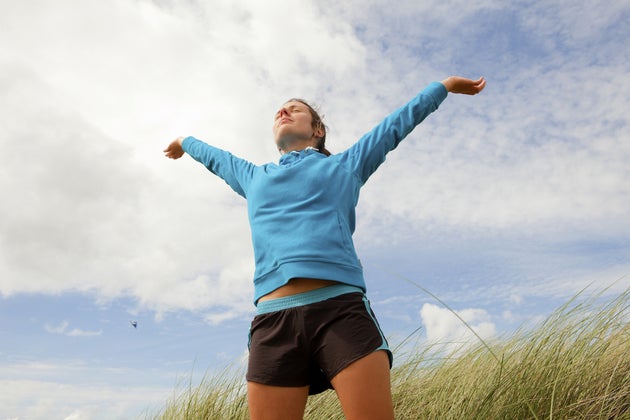 They say you never forget your first. Your first kiss, your first A in school, your first real job— the big moments in life stay with you and hopefully you look back on them fondly. When it comes to running, however, sometimes we blow past our firsts in a race to get to the next, well, race. But it's so crucial to acknowledge your little milestones, because those are the things that keep you going and fuel your love of running. Here are five little firsts that are a really big deal. Maybe you've experienced all these moments or maybe you're just starting out and have them all in front of you. Either way they're worth reflecting on and celebrating!
The first time you run a mile
Every runner, from total amateur to first-class elite, starts from the bottom. The out-of-breath, shin splint-y, red-faced bottom. But you push past the hard (ok, excruciating) parts and stick with it. Finally one day you run your first non-stop mile and feel as proud as if you just ran a marathon. There may not be a medal or bumper sticker to commemorate it but you will hold on to that triumphant feeling for the rest of your life.
The first time you run a race
It's easy enough to run on your own, but the thought of signing up for a race and putting yourself out there can be terrifying. You finally bite the bullet and choose a race, train hard and spend a sleepless night stressing before restlessly toeing the starting line. You feel anxious to run in front of so many people. You probably sweat more from your nerves than from the actual run. But when you cross the finish line, you feel so amazing you swear every spectator is there cheering just for you.
The first time you beat your PR
It took courage to run that first race, but the exhilaration you felt afterwards probably transformed you into a regular racer. Those early races were just for fun, just to get your feet wet. But then it happens—you finish a race a few minutes faster than you ever have before. Whether you trained for months to get it or it just happened naturally, breaking the PR you set in your first race is major. The bad news is you'll likely become addicted to the thrill and start chasing your record with every subsequent race. However it will never feel as amazing as the first time.
The first time you run with your kid
No matter how long you've been a runner, the first time you attempt to work out with your kid is no joke. From timing your run around naps, to using muscles you never knew you had trying to steer the stroller, to realizing how.freaking.hard it is to run while pushing an extra twenty pounds of Cheerio-throwing child, you will probably feel more exhausted than you did after that time you ran your first mile. But there is no greater satisfaction for a running mom than making it home after that first stroller run. No matter how many times you had to walk or how many tears were shed (by either of you), proving to yourself that you are a multi-tasking supermama who can still make her workouts happen is pretty damn great.
The first time you call yourself a runner
You probably didn't even notice it happened. You were just chatting with a coworker, or getting to know a first date, or talking to your doctor, and "I'm a runner" just slipped out. This might be the greatest first of them all, because it can be so easy to dismiss yourself for not being fast enough, fit enough or whatever enough. But if you run, you're a runner. Realizing that is kind of the coolest feeling ever.