5 Great Reasons Moms Make The Best Running Partners
In case you haven't heard, mother runners are pretty legit training partners.
Heading out the door? Read this article on the new Outside+ app available now on iOS devices for members! Download the app.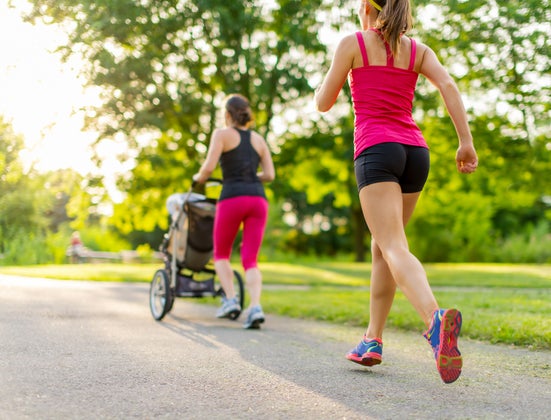 Are you looking for a way to shake up your usual workouts?  Consider running with a mother. No, not running like a mother (although sprints are always good); try working out with a mom and reap some pretty great benefits. Despite sometimes being stereotyped as half-hearted stroller-joggers, moms are fierce runners and awesome running buddies. Of course, you don't have to be a mom to be a great buddy; as long as you like to run, know how to push each other, and take turns picking up the coffee tab after an early run, you're good to go. But moms come with some special skills that give them an extra edge.  So call your mother—your mom friend that is—and join her for a run. It won't take more than a mile to discover the reasons us moms make pretty perfect workout partners.
We will almost always say yes.
Stay-at-home moms have their hands full (usually with dirty laundry or diapers) and are always game to get out of the house. You just name the time and place and we'll be there, nap time permitting. And don't discount the working moms; between stress at the office and the circus at home, they could definitely use a run with a pal to vent and burn off some steam.
We will let you push our stroller.
If your pal brings her peanut along for the ride, offer to take the wheel for a bit. You may think you're doing her a favor, but you're the one who's going to benefit from a serious full-body workout. Pushing a child chariot is no joke and the easy three-miler you planned will leave you feeling like you just ran a half marathon you never trained for. In a good way!
We come prepared. 
Mom 101 teaches you that you're only as good as your diaper bag. We learn early on to never leave the house without drinks, snacks and wipes, and that mentality is hard to shake. Join a mom for a run and you can bet she'll have a spare water you can sip, a granola bar to split post-run, and be generous with those wipes should you have to make an unscheduled pit stop.
We will be your trainer.
Moms, like everyone else, are busy. But having kids takes up every. last. second of your time and forces you to be laser-focused on any given task. So when she joins you for your run, you better be prepared—she's going to maximize every last second of the time she's allotted for her workout. Think sprints, hills and a minimum of four miles. Bring your A-game. And a water bottle.
We listen.
As much as we love hanging out with our kiddos, moms can get a little tired of talking about the nuances of Mickey Mouse Clubhouse. So when you run with a mama she will gladly listen to you chat about your dating life, your work crisis, or even your latest Netflix binge. As long as it's adult conversation, we're all ears. Just return the favor and let us complain about how much we hate that damn mouse sometimes, mmmkay?
Read More:
What Morning Runs Are Really Like For Moms
3 Return To Running Tips For New Moms