3 Tips to Get Your Best Race Photo!
Get a frame-worthy race shot with these tips from a professional photographer!
Heading out the door? Read this article on the new Outside+ app available now on iOS devices for members! Download the app.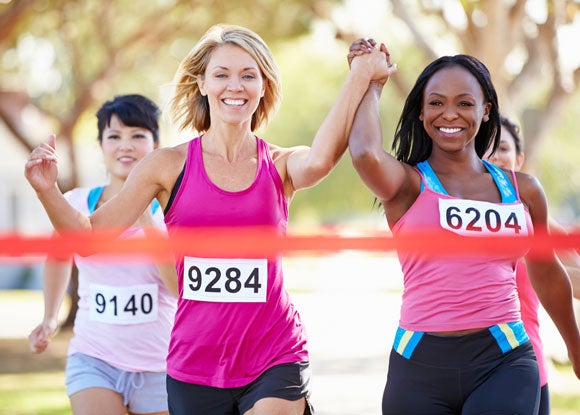 A photo could never capture the sweet satisfaction you get from finishing a big race—but it can put a damper on the memory when you see what the camera did capture: a twisted grimace, a sweaty ponytail plastered across your cheek and wind-inflated running shorts ballooning into a muffin top. Sound familiar? We've all been there. . .more times than we can count.
"When you see a photo of a gorgeous model running, that was attempted dozens of times," says professional photographer Cy J. Cyr, who shoots for clients like Nike and HGTV. "There's usually an art director, stylist and makeup artist. We may ask the model to change the angle of her head, rotate her body a few degrees or change clothes. Nothing like running an actual race."
While no one expects you to look like Gisele on the course, you can channel your inner gazelle and score a shot that more accurately represents the powerful, strong, accomplished athlete you are.
1. Dress for Success
Function most definitely comes before fashion on race day, but if you're hoping for a Kodak moment, keep Cyr's tips in mind: "We dress models in solid colors, free of logos. Darker colors usually photograph best." Stay away from loose apparel that with a gust of wind will turn your thigh into one of those inflatable, waving tube-men. Opt for compression shorts, capris or tights in black or dark blue. When it comes to tops, a sports bra (if you're diesel) or a full-length shirt are your only options. Trendy midriff cuts can end up creating the illusion of a spare tire mid-stride. Anything that rubs, chafes or otherwise makes you uncomfortable should be left in the drawer.
2. Best Face Forward
From squinty eyes to dried spittle, the  hazards of haggardness are difficult to avoid. But you've trained, sweated and burned for this race. This is your moment and you deserve to glow. Start every day, but especially race day, with sunscreen. Use water-resistant sprays for the body, a sunscreen stick for easily burnt areas and a facial formula for your visage. Aside from waterproof mascara, skip the makeup and select a long-lasting lip balm with SPF. If you really want to go the extra mile, try an over-the-counter teeth whitener to brighten your look on race day and after.
3. Hair Traffic Control
When it comes to your mane, race shots are analogous to those photos snapped mid-hill on a roller coaster. Ponytails often end up flying in your face or up behind your head. Try a braided pony or two French braids, secured with soft hair elastic. Or go for a lightweight, breathable running hat to keep annoying flyaways at bay. Use hair products that contain sun protection and apply a sunscreen stick (it's harder to sweat off) along your part.
Every runner knows the highs (I could run forever!) and the lows (I'm totally dying!) of a long race. Cyr explains that the photographer won't be able to wait to capture you at your best: "People are whizzing by, and the photographer may only have one second to spot you." Stay aware of photogs and once you see one, relax your shoulders, lift your chest, loosen your neck muscles, lift your chin and let your legs do the work.
And of course, don't forget to smile. "My main tip would be to present a facial expression that suggests determined and happy," Cyr says. "Much of this expression comes from your eyes. Keep them wide open and look up at the course." Bust out that grin as you barrel toward the finish. After all, running is supposed to be fun! ■