3 Reasons That Runners Should Spectate A Race
If you usually run versus going to spectate, Eat Pray Run DC shares why you should take a day to cheer on fellow runners as they race.
Heading out the door? Read this article on the new Outside+ app available now on iOS devices for members! Download the app.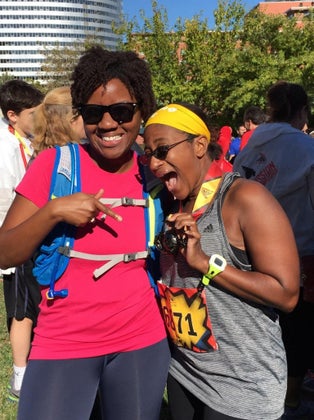 This past weekend, I woke up early, filled up my Camelbak, packed some fuel and threw on my most comfortable running gear. No, I wasn't racing. I was preparing to spectate the 39th Marine Corps Marathon here in Washington, D.C.
I have spectated a number of races before but never committed to being there for the whole thing. For the Marine Corps Marathon, I was tracking a number of friends and planned to see them at different points along the course. My plan was to be there for most of the day. I have to say that I loved spectating so much that I may have found a new favorite weekend activity.
Seriously, it was so awesome and if you haven't spectated a race, here are a few reasons why you should:
The inspiration.
There is nothing like watching marathoners push through pain, heat (it was an oddly warm day in D.C.), doubt, etc. while running to inspire you to do the same. I was coming off an awesome 20-mile run the day before the race and seeing the marathoners working so hard just inspired me to do the same every time I lace up my shoes.
The fun!
Honestly, it was just really fun being out there amongst the runners. I loved clapping, yelling and trying to cheer individually for as many people as I possibly could. Spectating a race really plays to my strengths: I'm loud and I love strangers!
Paying it forward.
I've had so many wonderful race experiences and have had some amazing spectators cheering for me. It was awesome to be able to pay that forward at the race. Especially when I was stationed right after mile 20, it meant a lot to me to be able to encourage the runners as they made their way through the course. I know how hard it can feel at that point in the race, so I gave my cheering my all in the hope that it would make them feel a tiny bit better in the moment.
I had such a fun time spectating and cheering on runners. If you haven't dedicated a day (and it was a pretty full day—I was at the race from 9 a.m.-2:30 p.m.) to spectating, you really should. It's fun to be on the other side of the line!
I left feeling pumped up, inspired and super ready to take on the Richmond Marathon in just three short weeks. I also meet a couple runners who will be running Richmond with me (not a surprise since Richmond is awesome and runners are chatty).
I'm now thinking about what race I will spectate next. I will definitely be doing this on a more regular basis!