10 Rock Hits From The 2000s That Pump Up Our Run
These songs were first on our running playlist once we entered the 2000s.
Heading out the door? Read this article on the new Outside+ app available now on iOS devices for members! Download the app.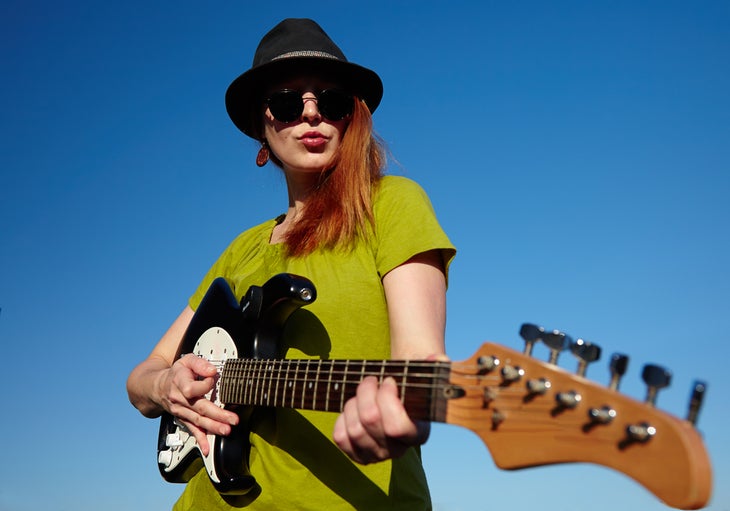 In the past 20 years, rock has gone from being the dominant force on the radio to an afterthought. As an example, consider the fact that 2016 is three quarters over already and only one rock act has topped the Billboard chart in that whole span: 21 Pilots. (Technically, Prince's "Purple Rain" also reached number one for a week this year—albeit as an outpouring of affection for the man himself, rather than a testament to the viability of rock right now.) Given all that, the early 2000s represent the most recent time when rock ruled the public imagination. In the playlist below, we've collected some of the finest and fastest moments from that era to score your next run.
The list kicks off with stadium kings U2 and closes out with the heirs to their throne Coldplay. In the middle, you'll find early 2000s tracks from Green Day and Jimmy Eat World alongside later tracks from Kings of Leon and Fall Out Boy. Elsewhere there are rock songs by pop stars (like Avril Lavigne and Kelly Clarkson) mixed in with hits from groups who favor synthesizers as much as guitars (like The Killers and Empire of the Sun). Given that music is cyclical, it's unlikely that the previous decade represents rock's last gasp. But, between now and the next wave of great bands, you'll find plenty below to stir your soul and quicken your steps.
Kelly Clarkson – Since U Been Gone – 131 BPM
Empire of the Sun – Walking on A Dream – 127 BPM
Avril Lavigne – Sk8er Boi – 150 BPM
Kings Of Leon – Use Somebody – 135 BPM
Green Day – Minority – 138 BPM
Fall Out Boy – Thnks fr th Mmrs – 155 BPM
The Killers – Somebody Told Me – 138 BPM
Jimmy Eat World – Sweetness – 135 BPM
Coldplay – Viva la Vida – 139 BPM
To find more workout songs, folks can check out the free database at Run Hundred. Visitors can browse the song selections there by genre, tempo, and era—to find the music that best fits with their particular workout routine.