11 Ridiculous Holidays That Need To Exist For Runners
Because Create Your Own Beer Garden Day needs to be a thing.
Heading out the door? Read this article on the new Outside+ app available now on iOS devices for members! Download the app.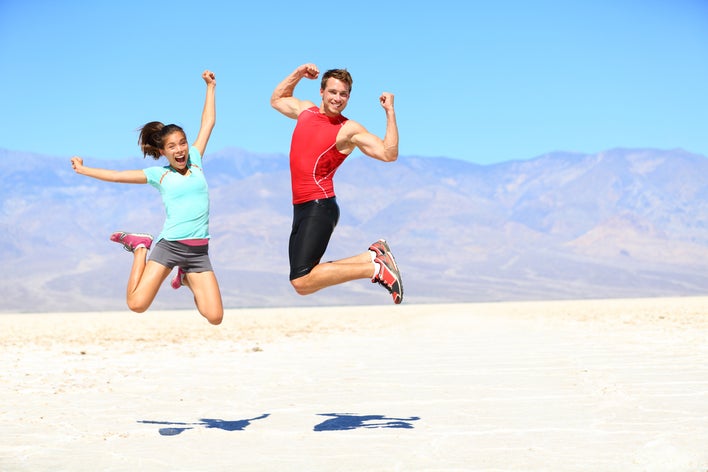 If you could make up your own holiday—because apparently there's a day for that!—what would it be? If we had it our way, there would be 365 of them in a year! More realistically (kind of), here are some days that need to exist for runners in honor of National Make Up Your Own Holiday…Day (March 26):
1. Day After A Race Day. We can all agree that the day after a huge race, or just any race, should be a national holiday for runners. Holidays call for celebration, remembrance and relaxation, so let's celebrate our accomplishments, remember the tough work that made this day possible and relax our muscles by skipping a day in our cubicles.
2. Massage Day. Another no-brainer—there should be a holiday dedicated to every runner in the world treating themselves to a massage.
Related: Which Type Of Massage Is Best For You?
3. New Running Shoes Day. This would basically be Black Friday for specialty running or sports stores, as well as a mega discount day for runners. Need a new pair? There's a holiday for that!
4. I Ran Really Far So I Get To Splurge Day. Cancel your healthy plans—on this day, eat whatever the hell you want. Donut shops, pizza joints, bars, ice cream parlors, bakeries—y'all brace yourselves. We are coming, but after our morning run of course.
Related: 5 Reasons Runners Should Eat Ice Cream
5. Celebratory Splurge Day. Because there needs to be two days dedicated to eating. After your big race, make it a four-day affair—combined with #1, this is the ultimate holiday for runners to scarf down whatever they've been craving.
6. Taper Tantrum Day. Let's be honest—you've called out sick at least once in honor of the epic emotional breakdown you had during the final two weeks before your marathon. "I can't come in—I'm tapering."
7. Honor The Elites Day. There needs to be a day where we all sit down and read a book, an article, a Tweet (or several), a post or something about our favorite elites, elites we've never heard of or just elite racing in general. These fast runners are the ones leading the races (literally!) we love so dearly and putting running on the map on the professional level for the rest of the world to appreciate. Throw them some love by applauding their relentless efforts to make our sport more mainstream and great.
Related: What The Heck Happened At The Olympic Trials?
8. Hug A Coach Day. This is otherwise known as "hug anyone who has ever supported you" day. Actual coach, parent, significant other, sibling, friend, random person holding a sign—we consider all of them coaches because they make us better. Take the day off and make your rounds by hugging everyone who has ever contributed to your running success.
9. Volunteer Day. Imagine if race directors and operations teams didn't exist to shut down streets, direct traffic, build start and finish structures and make sure your favorite event goes off without a hitch. The least we can do is volunteer and hand out some waters, T shirts, medals or whatever else is needed to ensure the next runner has the same great experience you did.
Related: 5 Reasons To Volunteer At A Race
10. Nap Day. This unofficially exists, but let's make it a real thing and trade in our office attire for our pajamas. Sleep is vital for our training and sanity and productivity, so really this is benefitting our employers as well—right?
11. Create Your Own Beer Garden Day. There's no real reason for this one, other than to fully practice your ENTIRE race-day routine.