10 Stunning Performances from the U.S. Track and Field Championships
Nikki Hiltz, Sha'Carri Richardson, and Sydney McLaughlin-Levrone shone at the biggest weekend in American track and field. Here's what went down.
Photo: Christian Petersen/Getty Images
Heading out the door? Read this article on the new Outside+ app available now on iOS devices for members! Download the app.
If a tree falls in Track Town USA and nobody hears it, does it make a sound?
The 2023 USA Track and Field Outdoor Championships was full of explosive running, jumping, and throwing action from July 6-9 at Hayward Field in Eugene, Oregon, but it might go down as one of the biggest—and best—American track meets that few people actually watched.
In what was a qualifying meet for the August 19-27 World Athletics Championships in Budapest, Hungary, America's best track and field athletes put on an amazing show that went largely unseen compared to previous national championships. Overall attendance at Hayward Field was sparse at best, while the live TV broadcast was pushed to afterthought cable channel CNBC instead of the usual live two-hour shows on NBC.
It might have been the unconventional timing of the meet (which is usually in late June) or the late-night scheduling, but what's most relevant are the many stunning performances, and that Team USA will have a talented squad competing in every event in Budapest.
Here are the ten most remarkable results from last weekend's U.S. championships.
1. Cordell Tinch's American Dream Came True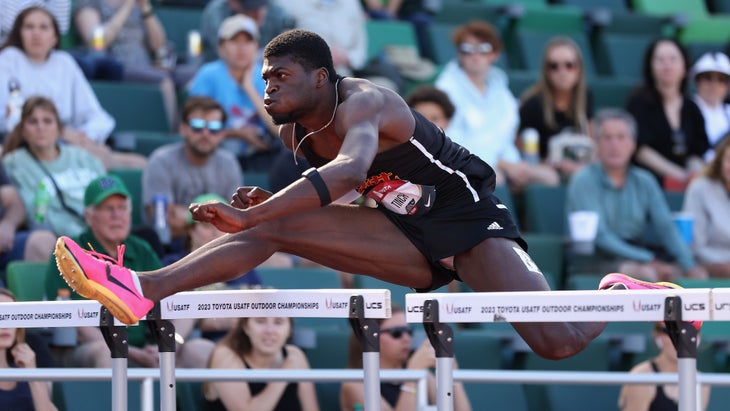 A year ago, Cordell Tinch was selling cell phones in his hometown of Green Bay, Wisconsin. After showing huge potential in numerous track and field events in high school, his college career went through fits and starts as he bounced from Minnesota to Kansas to Coffeyville Community College to Pittsburg State, before stalling completely in 2020.
With a prompting from his mom, the 22-year-old rejuvenated his training last fall after almost three years away from the sport and, this year, became one of the most versatile track athletes in the U.S. and one of the 110-meter high hurdles in the world.
After winning five NCAA Division II national titles for Pittsburg State earlier this year, he headed to the U.S. championships as one of the country's best long jumpers and the world's fastest 110-meter high hurdler. Tinch placed second in the event on Sunday in 13.08 seconds—just three-hundredths of a second behind winner behind Daniel Roberts—to secure a place on the U.S. team that's heading to the World Athletics Championships in Budapest.
"I can't put it into words," Tinch said. "I've dreamed about it forever. I get to wear Team USA." Although his June 23 world-leading time of 12.96 seconds was narrowly surpassed by Jamaica's Rasheed Broadbell (12.94) at a meet in Kingston on Sunday, the future looks bright for Tinch—who also placed fifth in the long jump on Saturday with a leap of 26 feet, 3 inches.
2. Sha'Carri Richardson Sprinted to First U.S. Title
Headline maker Sha'Carri Richardson lived up to her billing as one of the world's fastest sprinters, as she blitzed the field in the 100-meter dash on Friday night to win her first national title in 10.82 seconds. She also placed second in the 200 in 21.91 on Sunday behind a sterling effort from Gabby Thomas.
Moments before the 100 final on Friday evening, the 23-year-old sprinter from Dallas, Texas, showed she meant business as she dramatically pulled off her signature orange wig at the starting line and tossed it on the track behind her. Although Richardson had a relatively slow start, she didn't panic. Instead, she moved into the lead by 60 meters and finished strong to win her first U.S. title. Flamboyant, fast, and first.
In 2021, Richardson became a national story in the run-up to the Tokyo Olympics. After qualifying for the U.S. team with a blistering 10.86 win in the 100 at the U.S. Olympic Trials, she was subsequently banned from competition for a month after testing positive for THC metabolites. She returned later that year and struggled to perform at a high level and, last year, failed to make the finals of the 100 or 200 at the U.S. championships, missing a chance to run in the first world championships held on U.S. soil.
After her performances so far this year, she looks like she's ready for a 100-meter showdown with Jamaica's Shericka Jackson, the 2022 world championships silver medalist and the current world leader in the event, with a 10.65 effort on Friday in Kingston.
"I'm ready mentally, physically and emotionally, and I'm here to stay," Richardson said after her 100 win on Friday. "I'm not back. I'm better."
3. Nikki Hiltz Won the 1,500-Meters with a Motivation Bigger than Themself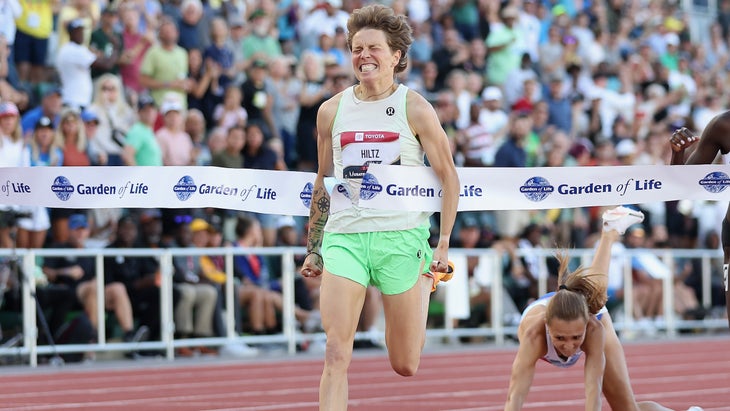 Nikki Hiltz, a 28-year-old runner from Flagstaff, Arizona, who identifies as transgender nonbinary and uses they/them pronouns, walked onto the track Saturday evening before the final of the 1,500-meter and spotted a fan waving a transgender flag. They went on to win the race by outsprinting Athing Mu and Cory McGee down the homestretch to seal the victory in dramatic fashion in 4:03.10. Hiltz then did their cool-down victory lap with race bib in their hand, and gave it to the flag waver.
RELATED: Why Are Runners Suddenly So Fast?
"It was awesome. They were the reason that I won. They pulled it out of me," Hiltz said. "I think there's so much hate right now, and specifically the bills being passed for trans youth. I just feel like the LGBTQ community needed a win, and there's so many things that go through your mind in the race, and for whatever reason that was kind of in the back of my mind. I saw that trans flag right when I came out before the race." It's already been a banner year for Hiltz, who won the event at the U.S. indoor championships in February and the fourth-fastest mile in U.S. history (4:18.38) on June 15 in Norway.
4. Elise Cranny Is on a Fast Track to Success
Elise Cranny reluctantly skipped the 1,500 meter at the U.S. championships at the advice of her coach and instead was a double winner in the 10,000-meter and 5,000-meter  events. Cranny won the 25-lap 10,000-meter on Thursday night by closing with a 62-second final 400 to take the victory in 32:12 ahead of Alicia Monson (32:17) and Natosha Rogers (32:22).
On Sunday night, she returned to win the 5,000 in a similar come-from-behind fashion in 14:52.66, holding off Monson (14:55.10) and Rogers (14:55.39). While Cranny could have been contended for the win in the 1,500 had she skipped the 5,000 meter or 10,000 meter—she was the only athlete entered in all three events entering the meet—her best opportunity for a medal in Budapest is in the longer events. She was placed 13th in the Tokyo Olympic 5,000 meter two years ago and has only gotten better since then.
5. Kenneth Rooks Fell, Recovered, and Won the 3,000-Meter Steeplechase
The 3,000-meter steeplechase is a quirky event that never gets enough positive coverage, but instead gets a flurry of social media clicks every time someone becomes a steeplechase fail meme by inadvertently taking a splash in the water pit. The steeplechase is a difficult 1.8-mile race with 28 fixed barriers and seven water jumps, typically running at 4:15 mile pace for men and 4:30 for women.
Midway through the men's steeplechase final at the U.S. championships race, Brigham Young's Kenneth Rooks, this year's NCAA men's champion in the event, found himself caught in between runners that forced him to stutter-step and, more or less, summersault over one of the barriers.
As he tumbled on the track, two of his fellow competitors were forced to hurdle over him and, by the time he got up, he was suddenly five seconds behind the leaders. To his credit, Rooks didn't panic and instead channeled former BYU runner and American record-holder Henry Marsh, who used to take pride in running from the back of the pack and winning in come-from-behind fashion. Rooks did just that, catching up to the leaders and then outsprinting them down the homestretch to win in a personal best time of 8:16.78. Although he doesn't have the world championships qualifying time, he will probably earn a trip to Budapest based on world rankings. (He's currently 18th in the world.).
"I was like, OK, Henry Marsh used to run from the back of the race," said Rooks, who took time away from track in 2021 to serve a full-time mission in Uganda for The Church of Jesus Christ of Latter-day Saints. "I've just gotta slowly work my way back up and I'll just see how many guys that I can get. I wanted to run competitively today whether I was able to be in the top three or not. I ended up winning."
6. Sydney McLaughlin-Levrone Shone sans Hurdles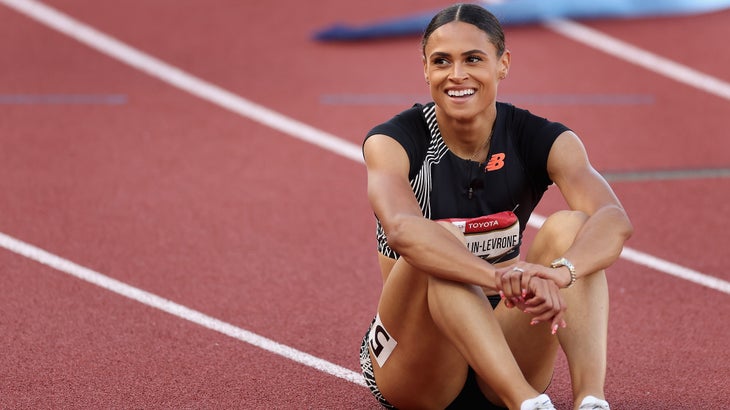 A year ago, when Sydney McLaughlin-Levrone ran an astounding new world record in the 400-meter hurdles of 50.68 seconds—a time that would have placed seventh in the open 400 meter without any hurdles—a lot of people started wondering how fast she could run in a "flat" 400. Well, now we know.
McLaughlin-Levrone lived up to her superstar billing, winning the open 400 in a U.S. championship record and personal best of 48.74. After focusing on the 400-meter hurdles for the past seven years—setting new world records while winning Olympic and world championship gold medals the past two years—the 23-year-old is now one of the world's best in the 400 without any hurdles. Her time was the second-fastest in U.S. history—barely missing the American record of 48.70 set by Sanya Richards-Ross in 2006—and the 10th fastest on the all-time world list.
"It was the culmination of everything," she said. "I think we've been continuing to progress through this year and put the pieces together. Learning a new event is always a little interesting, and I think today was a little bit of the front end getting put together, the back end getting put together, and taking a sigh of relief. The greats always push themselves and I want to be one of them, so I have to push myself and get out of my comfort zone."
7. Mother of Three Nia Ali Won the 100-Meter Hurdles
Nia Ali ran one of the greatest races of her remarkable career, winning her first U.S. outdoor title in the 100-meter hurdles. Ali won an Olympic silver medal in 2016, in Rio de Janeiro,  a world championship gold medal in 2019 in Doha, Qatar, and World Indoor Championships in 2014 in Sopot, Poland, and in 2016 in Portland, Oregon.  However, the outdoor national title had eluded her. But as a 34-year-old mother of three young children, Ali out-raced some of the fastest hurdlers in world history Saturday at Hayward Field, winning in 12.37, her second-fastest time ever.
"It means a lot to me," she said. "Compartmentalizing is my thing," she said. "When I'm at the track, I'm all track. I'm a student of the sport and totally focused. But when I'm at home, it's about my family and I don't think about track. And when I'm at home, I'm a student there, too, learning each and every day because my children are teaching me everyday. My son just told me the other day, 'Mom, it's been a while since you won something big. What's going on? I want you to win something.' They kept it real and I had to deliver. I'm happy to pull through for them."
8. Gabby Thomas is back to her fast form.
Gabby Thomas, the 26-year-old former Harvard sprinter who earned undergraduate degrees in neurobiology and global health, and later earned a masters degree in epidemiology from the University of Texas Health Science Center, will eventually pursue a career in the sciences full-time. For now, though, she's an international track start who returned to the top step of the podium in the 200 by winning her second U.S. title in three years. She outran Sha'Carri Richardson to win the race in a personal-best 21.60, which eclipsed the U.S. championships meet record and is also the fourth-fastest time in history.
RELATED: The Best Track Spikes of 2023
At the Tokyo Olympics in 2021, Thomas earned a bronze medal in the 200 and anchored the silver medal-winning USA 4×100-meter team. But last year, she was sidelined with a bad hamstring injury and missed the U.S. championships.
"It felt really good to regain my title," Thomas said. "Coming here last year injured was really heartbreaking for me, so I was really ready and hungry to compete."
Although she's mostly focused on track at the moment, Thomas was an intern at Leidos as a healthcare innovation analyst with the research and development team. Her main focus is helping people in underserved communities, and she hopes to some day run a nonprofit and eventually a hospital system and inspire more girls to study science.
9. Teenagers Lit It Up
If you consider the results of some of the young, talented athletes who competed at the U.S. championships, the future looks bright for American track and field. The list of young stars begins with Erriyon Knighton, 19-year-old sprinter from Tampa who placed fourth at the Tokyo Olympics in 2021 at the age of 16 and then turned professional and signed a contract with Adidas. He returned last season to earn the bronze medal at the 2022 world championships in Eugene, lowering his personal-best time to an under-20 world record of 19.69.
Late Sunday night, Knighton scorched a deep field in the 200 to win his first U.S. title in 19.72. "It was a very good race. I came here and executed right," said Knighton, who earlier in the year broke one of Usain Bolt's meet records in Oslo. "Now we want to go overseas and get another sweep (at the world championships)."
In the women's 200 meter, 17-year-old Oregon high school athlete Mia Brahe-Pedersen placed eighth (22.65) just two days after taking seventh in the 100 (11.08). Brahe-Pedersen is the first high school track and field athlete to sign an NIL deal with Nike.
10. Krissy Gear Stunned the Women's Steeplechase Field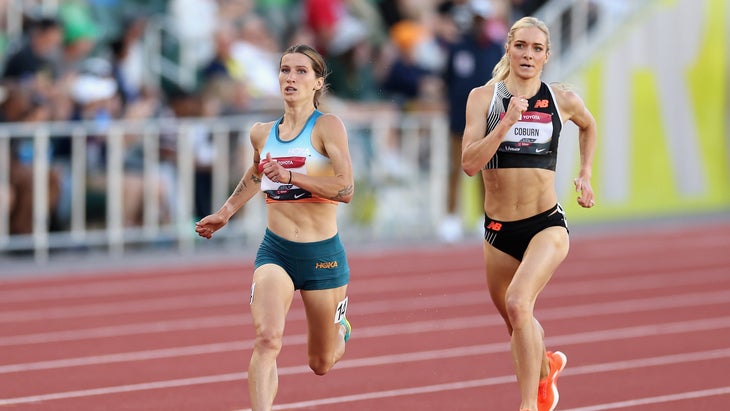 Krissy Gear announced her arrival in the 3,000-meter steeplechase with a stunning sprint to the finish. Gear, 23, ran the best race of her life and outkicked 10-time national champion Emma Coburn in the final 100 meters to win the finals in a personal best 9:12.81, a time that surpassed the world-championship qualifying standard.
"I couldn't believe it," said Gear of passing Coburn. "I definitely had a hiccup moment where I felt really bad and didn't want to do it. Because it's like Emma F-ing Coburn. You know, it's like, I want to see Emma win. I was a fangirl, but I also wanted to win. She gets it racing; she's not going to take it personally."
Coburn had a challenging past year as her mother was ailing from colon cancer and passed away in January from the disease, but she managed to finish second and earn another world championship berth. The 32-year-old from Boulder, Colorado, lost for the first time at the U.S. championships after winning every time she raced since 2011. But she still ran a season-best time of 9:13.60 to earn another Team USA berth and the opportunity to chase another world championship medal. In addition to a bronze medal from the 2016 Olympics, Coburn has five top-10 finishes in world championships—including gold in 2017.
"It's no one's fault but my own that I didn't finish first," Coburn said. "I didn't execute the way I could have. The second last lap I probably should have pushed harder on the second-to-last lap. I feel proud of my race. I had shortcomings, and I need to do better, but I got second and worse stuff has happened."