10 Reasons To Run The California International Marathon
Nat Runs Far breaks down her 10 reasons for why every marathoner should run the California International Marathon.
Heading out the door? Read this article on the new Outside+ app available now on iOS devices for members! Download the app.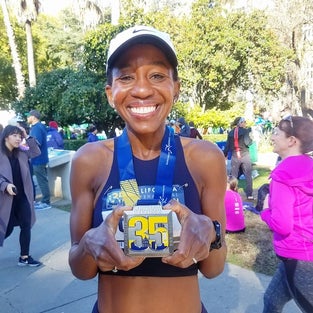 Check out Nat Runs Far's CIM race recap by following this link to her blog!
CIM: The Perfect Bucket List Marathon
I've lived in California for most of my life. When I started running marathons, people would excitedly ask if I'd ever run the California International Marathon. I finally was able to race it this year and it definitely exceeded my expectations. I couldn't wait to share these 10 great reasons for why you must run this race. Enjoy!
Sacramento is a cozy, small, vibrant city with beautiful trees, great restaurants and awesome places to run.
The weather is top-notch: it stayed cool and crisp (in the 40s at the start of the race and in the 50s at the finish), with just enough sun to keep things cheerful, but not enough to bother you during the race. Honestly, you can't order up better weather for running than Sacramento in December.
CIM is the perfect size for a marathon. With just about 9,000 runners, it's right in between super small and big city gargantuan. It's easy to find your place at the start, hook up with a pace group or run alone…there's no jostling or sardine-like status here.
The people are personable and friendly from the expo (which is easy to navigate) to the gear check (my bag broke at the last minute before the race and I was instantly handed a new one; I was also handed my bag at the end of the race in literally one minute) to the volunteers along the course. Sacramento really lays out the red carpet for runners in every sense.
The finish line is special. Once you make a couple of final turns (there are hardly any turns on the course, which is ideal for a marathon) and race down the last stretch toward the state capitol, it feels like magic. There are also separate finish lines for women and men, which is a genius idea!
It is a no-nonsense, fast course. Want to run fast? I know you've heard this a million times, but CIM is the place to do it. Everyone wants to run fast, and the course is made for speed. (Just don't forget to practice on rolling hills. The first 20 miles are made of rolling hills, despite this being a net downhill course.) Run smart during the first 20 miles and be ready to fly the last 10K toward home: it's flat and easy from that point to the finish line.
The medal is big and heavy with a tasteful amount of color. Everyone is in a great mood walking around with their medal because so many people have logged a PR, BQ or an OQT!
You'll love the hooded zip-up fabric wrap that is draped around your body after you finish your epic journey (no aluminum foil wraps here).
Who can't get excited about new socks? I love that they gift runners with blue and gold CIM-themed socks–a nice change from a t-shirt.
Runners that live out of state: this is a great reason to fly to California. Sacramento has gorgeous fall weather and is a great place for a December getaway. Have a few extra days? After the race, cruise over to San Francisco, Napa or Lake Tahoe and relax before heading back home to enjoy the holiday madness.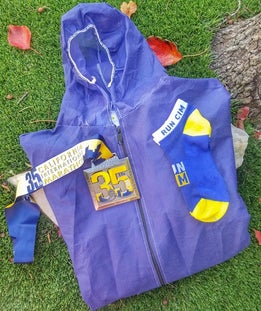 The California International Marathon is a fantastic marathon, one that should be on every marathoner's list.
Happy Holidays, my runner friends.
Related:
Rave Race: California International Marathon
10 Reasons To Run The Malibu Half Marathon