10 Quotes For An Extra Dose Of Motivation
Sometimes, all you need is a simple mantra to get you through the final miles of a run or race.
Heading out the door? Read this article on the new Outside+ app available now on iOS devices for members! Download the app.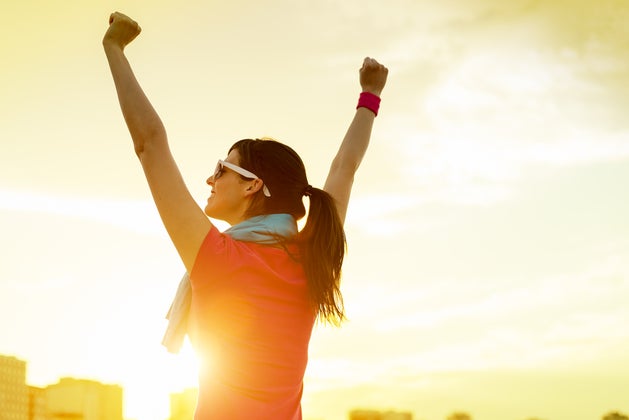 There are a lot of big races coming up—including Boston—and training for fall marathon season is about to kick off shortly after! With all of the upcoming running milestones, we felt an added shot of motivation was in order. We went straight to our readers to find out what quotes and mantras keep them moving.
We asked: What motivational quote gets you through a tough run or race?
Erin Finley: I dedicate my run. I say, "Today I run for (insert a person you love)," or "Today I run for a healthy heart," or "Today I run for those who can't." Then, there are the times I say, "Eff you mile—which ever one I'm on—you won't get the best of me! I am a superhero."
Marie McEntee: I came up with a haiku on a particularly difficult race and now I use it all the time…
"Wind tickling my face
Long hair swishing from side-to-side
Run the mile you're in."
Faith Tang: I use this poem from Edgar A. Guest:
"There are thousands to tell you it cannot be done,
There are thousands to prophesy failure.
There are thousands to point out to you, one by one,
The dangers that wait to assail you.
But just buckle in with a bit of a grin,
Just take off your coat and go to it;
Just start to sing as you tackle the thing
That "cannot be done," and you'll do it."
Annick Hollins: "Inspiration from others, determination from within." It's my own motto. Happy running!
Brenda Navarrete: "You got this. Your body will do what your mind tells it to do; now don't give up! You're really doing this…"
Debbie Simmons: "Run the mile you're in!"
Toni Schenk: "Run, walk or crawl; just don't stop."
Uzma Farooqui: "Pain is temporary; results are permanent."
Jillian Anna-Marie: "Forrest Gump ran for two years. You can do this 6K!"
Beverly Rozmus Baker: "She needed a hero, so she became one…"
Read More: 
Our Favorite Motivational Mantras
How To Deal With A Motivational Slump