10 Moments That Make Female Runners Cringe
Don't lie—you've suffered from at least one.
Heading out the door? Read this article on the new Outside+ app available now on iOS devices for members! Download the app.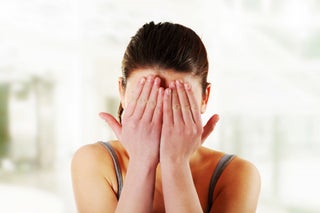 As an unofficial other-side-of-the-coin sequel to a post earlier this year, here are 10 things that the female runner might understand and loathe:
The panic of forgetting extra tampons. Any female who has ventured out on a double-digit training run during her period knows all too well—you have to stock up that back pocket with Aunt Flo supplies. So what happens when you're feeling the need to swap out essentials and realize you've left them on your bathroom counter? You shrug it off, find a gas station or, really, just keep running.
The frustration of having to master the perfect squat. We aren't guys—but there's been at least one instance where we wish we were. For us, mastering the perfect mid-trail run stance is all about not getting our socks and shoes wet. An "expert" tip: Choose to pop it near a tree to hold for balance and proper angles.
Dealing with hormonal changes while on birth control. If you're one of the tons of females that choose to take the pill or another form of BC, there's always that introductory period of adjustment, where your body basically goes into hormonal overdrive. There's spotting, mood swings, bloating and body updates that can throw a wrench into a training schedule. Relax—assuming you've worked to find the best fit with your OB-GYN, you should balance out sooner rather than later.
Choosing the most functional hair situation for your race. Personally, I'm partial to double french braids. They keep everything tightly back and out of my face. Downside? I don't know how to french braid. But when you do have to choose a 'do, there seems to be a trial and error period where you test out various choices before landing on the one that keeps those fly-away pieces at bay, like this one. And what about those with really short hair? Forget about it. Note: Men dealing with the "man bun" may suffer a similar problem.
The agony of choosing the best sports bra. This is only aggravated when the girls fluctuate in size during menstruation and other hormonal shifts. If you're a shirtless runner in the summer, the best winter choice might be different than your hottest summer look. Is it appropriate to wear the same one for a week before washing? I mean, I'm on a budget, people. For a better idea than sweating a re-sweating in the same bra, check out some best fits for A cup ladies, and keep a runner's eye peeled for styles in every size on our website.
The night-before race decision: to shave or not to shave? Pros: Smooth legs that shimmer at the finish line (Riiiiight.) Cons: Slippery legs when the sunscreen starts streaking down your stems. (Gross.) Let's change this to: to put in the effort to shave or to go au natural?
The uncomfortable situation "down there" during a rainy run. A fellow runner recently disclosed to me that going commando in the rain might have chafed her, um, lady parts. That just sounds miserable but a solid example of why wearing runderwear is potentially a sound choice when the weather turns wet. We have some suggestions on best picks for your buns.
The nipple effect. You're reveling in your victorious race, you pose for a photo, medal in hand, and blush at the image on your phone: your headlights are totally on. No one wants to say anything, but you know it's totally not going up on Instagram. Is there a filter for that? (Also, is it weird when this happens to male runners?)
The post-race heel debate. Of course you want to go out and cheers to your accomplishment, especially when it's in a brand-new city. Do you wear heels? Will that be a regrettable decision? I think we are split­; some totally rock the pumps, while others elect to keep it flat for the night.
The whole "run like a girl" thing. I mean, hopefully this has come full circle completely and is only a powerful ad for Always. Those jabs when you're a girl in elementary school need to be put to rest next to playgrounds without tether ball courts.