The History Behind The Crazy Ultra That Starts With Skydiving
Seriously, you start the race by jumping out of an airplane. Here's how the world's craziest ultra got started and why you should try it.
Heading out the door? Read this article on the new Outside+ app available now on iOS devices for members! Download the app.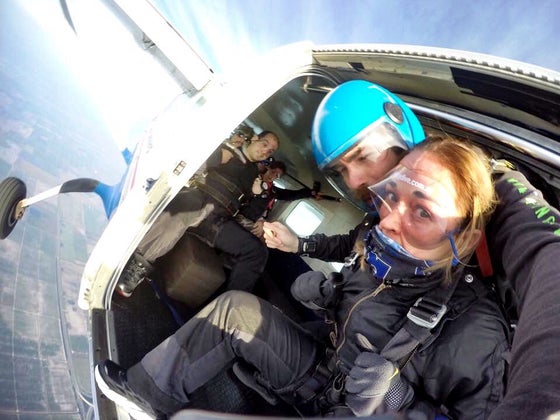 Skydive Ultra….what can I say?
There's no shortage of energy and adrenaline at the starting line of an ultra, but when that starting line is the open door of a moving airplane, the energy is a bit more palpable. Skydive Ultra is the only running race in the world where participants start by climbing into an airplane to freefall 14,000 feet at over 130 mph into the start of their race. And no, the freefall doesn't count towards the overall distance.
The first year of the race was 2013 and it was a social event called "Drop and Give me 50," where I decided to get some friends together, jump, then run 50 miles. It became "Ultrasignup Official" with shirts, schwag, medals and buckles in 2014.
This year's Skydive Ultra took place on the last weekend in January with ultra-distances from 50k to 200 miles. At this point it's morphed into a four-day party with some….ok….a lot of running on the side. This was the fifth year and it was a smashing success! We doubled in size from 2016 with almost 300 registrations representing six countries (USA, Canada, Germany, Singapore, UAE and Brazil) and 38 different states.
Why do so many people come from so many different places? It's certainly not Western States or Leadville and it's not the most beautiful course; so why do they come from the other side of the world? Simply put, our Skydive Ultra community is incredibly special. The vibe and attitudes that we've come to love in the ultra-community are enhanced by a factor of a million when you roll skydiving into the mix. Bringing the two communities together is like an explosion of awesomeness!
This year's race began on Thursday, January 26, with the first and only 200-mile loop course in the eastern United States (28 loops of 7.2 (-ish) miles. Anyone dizzy yet? Dave Krupski, returning competitor from last year and multiple Badwater/Spartathlon finisher, won the 200-mile event with a time of 55 hours, 22 minutes and 54 seconds (16:22 per mile pace!). The 200-milers have the course to themselves for 26 hours before the 150's join them.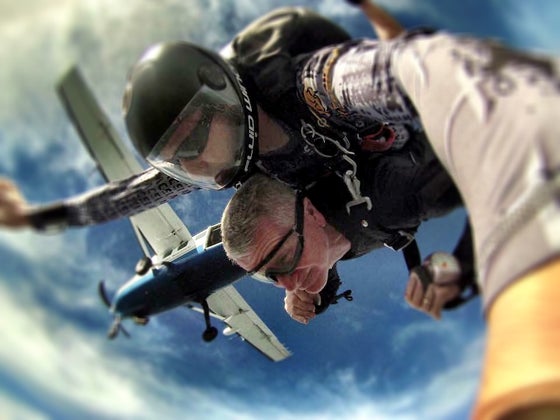 Here's a quote from Dave's blog about the event: "I wanted to put myself through the most lonely, mentally-tough, repetitive, rationally-pointless endeavor I could possibly find. I figured if I could get myself through this race in one piece, I could accomplish anything. Well, I succeeded in that respect . . . this race's brutality was all I knew it would be! For any runner looking to find out a little more about yourself and your limits, I can guarantee you'll find answers at the Skydive Ultra!"
Sally Libonati was the only other finisher (out of 4 starters) that beat the challenging 72 hour cutoff time coming in just under 71 hours!
As Dave mentioned, this course (which can only be seen in its entirety when you're up in the plane) is not easy. Aside from the fact that it's a loop course (which many people love for the easy access to drop bags and a cheering section every 7 (-ish) miles), there's absolutely no shade and almost a third of the course consisted of soft sugar sand making it more challenging than in years past. The rest of the course is flat and grassy with a side-serving of about a mile of asphalt that winds you through sweet-smelling sugar cane fields and large ponds/canals that provided stellar reflections of the sunset and sunrise (as well as cover for the gators and snakes seen along the way). The temps range from 45 degrees at night to 80 degrees during the day. The start/finish (a.k.a. Skydive Alley) is right next to the airport hangar where there is activity and skydives all day. There is a DJ and music pumping 24/7 and it's set up like pit row, where the runners come through and stop by the aid station (which always has hot bacon), and is manned with seasoned ultra-runners ready to provide some positive support.
As many first time Race Directors will tell you, there is great stress involved with planning and preparing a race. In the case of Skydive Ultra, logistical difficulties are insane. This event is unique and requires that we organize the numerous start times based on a moving number of entrants (almost 300), skydivers (157), last minute video requests (84), plane loads (30) all while utilizing 15 tandem instructors. Oh yeah, don't forget packing the parachutes, wind delays, clouds and fueling the planes. You know, your every-day-ultra-running race director responsibilities. Overall there were eight different distances from 200 miles to 10K plus a special relay division just for our country's veterans and active military. My idea behind offering so many options is to allow more people to come and benefit from the incredible spirit and energy of the event. This allowed our ultra-community to invite their friends and family to take part in the event and get a little bit of our culture. In total, 143 women and 117 men took part in one of these amazing events with an accumulated mileage of 5,943 miles when combining all distance options. I should add, the oldest contestant finished the marathon at 81 years young.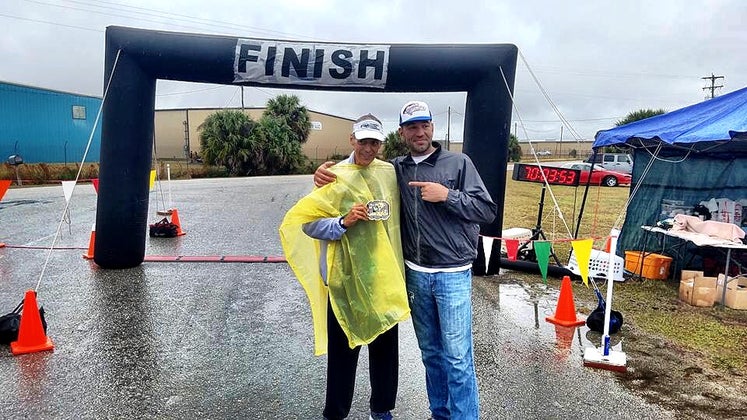 In the 150-mile division (46 hour cutoff and closer to 152 miles after you've completed all 21 loops), we had two finishers out of 10 registrations that battled it out to a close finish. Cortland Wheeler chased the 2016 course record of 37 hours and 11 minutes set by Henrik Lowemark and ultimately won the race in 42 hours 42 minutes and 45 seconds (16:51 per mile pace). Dave Yancey was hot on his heels all the way and finished in 44 hours and 3 minutes. These brave souls started Friday, January 27 and were lucky to have the company of the 200-milers on the course as well as other entrants that set up camp to bed down and hang while waiting for their events to start on Saturday.
With so many different divisions, there's always fresh legs and minds joining the course every few hours. This influx of energy really gave the runners a boost mentally and spiritually. Not to mention the lunatic on the microphone that didn't sleep and spouted random streams of consciousness and positivity for 72 hours straight.
As the sun rose on Saturday, so did the 100-mile runners and skydivers. At 7 a.m., the plane lifted off with the first wave of runners and 15 minutes later the spectators all looked up at the sky to watch the Skydive Ultra 100-miler begin (where else do you see people watching the start of the race by looking at the clouds and sky?). As the crowd watched, dozens of brightly colored parachutes started popping open 4,500 feet up in the sky. Four minutes later our first runner/jumpers were coming through the start gate with their chip timer bibs to begin their skydive-running adventure!
The wonder-couple of Mike Peragine and Addie Green charged to the front and came in first and second place with times of 19:49:45 and 21:19:28 respectively (new female course record for Addie!). In all, five people earned the coveted gold sub-24 hour Skydive Ultra buckle with another nine entrants taking home the 100-mile finisher's buckle. The cutoff for the 100-mile race is set at 32 hours to offer maximum finish potential and consists of 14 soul sucking loops for a total of 101 miles. Everyone gets free bonus mileage at Skydive Ultra! What a value.
The only event that saw a 100 percent finisher's rate was the 100k division….or, in Skydive Ultra math, the 65-mile race (bonus mileage!). Eight people registered, eight people started and eight people finished under the 18 hour cutoff with Daniel Berry winning in 11:53:55 for a speedy pace of 10:59 per mile. The 50-mile race had eleven finishers out of 25 entrants coming in under the 14-hour cutoff with Ryan Zmierski winning in 8:40:23. Lastly, the 50K division (one of the most popular distance offerings) had a great finishing rate. We saw 40 out of 44 people utilize the amazing and supportive atmosphere to power through to a finish with William O'Ryan leading everyone in, finishing first in 5:23:57.
If you were to ask any of the runners why they come out for the event, the feedback you would get would be all about the vibe. We work very hard to ensure that the race atmosphere is electric and inspiring/positive. We bring in a DJ and keep the music running 24/7 for the runners and spectators. We have a crazy dude (that's me) on the microphone performing MC duties and spoofing runners and spectators for the duration as well. Over 50 percent of our participants camp out on site in tents or RV's to spend the entire weekend at the event. It's more of a party than your typical race, and it's specifically planned and organized this way.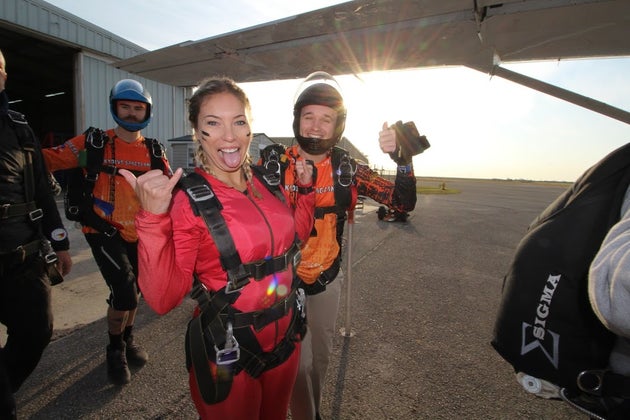 I put this race on for one reason. It's not to bust course records or see who the fastest 100-miler is or who can do the most mileage in 24 hours. No, I do it because I love these two special communities. I like to inspire and be inspired. I like to motivate and be motivated. I like to remind myself to live with passion and work hard to surround myself with people that vibe the same. This event is created and directed with a clear motive and purpose of enabling people to face their fears, scrape the depths of their souls, party, hug, smile, love, laugh and cry with joy. I promise that if you speak to anyone that's been a part of Skydive Ultra they will tell you that it's incredibly special.
Check out all the shenanigans on our website or on our Facebook page for photos and videos of the event.