18-Week 50K Training Plan For First-Time Ultrarunners
Consider this your go-to guide for a great first ultra experience.
Heading out the door? Read this article on the new Outside+ app available now on iOS devices for members! Download the app.
Committing to a journey where you will embark by foot farther than you have ever traveled before is equal parts exciting and scary. After signing up for an ultramarathon and officially committing, a flood of emotions will begin.
You know you have to put in the work, but the 'how' questions that often fill your mind before the start of this journey trigger those feelings of anxiety. These emotions are normal and—ironically enough—often sought out by folks after completing their first ultramarathon, when they sign up to tackle an even longer race.
Embracing this mental and physical challenge can make the journey as exciting as the event itself, but it's certainly no reason to ignore the experience of others. For that, I hope to provide some useful experiences to prepare you for your first ultramarathon.
5 Tips for Your First Ultra
Before we dive into the specifics of training and the complete 50K training plan, there are a few key pillars to understand before tackling this new beast of a distance.
Treat recovery as a training tool.
The first strategy with newcomers is to ditch the "go big or go home" mentality. It's fine to go big when the time is right, but ignoring the necessities of rest and recovery is a mistake. Big days are fine when met with proper recovery, but reaching too far or hard day-in-and-day-out is unsustainable. Being realistic is key in generating just enough stress to elicit a response, but not overreach so far that you struggle to recover, or get injured.
Stress can be both good and bad.
The right amount of stress causes us to get stronger and more resilient, but too much burns us out. Monitoring stress from all areas of life is crucial in choosing when to set up hard or long training days. When planning your training, avoid placing your most rigorous or time-consuming workouts on your most stressful days in other areas of life. It's mindful to refrain from viewing your training plan as set in stone. Be flexible enough that you can adjust to life's stress both inside and out of your training plan.
Consistency is key.
Although some training methodologies may differ, one thing that appears in all is consistency. Giving yourself a consistent routine to build off of will make you a strong and confident runner.
Build a strong aerobic base.
A common mistake in training is trying to put fast-paced work in place with no foundation. Ultramarathon running is highly aerobic. Starting out by building a strong aerobic base will provide a foundation for the race and course-specific workouts that will make up some of the key training blocks later in the training program. Keeping a close eye on your level of perceived exertion and heart rate is a great way to keep you honest during the aerobic base–building phase.
RELATED: What it Takes to Train for a 240 Mile Race
Specificity is king.
The diverse range of course environments available means that adapting to the proper terrain and weather is a big factor. I encourage newcomers to the sport to pick an event that offers terrain and weather that are easily accessible to them. This will allow you to maximize the way your body develops for the event. Key factors to look into include surface type, elevation gain and loss, weather trends during the time frame of the event, and technicality of the terrain.
Ultrarunning is an incredible journey that continually offers up new challenging opportunities as you learn what you are capable of throughout your growth in the sport. Read on for an 18-week 50K training plan that will help prepare you for your first ultramarathon on a hilly trail course a few gear tips to consider.
Gear List
Start thinking about the gear you'll need now so you're not thinking about it on race day. The following is just a small sample of the most important items.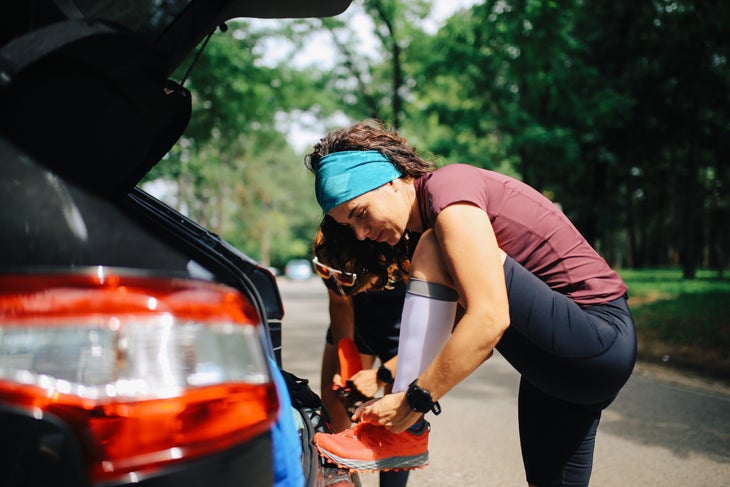 Shoes
Have at least two options and consider terrain when selecting your shoes. Most events will have drop bag areas where you can stash your backup pair, and then race organizers will deliver what you leave to the finish line.
Socks
Thickness is a personal preference in most cases, but like shoes, always bring a backup for your drop bag. Finding a pair that keeps your feet from staying wet or rubbing is important in avoiding blisters.
Layers
The time it takes to complete an ultramarathon can often mean varied temperatures or even afternoon rain. I always bring a long-sleeve layer that is easy to stow and at least semi-water-resistant.
RELATED: The Hardrock 100 Wants More Women on the Startline
The 50K Training Plan
Ready to start training? This plan will get you to the 50K starting line over the course of 18 weeks. Before you dive into the plan, there are a couple terms to know.
Base pace: To determine your base pace using heart rate, it is approximately 180 minus your age, +/- 5 beats per minute (bpm).
Time: The planned time of each workout is in the format of 00(hours):00(minutes):00(seconds).
Week

Monday

Tuesday

Wednesday

Thursday

Friday

Saturday 

Sunday

1

30:00


This is a steady, consistent, but easy effort.

45:00

Run at a steady, consistent effort.

Distance of Choice (DOC)

Listen to your body. If it's a good day, go for a run. If not, take the day off.

1:00:00

Run at a steady, consistent effort.

45:00

Run at a steady, consistent effort.

DOC

1:30:00

Long Run – Effort level should be consistent and steady. If possible, do this run on hilly or mountainous terrain.

2

DOC

1:00:00

Run at a steady, consistent effort.

1:00:00

Run at a steady, consistent effort.

1:00:00

Run at a steady, consistent effort.

DOC

45:00

Run at a steady, consistent effort.

2:00:00

Long Run – Effort level should be consistent and steady. If possible, do this run on hilly or mountainous terrain.

3

Rest Day

Focus on recovery activities like stretching, foam rolling, or light cardio.

1:00:00

Run at a steady, consistent effort.

1:00:00

Tempo Run 

15-minute warm-up at base pace.

30-minute hilly tempo (HR 10 bpm higher than warm-up).

15-minute cool-down.

DOC

1:00:00

Run at a steady, consistent effort.

30:00

Run at a steady, consistent effort.

2:30:00

Long Run – Effort level should be consistent and steady. If possible, do this run on hilly or mountainous terrain.

4

Rest Day

1:00:00

Recovery Run – Your pace and heart rate should be a bit lower than those of a base run.

45:00

Run at a steady, consistent effort.

DOC

1:10:00

Hilly Intervals 

15-minute warm-up at base pace.

3 x 10 minutes at 12-15 bpm higher than base pace with 5-minute recovery job in-between.

15-minute cool-down.

30:00

Recovery Run

1:30:00

Long Run – Effort level should be consistent and steady. If possible, do this run on hilly or mountainous terrain.

5

DOC

1:07:00

Intervals

15-minute warm-up at base pace.

5 x 5 minutes at 20-25 bpm higher than base pace with 2-3 minute jog in-between.

15-minute cool down. 

DOC

1:00:00

Run at a steady, consistent effort.

1:00:00

Progression Run

15-minute warm-up at base pace.

30-minute hilly progression run (10 minutes at 10 bpm faster than base HR. Drop 2-3 bpm for each of the next 10-minute blocks).

15-minute cool down.

DOC

2:00:00

Long Run – Effort level should be consistent and steady. If possible, do this run on hilly or mountainous terrain.

6

DOC

1:00:00

Tempo Run 

15-minute warm-up at base pace.

30-minute hilly tempo (HR 10 bpm higher than warm-up).

15-minute cool-down.

DOC

1:00:00

Run at a steady, consistent effort.

1:00:00

Progression Run

15-minute warm-up at base pace.

30-minute hilly progression run (10 minutes at 10 bpm faster than base HR. Drop 2-3 bpm for each of the next 10-minute blocks).

15-minute cool down.

30:00

Run at a steady, consistent effort.

2:30:00

Long Run – Effort level should be consistent and steady. If possible, do this run on hilly or mountainous terrain.

7

Rest Day

1:15:00

Tempo Run

20-minute warm-up at base pace.

40-minute hilly tempo (HR 10 bpm higher than base pace).

15-minute cool-down. 

DOC

45:00

Run at a steady, consistent effort.

1:10:00

Hilly Intervals

15-minute warm-up.

3 x 10 minutes at 15 bpm higher than average pace with 5-minute recovery jog in between.

15-minute cool down.

1:15:00

Run at a steady, consistent effort.

3:00:00

Long Run 

Run at a steady, consistent effort. This run should be done on hilly or mountainous terrain to mimic race-day conditions.

8

Rest Day

30:00

Run at a steady, consistent effort.

30:00

Run at a steady, consistent effort.

DOC

1:00:00

Run at a steady, consistent effort.

45:00

Run at a steady, consistent effort.

1:30:00

Long Run 

Run at a steady, consistent effort. This run should be done on hilly or mountainous terrain to mimic race-day conditions.

9

DOC

1:00:00

Hill Repeats

20-minute warm-up.

20 x 20-second quick uphill repeats. These intervals should be intense. Give yourself 40 seconds easy jogging/walking between each interval.

20-minute cool-down.

1:00:00

Recovery Run

1:00:00

Run at a steady, consistent effort.

1:00:00

Intervals

15-minute warm-up at base pace.

5 x 4 minutes at 20-25 bpm faster than base pace with 2-minute recovery jog in-between.

15-minute cool-down. 

DOC

3:00:00

Long Run 

Run at a steady, consistent effort. This run should be done on hilly or mountainous terrain to mimic race-day conditions.

10

Rest Day

1:00:00

Hill Repeats

20-minute warm-up.

20 x 20-second quick uphill repeats. These intervals should be intense. Give yourself 40 seconds easy jogging/walking between each interval.

20-minute cool-down.

30:00

Recovery Run

45:00

Run at a steady, consistent effort.

1:00:00

Progression Run

15-minute warm-up at base pace.

30-minute hilly progression run (10 minutes at 10 bpm faster than base HR. Drop 2-3 bpm for each of the next 10-minute blocks).

15-minute cool down.

DOC

3:30:00

Long Run 

Run at a steady, consistent effort. This run should be done on hilly or mountainous terrain to mimic race-day conditions.

11

Rest Day

1:00:00

Intervals

15-minute warm-up at base pace.

10 x 90 seconds at 25 bpm higher than base pace with 90-second recovery jog in-between.

15-minute cool down.

30:00

Recovery Run

1:00:00

Run at a steady, consistent effort.

1:15:00

Tempo Run

20-minute warm-up at base pace.

40-minute hilly tempo (HR 10 bpm higher than base pace).

15-minute cool-down. 

DOC

4:00:00

Long Run 

Run at a steady, consistent effort. This run should be done on hilly or mountainous terrain to mimic race-day conditions.

12

Rest Day

30:00

Recovery Run

45:00

Run at a steady, consistent effort.

45:00

Run at a steady, consistent effort.

1:00:00

Intervals

15-minute warm-up at base pace.

8 x 60 seconds at 25 bpm higher than base pace with 90-second recovery jog in-between. 

15-minute cool-down.

DOC

1:30:00

Long Run 

Run at a steady, consistent effort. This run should be done on hilly or mountainous terrain to mimic race-day conditions.

13

1:00:00

Run at a steady, consistent effort.

1:07:00

Intervals

15-minute warm-up at base pace.

5 x 5 minutes at 20-25 bpm higher than base pace with 2-3 minute jog in-between.

15-minute cool-down. 

1:00:00

Recovery Run

DOC

1:20:00

Intervals

20-minute warm-up at base pace.

3 x 10 minutes at 15 bpm higher than base pace with 5-minute recovery jog in-between.

20-minute cool-down.

30:00

Recovery Run

3:00:00

Long Run 

Run at a steady, consistent effort. This run should be done on hilly or mountainous terrain to mimic race-day conditions.

14

Rest Day

1:11:00

Hybrid Tempo & Speed

15-minute warm-up at base pace. 

20-minute hilly tempo at 12 bpm faster than base pace.

5-minute recovery jog.

8 x 60 seconds at 25 bpm faster than warm-up with 1-minute recovery job in-between.

15-minute cool-down.

1:00:00

Recovery Run

DOC

1:20:00

Intervals

20-minute warm-up at base pace.

3 x 10 minutes at 15 bpm higher than base pace with 5-minute recovery jog in-between.

20-minute cool-down.

30:00

Recovery Run

3:30:00

Long Run 

Run at a steady, consistent effort. This run should be done on hilly or mountainous terrain to mimic race-day conditions.

15

Rest Day

1:00:00

Run at a steady, consistent effort.

1:00:00

Progression Run

15-minute warm-up at base pace.

30-minute hilly progression run (10 minutes at 10 bpm faster than base HR. Drop 2-3 bpm for each of the next 10-minute blocks).

15-minute cool down.

DOC

1:00:00

Tempo Run 

15-minute warm-up at base pace.

30-minute hilly tempo (HR 10 bpm higher than warm-up).

15-minute cool-down.

DOC

4:00:00

Long Run 

Run at a steady, consistent effort. This run should be done on hilly or mountainous terrain to mimic race-day conditions.

16

Rest Day

45:00

Recovery Run

1:00:00

Run at a steady, consistent effort.

1:00:00

Progression Run

15-minute warm-up at base pace.

30-minute hilly progression run (10 minutes at 10 bpm faster than base HR. Drop 2-3 bpm for each of the next 10-minute blocks).

15-minute cool down.

1:00:00

Recovery Run

DOC

1:30:00

Long Run 

Run at a steady, consistent effort. This run should be done on hilly or mountainous terrain to mimic race-day conditions.

17

Rest Day

1:00:00

Tempo Run

15-minute warm-up at base pace.

30-minute hilly tempo.

15-minute cool-down.

30:00

Run at a steady, consistent effort.

DOC

1:00:00

Progression Run

15-minute warm-up at base pace.

30-minute hilly progression run (10 minutes at 10 bpm faster than base HR. Drop 2-3 bpm for each of the next 10-minute blocks).

15-minute cool down.

DOC

1:30:00

Long Run 

Run at a steady, consistent effort. This run should be done on hilly or mountainous terrain to mimic race-day conditions.

18

DOC

45:00

Hill Repeats

20-minute warm-up.

10 x 20 seconds quick uphill repeats. These intervals should be intense. Give yourself 40-second easy jogging/walking between each interval.

15-minute cool-down.

30:00

Run at a steady, consistent effort.

30:00

Recovery run. 

DOC

50K Race

Rest Day
RELATED: How to Set Up Your Weekly Mileage for Smarter Training