More Things To Embrace About Summer Running
It ain't over yet! Let's embrace the season through the end.
Heading out the door? Read this article on the new Outside+ app available now on iOS devices for members! Download the app.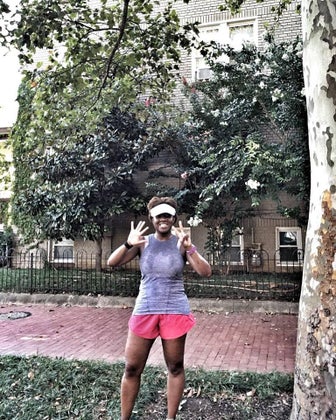 Lately summer running in Washington, D.C. (and in most of the U.S.) has been…rough. The temps have been almost dangerously high, the humidity has been oppressive and it has not been easy.
However, as we move towards fall (please??), I was thinking about things I'll miss about summer running. It can be hard to remember that there are good aspects of sweating it out in the heat, so I thought I'd talk about a few things to embrace about summer running while we can.
Soon enough, we'll be talking about the frigid temps and what the best gloves are for avoiding frostbite.
Lots of daylight.
I don't like running in the dark by myself and since I'm often running alone, having more daylight gives me more options in terms of choosing when and where I can run.
Minimal layers.
Shorts, a tank and a visor. Some days just shorts and a sports bra. Dressing for a summer run is so easy—I try to wear as few clothes as possible. In the winter, it's all about ALL the layers and I appreciate that summer running removes this worry!
RELATED: What Happened When I Ran In My Sports Bra
Extra feelings of badassery.
Yes, badassery is a word. The word that describes the feeling after you finish a run where it felt like you were running on the surface of the sun. It doesn't matter how long it took you, it doesn't matter how slow you went—you still have that extra feeling of badassery because you did it.
Ice baths are actually somewhat pleasant.
This sounds crazy, but it's true. The first couple minutes of any ice bath is rough. However, I've found that after two minutes or so, my body temperature is so hot, the ice melts almost instantly the it actually feels very refreshing. This will NOT be the case come winter! Embrace it now if ice baths are your thing. Or if you have access to a cool creek, use that. Natural ice baths are the best, in my opinion!
RELATED: 5 Ways To Beat The Heat On Summer Runs
What are some things you are embracing about summer running while it's still summer?