How Running Barefoot On The Beach Benefits You
Heading out the door? Read this article on the new Outside+ app available now on iOS devices for members! Download the app.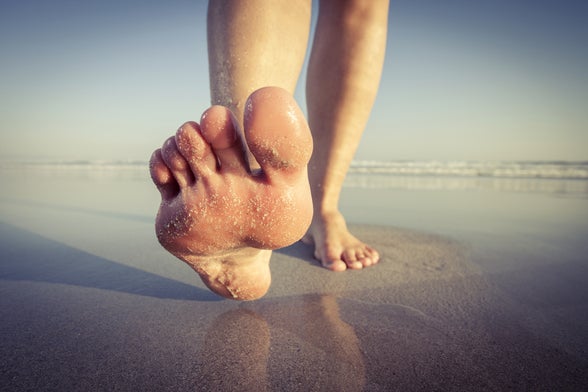 As if being on the beach isn't beautiful enough, running barefoot on it can have promising results for your training. Not only does running on the beach help strengthen your calves, arches and knee muscles, but there's also less impact on your legs than running on the road. As an avid runner from a quaint beach town, I can certainly attest to the positive effects of running on the sand. A great time to go is at low tide, which makes the sand a harder compact surface (very similar to trail running). High tide leaves the sand soft and dry and can be quite challenging and difficult to power through. (However, this can be an effective workout.)
Aside from the zen that a beach setting can offer, here are some other benefits to running along the shoreline:
Related: Is Barefoot Minimalist Running Really Better For You?
You can burn more calories. According to a study performed by The Journal of Experimental Biology, people who run on the softer sand use close to one and a half times more energy than those who run on the roads. The more difficult the running task is, the more energy you put out, therefore the more calories you burn.
You can get faster. Running barefoot on the beach enhances your abilities to become a faster runner. A study at the University of Western Australia claims that an athlete has to push into the sand with greater force to go a certain speed. Therefore, athletes who run on softer sand use more power at a certain speed than they would if they were running at the same speed on the road.
You can strengthen that lower body. Barefoot running on the beach helps to strengthen your lower body. According to Daniel Lieberman, an evolutionary biologist at Harvard University, barefoot running and walking helps to strengthen the muscles in the foot and the ankle. As runners, building these muscles not only leads to better performance but also avoids injury.
You can get more coordinated. Not only do barefoot beach runs contribute to a better posture, but they also help to make you more aware of your surroundings. With every step, you feel both your feet and the ground. This type of running is instinctual and allows you to be present with yourself and the environment around you.
You deal with less hard impact. The soft surface of the beach as you run is very forgiving on your joints and muscles. It gives them a break from the constant pounding of the concrete, thus minimizing the overall strain on your body.
Related: 6 Modifications To Make Strength Workouts Low-Impact