A Reminder That Anything Can Happen On Race Day
A trip to Cuba for a triathlon and to see her father's birthplace turned into a reminder that you can't plan for everything.
Heading out the door? Read this article on the new Outside+ app available now on iOS devices for members! Download the app.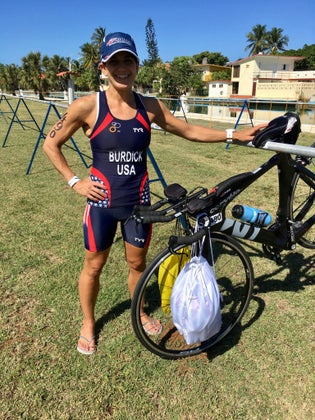 As soon as I woke up at 5 a.m. on race day, I knew something was very wrong. The room was tilting and moving, along with my nauseated stomach, and it refused to stop. I slowly made my way to the unfamiliar bathroom in my rented house outside of Havana, Cuba and had to quickly grab onto the sink to keep from tumbling to the floor. What the hell was wrong with me?
My family and I had traveled to the country where my father was born to trace his long abandoned family history and for me to compete in the Havana Triathlon. Little did we know, only one of those things would happen.
The youngest son of wealthy Cuban parents, my father was forced to escape his country in 1961, when an evil man named Castro made his homeland unrecognizable, seemingly overnight. After a year of planning ,my father and his parents escaped via private plane, with my dad hidden and silent inside an equipment container, miraculously landing in Key West, Florida. After being detained for a few days, the family was allowed to continue on to Hartford, Connecticut where they had friends who would help them become American citizens, provide job opportunities and essentially begin a new life. After living in the U.S. for 56 years, my dad would finally be going home.
Presently, Americans need a reason (such as a sporting event) to travel to Cuba so, with my triathlon registration in hand, off we went to see my dad's country for the first time. I had trained hard and was very excited to swim in the warm ocean, bike though stunning neighborhoods alongside an endless parade of cars from decades ago, and run for miles along the ocean on the famous Malecón. Unfortunately, my body had other plans.
Triathlon in Cuba is organized a little differently than here in the U.S. Instead of one transition area, there are two. The first is where your bike is waiting along with all your cycling gear. You ride to the second transition area where a second bag with your running gear awaits. After crossing the finish line you have yet another bag with post-race goodies.
The day before the race I went to packet pick-up, did a pre-race swim in the 77 degree ocean and set up my bike and two race bags in the first transition area. One bag would stay with my bike and the other, with my running shoes, race bib and hat, would be transported by race officials to the second transition area.
After realizing I could barely walk let alone race on the morning of the triathlon, I was wallowing in devastation and had my husband bring me back up to my bed, defeated. It was there I suddenly realized he and my Spanish speaking father would have to try and collect my bike from the race transition area! I was in a full panic, shoving my passport and babbling information to my husband, knowing how serious it would be to ask an official in a foreign country to hand over a $6,000 bike to anyone other than the athlete, but I couldn't get out of bed at that point.
After a lot of begging from my dad and a lot more photographing of my bike, passport and my dad and husband, the race manager finally relinquished my bike.
After hearing the news, I decided I needed to leave my second transition bag right where it was, with newly-purchased Brooks Launch running shoes, my bib belt and one of my favorite pink hats, for someone else to enjoy. The people of Cuba have so little and I like to think my shoes went to someone who really needed them and who would run hard, never knowing how or why they ended up on their feet.
It was the least I could do.
I also realized that no matter how prepared you are for a race, anything can happen on race morning. After returning home I was diagnosed with a sinus infection which caused the vertigo at the worst possible time. Although I'm still upset about not being able to race, I'm glad my father was able to locate his childhood home (now the Norwegian Embassy!), his school, his father's old business and reunite with over ten relatives he hadn't seen since he was a child.
If anything was to go wrong on this trip, I'm relieved it was the race and nothing to do with my dad's return to Cuba. I will have many more races—but you only get one homecoming!