New Year – New Inspiration!
Heading out the door? Read this article on the new Outside+ app available now on iOS devices for members! Download the app.
When the ball drops, many of us take time to evaluate the year past and set goals to create a better, more enlightened path into the new year. As runners, we often enter the new year with a renewed commitment to our training and vow to keep putting one foot in front of the other while chasing down our running dreams. For some, this may mean running a new distance, while for others this means setting a personal record (PR) at a race. Some may wish to train more frequently during the week, and others may want to add a strength training routine into their weekly schedule. Almost always, goals for training involve eating and fueling our bodies in a healthier way to sustain the activity we ask it to endure.

Whatever the goals are, this is the time of year when most of us set them.
Here at Women's Running magazine, one of our goals for the new year is to further our reach to our readers. We pride ourselves on being a running magazine for women runners everywhere. This means we hope to appeal to everyone from the recent college graduate, working or stay-at-home mom, to the serious runner pursuing podium finishes. In our magazine (and blog!) we include everything from training tips to healthy recipes, and motivational stories to gear reviews.  Just as you would seek the advice of one of your best girlfriends, we hope you see Women's Running as a best girlfriend (who happens to know a lot about running!).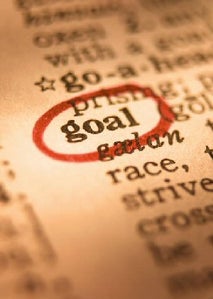 We're proud to introduce our newly revised blog, and hope you will add it to your daily reading. Here you will find the latest tips, training ideas, recipes, gear reviews, and much more. Each week we will also feature a guest blog from Women's Running magazine editor-in-chief, Jessica Sebor, where readers will enjoy reading stories of her travel and running expertise.
Join us as we embark on a new year filled with running goals.  We won't disappoint.
We've told you our goal; now what are yours?