Neely Gracey's Road to the Trials: Go for Your Goals
Follow elite mother-runner Neely Gracey as she prepares for her third Olympic Marathon Trials—and offers advice on reaching your own running breakthrough
Heading out the door? Read this article on the new Outside+ app available now on iOS devices for members! Download the app.
Welcome to the first in an eight-part series at Women's Running, with elite runner Neely Gracey, where she shares her journey and advice as she prepares for the 2024 U.S. Olympic Marathon Trials in Orlando in February.
Neely Gracey: Elite Racer, Writer, Mother, World Record Holder
Busy runners—including moms—often struggle to feel like they can do it all. Squeezing training in around family responsibilities can leave them doubting whether they're doing enough to achieve their athletic ambitions. But when they do get out on the roads or the track, they feel unfocused or guilty for taking time away from home or kids.
Yes, running and parenting—or to be honest, running and any type of adulting—requires balance and sometimes, compromises. But I'm here to tell you that having kids doesn't mean your best running days are a thing of the past. Mother runners, you can still run toward your goals! I'm proof.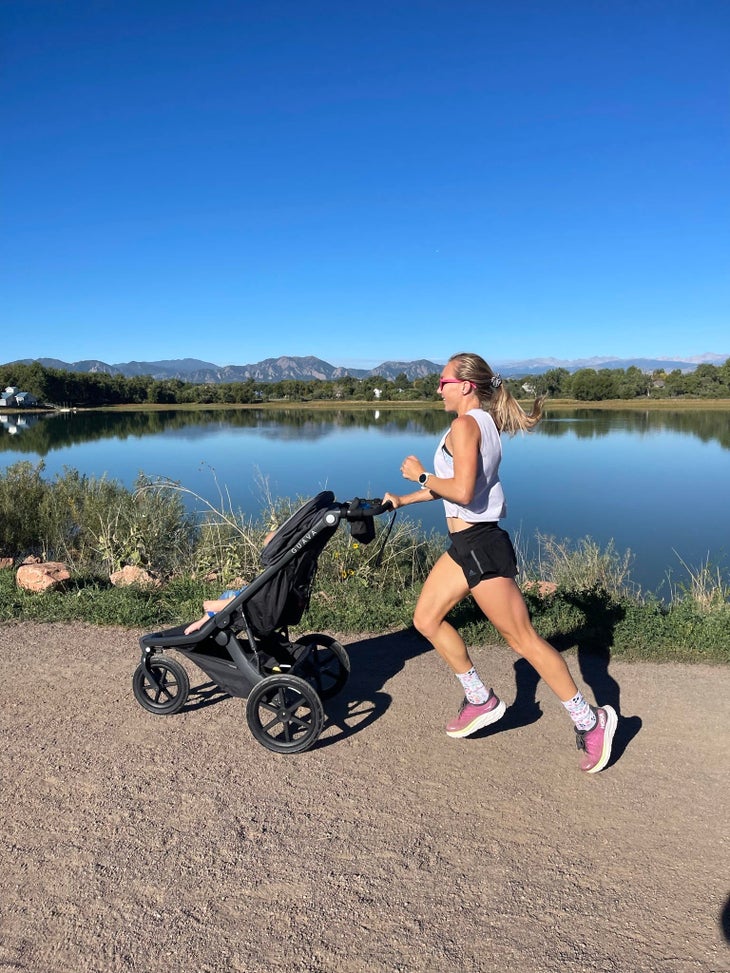 My name is Neely Gracey, and I'm a mom, coach, elite runner, author, and four-time Olympic Trials qualifier. You might have seen my name in the news when I broke the Guinness World Record in the stroller mile on June 30 or when I ran my personal-best 2:30:29 at the California International Marathon (CIM) this past December—18 months after having my second son, Rome.
Or, maybe you've read my book Breakthrough Women's Running: Dream Big and Train Smart. (Fun fact: I was pregnant with Rome when I wrote it!)
If so, it's nice to see you—and if you've never even heard of me before, it's great to meet you! For the next eight months, I'm going to be taking you along on my journey as I prepare for the Olympic Trials Marathon in Orlando in February.
RELATED: A Year to Go: A Quick Look at the Top Contenders in the 2024 U.S. Olympic Trials Marathon
It's my third time qualifying (or fourth, if you count the 2012 U.S. Olympic Track and Field Trials) and second time competing. And at age 33, with two boys, I'm the fittest and fastest I've ever been—not to mention, the happiest.
How did I get here? Well, it was a very long road, pun totally intended. When I look back through my qualifiers, I realize just how far I've come:
In 2012, I qualified for the Olympic Trials on the track in the 5,000 meters, and gave up my final semester of collegiate eligibility to focus on preparing. I went all-in, physically and emotionally—and broke my foot during my first race as a professional, the 2011 USATF National Club Cross Country Championships in Edinburgh, Great Britain. It was my first-ever injury, at the worst possible time. I was devastated, and despite doing everything I could to stay fit—including hours in the pool—I couldn't recover in time to compete.
In 2016, I qualified for the Olympic Marathon Trials with a time of 1:09:59 at the Rock 'n' Roll Philadelphia Half Marathon. But I had another minor injury pop up, and while I recovered quickly this time, I still felt too rushed to make my marathon debut (especially on such a big stage). So I trained through that week and instead ran the Boston Marathon two months later. I ran 2:35 to come in ninth overall and first American—an achievement that catapulted my coaching business and remains one of the things I'm best known for as an athlete.
In 2020, I was recovering from the birth of my first son, Athens, along with a fractured femur. I made a last-minute decision to try to qualify for the Olympic Marathon Trials in Houston in January. With just eight weeks of training under my belt, I ran 2:44 and made the goal happen—a definite breakthrough, and one that was even more meaningful with Athens there to see it. However, afterward, my hip hurt and I knew I wouldn't be able to complete the full race at the Trials the next month. I lined up, but dropped out at mile eight.
This time—I was far more patient with myself when getting back to running after having Rome. (I'll share more about how in a future article in this series!). Having returned to optimum fitness once before, I knew it was possible again. Everything I'd learned, through my own experiences and talking to experts for my book, helped me get to a personal best and a qualifier by six and a half minutes at CIM.
My training looks a lot different now than it did when I had a sponsor and nothing to focus on but running. But still, my current situation is the one I believe has the best odds of setting me up for success at the Trials themselves.
That's right—after 11 years as a pro and two kids, I believe I'm ready for my next big breakthrough.
RELATED: Mitochondria Can Help Researchers Crack the Training (and Aging) Code
Why? Well, I've come to what, for me, is an ideal perspective on running. I'm not forcing anything, which has gotten me into trouble before (hello, injuries!). Instead, I've found the perfect balance between being goal-oriented and go-with-the-flow, a point right in the middle of super-focused and laid-back.
With two little kids and a business, Get Running Coaching, life (and running) are still unpredictable, so I stay flexible. I've found it works best for me to have two main points of focus for the week: one workout, and one long run. I prioritize those days for big miles and hard efforts, then fit in other runs as I can based on how I feel, the time I have available, and if I have the stroller with me.
I'm highly motivated and still have big goals—the first two are to get to the start line at the Trials and finish the darned thing, given my not-so-glorious history in that department. But of course, I want to do more. Right now, I have a top-10 finish in mind, which I believe will require being in shape to run a time of 2:26. I also believe that throughout a training block, runners should re-evaluate their fitness and their goals, and you'll be able to watch me do that in real time.
And now that my husband/coach Dillon and I have two littles, each goal I achieve brings even more joy, as I think about them watching mama achieve her dreams. When I crossed the finish line in Houston, I gave Athens the biggest smooch and told him, "We did it, baby." Having him, his brother, and Dillon all there for me in Orlando—regardless of the outcome—fills my heart in ways not even an Olympic medal could. And if I can do big things with my family watching? Well, that would be the biggest victory of all.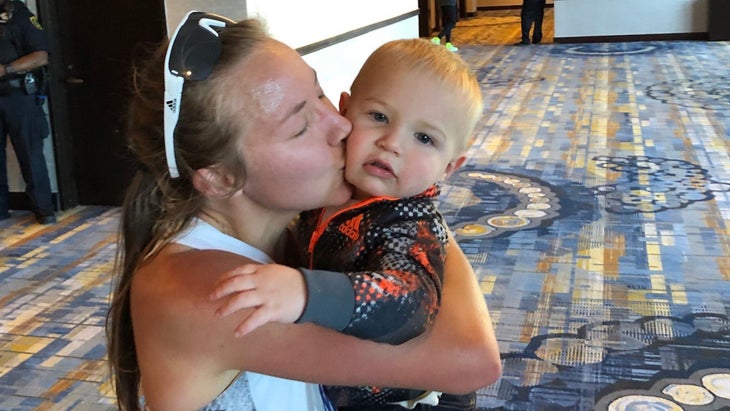 Part One of Eight
Beginning today, I'm offering you an inside glimpse into my journey. I hope it's one you can learn from, relate to, and feel motivated by. And, using my coaching background as well as insights from my book, I also want to leave you with some advice you can use as you prepare for YOUR next breakthrough.
The first step, no matter where you are in your running journey, is to set a goal that inspires you and lights your fire—one that excites you when you think about pursuing it and fills you with joy when you imagine achieving it. Here's a worksheet you can download to help you figure out that just-right goal—then give yourself A, B, and C versions to allow for all possible definitions of success.
Thanks for joining me on this adventure. I can't wait to share with you and strive alongside you as we set our sights on that next breakthrough!
Goal-Setting with Neely Gracey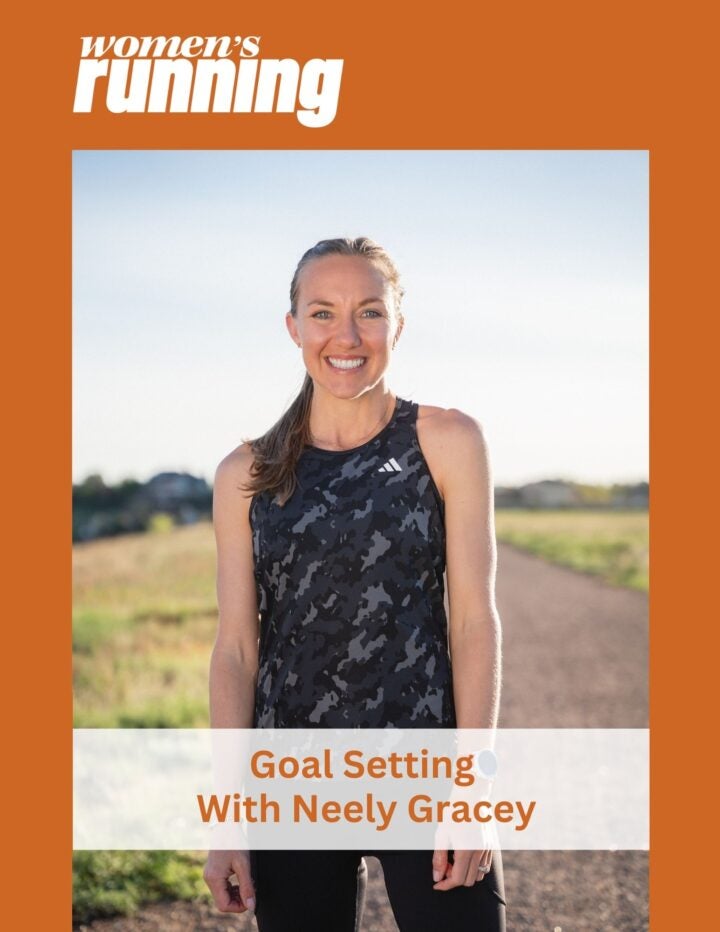 Goal Setting Questions
Click here to download a printable goal setting workbook for these questions
Maybe you already have a goal in mind—a Boston qualifier, a 5K PR, a new distance. But if not, don't worry! And in fact, even if you think you know what you're aiming for, it's helpful to spend some time reflecting on what truly motivates you and fits with your life, right now.
Here are some thought-starter questions for setting goals:
  What distance feels exciting?
  Have you been eyeing any bucket-list races?
  Can you swing race-cations with travel, or do you need to stay local?
  Are you close to any qualifying times (i.e., Boston Marathon, Olympic Marathon Trials, or automatic entry into other major marathons)?
  When you scroll social media or talk to runner friends, what are you jealous of or excited by?
  Is there a long-term quest that sounds interesting, such as going for your Six Star Finisher Medal or running a race in every state?
Once you have some ideas, get honest with yourself about which goals make the most sense right now. Answer honestly:
  What's going on in the rest of your life? Are you spread thin and stressed out, or full of  time and energy?
  How's your support system? Do you have a partner/family who's on board, coach, training partners, a work schedule that allows for training, etc.?
  If your goal is time-based—how far off are you? (If it's far, that doesn't mean you can't reach it; you just might need more time.)
  Are you willing to try new things to reach a new goal?
  What's your motivational style? Are you the type of person who's devastated if you set a goal and fail? Or do you derive satisfaction from taking big swings, even if you fall short?
  If your goal is longer-term, can you set—and celebrate—some mini-goals along the way?
  Does this goal truly bring you joy? Sometimes we set a goal because it's what everyone else is doing or what we think we "should," when in reality, a different goal speaks to our hearts.
Use those answers to narrow down your goals and pick the one that makes the most sense, right now. Then, get specific. I personally set an outcome goal (time, placement, or both) at the beginning of a training cycle. Or actually, I set three—and recommend my runners do too. They are:
Your stretch goal—your personal-best qualifying time or what you think you can push yourself to achieve if everything goes right. (For me this cycle: sub-2:26/top 10 finish at the Trials)
A slightly less ambitious, reasonably attainable goal if you have a decent race day (For me this cycle: Finish the Trials)
Your fallback goal—what you can feel satisfied with accomplishing even if the weather is terrible on race day or you miss some training because of injury (Finishing strong—or finishing, period—is often a great C goal, especially for longer distances.) (For me this cycle: Getting to the start line healthy)
RELATED: Build a Bolder Runner: Goal Setting