The Single Mom Who Ran 314 Miles And Worked The Next Day
This story of Jameela Abdul-Rahim Mujaahid will both amaze and inspire you.
Heading out the door? Read this article on the new Outside+ app available now on iOS devices for members! Download the app.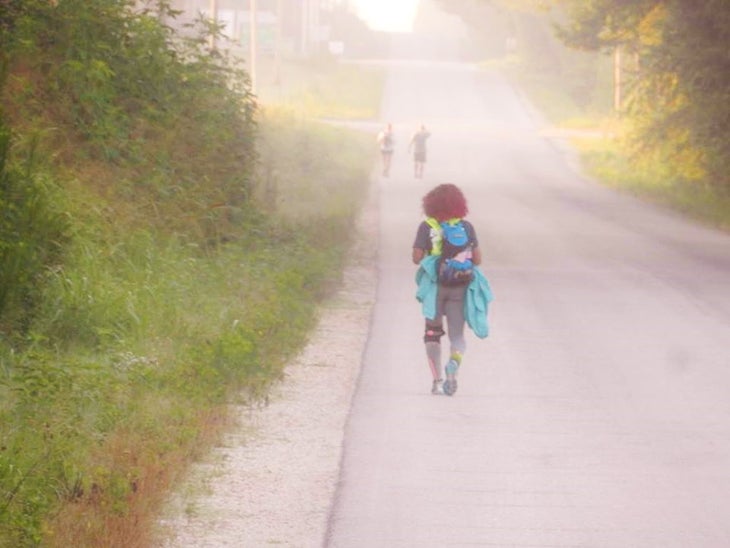 Photo: John Price
I don't know about you, but after a marathon or an ultra I like to take a day off if at all possible. I like to lie on the couch and pretend that I just ran Badwater with no crew.  I love sleeping in the next day, reveling in the soreness and stiffness that are welcome consequences of my accomplishment. I'm talking 26.2 miles-100K runs, like normal people run,*wink, wink*.  I think that after having run those distances, it's okay to take a little break or at least a few hours for some much needed rest and recovery. You with me?
Meet Georgia super-woman Jameela Abdul-Rahim Mujaahid, who ran the Last Annual Vol State 500K Road Race this past week across the state of Tennessee, finishing up just over the border in Georgia. When she was done with this, she drove home and promptly headed to work the next day at Waffle House.
So what does it take to run self-supported across 314 miles of Tennessee? Tenacity, incredible mental fortitude, and oh yeah, the ability to run for longer than most people ever dare to over a span of several scorching, hot days over roads that aren't always welcoming to a petite, African American woman with locks who runs carrying a large pack with her provisions for the days-long extravaganza, and with a determined, ultra-focused countenance.
Jameela, a mom of six ranging in age from 7-23, has always been athletic. She says, "I was the son my father didn't have."  She would tag along with him everywhere he went, running. She would race the bigger boys in the neighborhood and win, she was so fast. Jameela even had a nickname—THREE LEGGED. "I ran so fast, it looked like I had three legs," she said.
Her speed allowed Jameela to fare very well in track as a sprinter, participating and dominating in any event from 100 meters to 400 meters with the 400 meters being her specialty. In her adulthood she joined the Atlanta Track Club after becoming curious about how it was possible that people could run more than a mile at a time. "I'd be like, 'Holy cow! You ran what? Ten miles?' And so I started going out the house and making myself run as far as I could." Through the ATC she would run 5Ks and 10Ks, winning her age-group again and again.
Thus began her flirtation and ultimate obsession with running long-distance. She would master the half-marathon and marathon distance. She toyed with the idea of trying to qualify for the Olympic Marathon trials. Then she started training. It didn't seem like enough. So she started looking for more. Was there even more?
A friend at the Atlanta Track Club introduced her to the idea of ultrarunning. Jameela ended up doing an ultrarunning event put on by the Darkside Running club, running 40 miles on her first try, despite suffering from heat-exhaustion and leg cramps (and also while fasting for Ramadan). The rest is history. Well, living history, that is.
She tried the 50-mile distance, crushed it and immediately looked for the next challenge. Some friends told her about the Bartram 100 and suggested that she wait to train for it. You know what comes next—she did it anyway.
Even if it's not extremely fast running that she's doing at present, it's extremely long-distance running that she enjoys and excels at. Nowadays, you'll find Jameela running ultramarathons from 100K and 100 miles to multi-day races up to 314 miles, like the Vol State 500K.  She enjoys bursting what she perceives as a lack of belief in her abilities.
When you enter the race's website, there is this little tidbit: "This is an informational site for the Vol-State Road Race 500k. For information contact Laz. If you don't know how you probably don't want to!"
Laz is the infamous director of the Barkley Marathons…you know, that nearly impossible 100 mile romp through the rugged and virtually impenetrable Appalachian Mountains of Tennessee. If you know anything about the Barkley, you'll understand about the spirit behind Vol State. It is a difficult event suited only for those seeking the ultimate mental and physical challenge—one that will break their spirits (and build them up again) and shoes, incur a world of suffering and pain…and if they reach the finish atop Sand Mountain in Georgia, having traveled across a virtual hell of heat rising off lonely and sometimes hostile roadways, they emerge with the ultimate victory or knowing their deepest, most vulnerable selves more fully.
And I guess they emerge extremely overwhelmed with the deepest and most penetrating fatigue one could imagine.
Not so with Jameela. This strong, beautiful woman finished the Vol State 500k—all 314 miles of it (and re-ran the last 12 miles for a reason I can't quite understand—something to do with remaining qualified as un-crewed), DROVE home, slept a little, dressed for work, AND THEN WORKED A DOUBLE SHIFT.
How does one do that and not slowly melt into the ground from sheer exhaustion? You would have to be the one that wrote this on her Facebook:
"I just do not believe in quitting. You hurt, deal with it, you are hit deal with it, you miss your kids, deal with it. You want more so work harder. Life is like these races, you have to push hard, dig deep down inside and get what is yours."
She mentions that many have predicted wrongly that she wouldn't be able to finish or even start this or that race because, "I don't have a crew, I don't have pacers, I'm here by myself, I have six kids, or I drove 15 hours to get here…there's no way I'm going to finish 100 miles. But every time I hear something like that, it makes me finish that race."
Jameela's current goal is to make the USA World Endurance Team, as the first black woman ever to do so, but there are, as always, a few hurdles for her to overcome before it can become a reality. She'd also like to attempt the Barkley Marathons which to some folks seems like a crazy idea, but to the people that follow and support Jameela, this is just another step in her quest to get what is hers.
Thanks, Jameela, for reminding us of all that women are and can be, with (or without) children, multiple jobs, and countless other responsibilities when we practice leaving our comfort zones willingly and going for the gold, every single time.
Congrats on your beautiful finish. Hope you get some time to chill, though. You deserve it!