Maintaining Mental Fortitude In The Face Of A Running Injury
The injury recovery process is a tough one for runners. These tips can help you maintain mental fortitude as you're diving back into training post-injury.
Heading out the door? Read this article on the new Outside+ app available now on iOS devices for members! Download the app.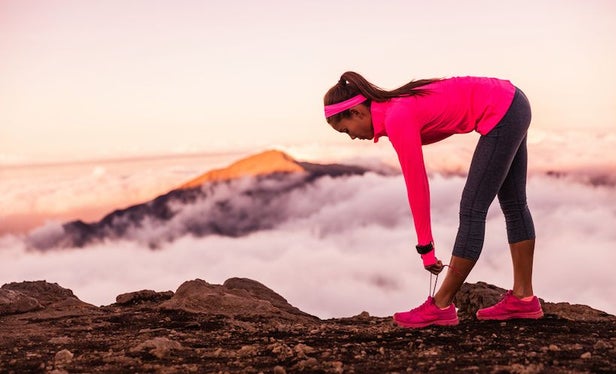 It's Normal For Running To Feel Hard
There's a peculiar notion among nonrunners that we find our sport is thoroughly enjoyable. Don't get me wrong: I'm passionately in love with running. I wouldn't do it if I wasn't. However, running can be downright painful. There are rainy workouts, early morning alarms and pre-race nerves. Yes, running is fun–but the joy it brings doesn't come without some difficulty.
It irks me, then, when I hear someone say, "Well, I tried running, but it hurt too much!"
"Great," I usually reply (in my head, because I'm not brave enough to be that snarky out loud). "Did you try it more than once?"
The fact is, anything is hard when you haven't done it before, or if you haven't done it with consistency. Running is no different. It doesn't particularly care if you've had a busy month or if your hip was sore. Trust me, I know.
Related: There's A Serious Mental Component To Running Injuries
I've had enough injuries to realize—and get smacked in the face with—this truth. Coming back from an injury can be brutal, particularly for your mind. While it's fairly easy to increase mileage and incorporate workouts to get into shape, regaining mental fortitude is much harder.
So, what do you do? First, you run. There's no antidote to mental weakness like consistent training, especially after an injury. Your legs need to get churning again, and so does your mind. To put it simply, you must learn to hurt again. Depending on the length of your rehab, you'll have to relearn the pain of running hard and the satisfaction it inspires.
I realize how hard this can be. When I came back from a stress fracture two years ago, it was mental agony. Every mile I ran, my doubt screamed, "You can't do this! You'll never be tough again. This is miserable." Listening to those lies resulted in bad workouts and overall grumpiness. However, when I chose to focus on the end gain, I found it easier to dig deep and resharpen my mental strength.
Related: Is Post-Traumatic Injury Disorder A Real Thing?
During a race, your muscles are ablaze with fatigue by the time you see the finish line. But, as soon as you see it, something usually quickens in your heart. That finish is what you've worked for. It's the reason you've pushed through the exhaustion. So, you pick up your feet and fix your gaze ahead. You remember your goals and let them propel you across that line of victory.
Let the same thing be said for your comeback from an injury. I get it: the drudgery of regaining fitness–especially the mental struggle—is discouraging. But if you remind yourself how capable you are, if you focus on the end goal of mental toughness, you will get there.
Consistency and a long-term perspective: that's what it takes to redevelop your mental fortitude. You'll have to throw yourself into workouts, you'll have to confront your fear of not being as good as you were before your injury. But when you do those things, the reward will be incredible. It'll be worth it.
Related:
By The Numbers: Mental Health And Its Connection To Running
5 Mental Side Effects Of Injury Recovery