7 Things I Love About Running In The Spring
The change from winter to spring brings some subtle changes to the sport of running—and Powdered Feet just can't get enough of it.
Heading out the door? Read this article on the new Outside+ app available now on iOS devices for members! Download the app.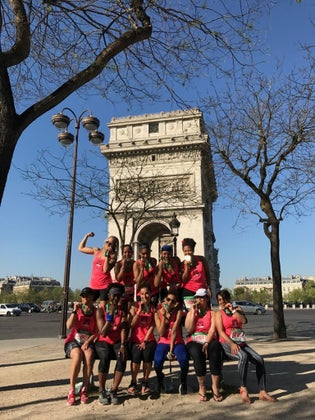 After some wild weather, including a few really warm days in February, it looks like Mother Nature has solidly decided that it is spring in New York. Spring is my favorite season—and not just because I was born at the end of March.
Here are seven things I'm most looking forward to about the season.
Early Morning Runs
As you may know, I do not consider myself a morning runner, but when spring comes around, waking up early to do a run seems more like a treat than punishment.
Evening Runs With Light
That being said, evening runs are that much sweeter when it's light out. As the founder and leader of Harlem Run, we get to explore more neighborhoods and new routes thanks to the added daylight hours. Additionally, as a woman, I feel more comfortable running later at night knowing visibility will be better.
Racing Season
Training through winter can be awful at times, but it is just the preparation you need for spring racing season. Whether it is the Paris Marathon, Boston Marathon, or any number of beautiful races, spring is the time we all get to put our training to use—and hopefully set some PRs while we are at it.
Optimism In The Air
Spring means that the weather is only getting better from here. Although I will likely complain about it being too hot in the summer, the weather has a really positive impact on my mood and thus my desire to get outside and exercise.
People Are Trying New Things
For the past three years, I have noticed that we always get a huge surge of new people joining Harlem Run in the spring (and summer). The feeling of optimism combined with the temperatures and additional sunlight means that many people new to fitness finally make their commitment to trying something new. I take this on as a challenge for myself, too, and often commit to trying new things this season.
Free Outdoor Activities And Fitness
With warmer weather comes outdoor food festivals, concerts, outdoor bootcamps; I love searching for free activities to join.
Everything Is In Bloom
I've never been a lover of treadmills, but during the winter I am more willing to run indoors because outdoors can be cold and gloomy. However, spring means that everything is in bloom and there is so much people-watching to be done. I could literally lay on the grass for hours in Central Park just taking it all in.
What are you favorite things about spring?