The New York City Marathon Broken Down By Notable Miles
Take a few thousand steps through the five boroughs with our insider's course tour of New York City's marquee running event.
Heading out the door? Read this article on the new Outside+ app available now on iOS devices for members! Download the app.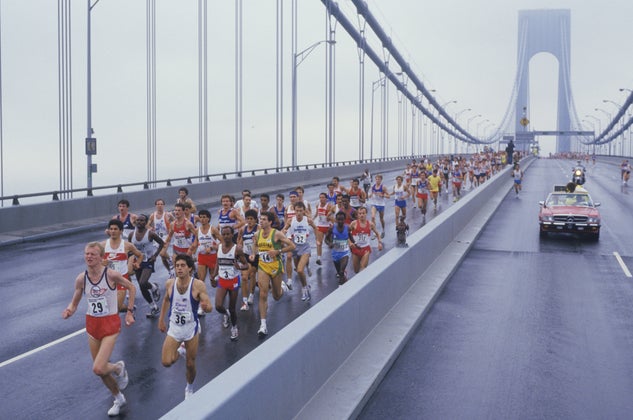 The New York City Marathon includes 26.2 miles full of layered history, delicious eats and natural wonders. Take a few thousand steps through the five boroughs with our insider's tour of the city's marquee running event.
Start
With roughly 50,000 finishers, the New York City Marathon is the largest 26.2-miler in the world. That means just as many individuals must make an early morning pilgrimage to Staten Island. Sip cardboard cups full of coffee and Gatorade, as you rest your legs on Fort Wadsworth. First captured by British soldiers in 1776, the fort was lined with 100 cannons during the Union's fight against the Confederacy and housed mines destined for underwater detonation in World War II.
Mile 1
When the gun goes off, thousands of joyful runners start to stream over the Verrazano-Narrows, the longest suspension bridge in the Americas. Built in 1964, when it first opened, the toll was 50 cents per vehicle. It's since risen to $16, but on marathon Sunday, it's free! (Well, aside from the $200-plus registration fee.)
Mile 3
Runners always pray for nice racing weather—but you probably aren't worried about tornados in NYC. However, in 2007, one hit 68th Street and Fourth Avenue, ripping trees from their roots in Leif Ericson Park and yanking the roof off a car dealership nearby.
Mile 4
Sunset Park, formerly a stomping ground of longshoremen, now is home to hipster coffee and high rents. Still, one old-timer's bar, Irish Haven, has weathered the gentrification storm. After the 4-mile mark, catch a glimpse of the 52-year-old establishment. Warning: Owners did raise the price of a Guinness from $4 to $5 in 2012, much to the chagrin of loyal patrons.
Mile 5
Just before hitting mile 6, you will spot a wrought-iron gate, marking the corner of Greenwood Cemetery. More than half a million people are buried here, including Boss Tweed and Leonard Bernstein. Look for the neon-green monk parrots nesting in the spires—they escaped from a box at JFK airport and made the graveyard their forever home.
Mile 6
Bridging South Slope and Park Slope, runners stride under the Prospect Expressway. Originally developed by the architectural genius Frederick Olmsted, famous for designing Central Park, it now looks like, well…a highway. Keep it moving, people—nothing to see here.
Mile 7
Park Slope is lined with lovely structures, but none are as special as the Old Stone House, dating back to the 17th century. The founder of Maryland, Jasper Danckaerts, once wrote of his travels here: "We found Gouanes oysters, which are the best in the country…They are large and full, some of them not less than a foot long." If slurping 12-inch shellfish from the East River isn't your thing, return to Blue Ribbon Brasserie post-race. Just a stone's throw away, this famous establishment serves up a chilled half a dozen for a cool $21.
Mile 8
Crank up Jay-Z's "Empire State of Mind" on the marathon playlist. As the course turns onto Lafayette Avenue, the Barclays Center will be on your right. The stunning sloping wood structure opened in 2012 with eight days of back-to-back performances by Hov himself.
Mile 9
That intoxicating aroma isn't the Gu, orange slices or bananas offered on course. At the turn onto Bedford Avenue, runners will smell the doughnut eatery Dough—named one of the best fried delights in the country by Food and Wine. This shop serves up delicious flavors, such as eggnog cream, dulce de leche, yuzu curd and chocolate with almond praline.
Mile 10
Notice how boisterous cheers turn to modest clapping, and jean jackets turn to long, black overcoats as you enter South Williamsburg, one of the largest Hasidic Jewish communities in the world. More than 73,000 people who belong to the Satmar sect live here, enjoying relative isolation in the middle of the bustling city.
Mile 11
The big "Peter Luger" sign marks a departure from Hasidism to hipster central. Established in 1887, Luger's is famous for serving up two-inch-thick porterhouses bathing in butter that will melt in your mouth while momentarily dissolving your conscious thought.
RELATED: How To Navigate The New York City Marathon Expo
Mile 13
The second of five bridges on the course hits right at the halfway point. Say bye to Brooklyn and hi to Queens as you cross the Pulaski. The skyline of Manhattan becomes clearly visible—the finish line almost in sight, but oh so far.
Mile 14
The mile through Queens might not look super glamorous—the architecture trends industrial and gray. But runners are actually striding through New York's little Hollywood. Silvercup Studios, one of the many lots in the neighborhood, was the primary facility for "Sex and the City," "Gossip Girl," "30 Rock" and "Mad Men."
Mile 16
Known as the "First Avenue Corridor," the first Manhattan mile is packed with fans. Enjoy the deafening crowds and look to the right for the orange balloon–filled cheering station in front of the Memorial Sloan Kettering Cancer Center.
Mile 17
Let the cheers carry you over small inclines in the Upper East Side. One of the most affluent areas of the city, it's also where the mayor resides. His home, the historic Gracie Mansion, is just two blocks off the course on 88th and East End Avenue. Current mayor Bill de Blasio runs for fitness, but don't expect to see him with a bib on—he's joked that he tops out at 5 miles.
Mile 18
As the Upper East Side turns into East Harlem, private mansions turn to massive apartment complexes. You may be hungry for carbs, but this is likely as close as you'll ever get to eating at Rao's, a 119-year-old, 10-table restaurant that operates on a VIP time-share policy. Reservations have been auctioned off for $4,000, food not included—only in New York!
Mile 20
"The wall" arrives in the Bronx's Mott Haven neighborhood. Crowd support is sparse and shade is tough to find. Try to conjure pastoral images of peach trees groves and flocks of sheep. The area was originally settled by a Dutch farmer named (no coincidence) Jonas Bronck.
Mile 22
It's crunch time, folks. Harlem becomes the Upper West Side as the finish line in Central Park beckons. At the top of the park, look up and you'll see the Duke Ellington Monument, a towering structure of the jazzman and his piano propped on pillars. Ahead you'll see live musicians lining the street—nearly five bands per mile to carry you home.
Mile 23
Known as Museum Mile, this stretch is full of cultural institutions. Think about how great it would feel to lie down on a cool marble floor in an air-conditioned gallery as you pass the Jewish Museum, Cooper Hewitt, the Guggenheim and the Smithsonian.
RELATED: A Chat With Molly Huddle Ahead Of Her NYC Marathon Debut
Mile 24
After entering on 90th Street, you'll stay in Central Park until your final, triumphant step. Designed by Frederick Olmsted with Calvert Vaux in 1858, the 843-acre park is a gorgeous green respite in a chaotic metropolis. Fun fact: Although it looks like a preserved natural area, it's completely landscaped, down to the trees, fields and bodies of water.
Mile 25
Catch a peek of the zoo to your left with only 1 mile to go. Those sea lions, polar bears and snow monkeys, all just lying around—must be nice!
Mile 26
The final turn through Columbus Circle marks the final 0.2 miles. Soak in every last second. You just finished one of the world's greatest marathons. Collect your medal and get that finisher's jacket. Tomorrow, if you have enough energy, hit the streets—there's still plenty of city to explore!