How To Successfully Organize Your Own Running Group
If the ones around you just aren't cutting it, start your own little gathering of runners!
Heading out the door? Read this article on the new Outside+ app available now on iOS devices for members! Download the app.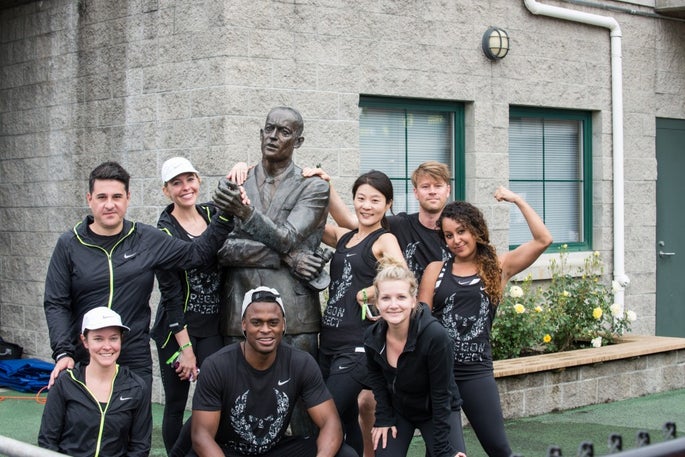 One of the great things about running is that if you want it to, it can be a solitary sport. But if you do better with the accountability of a group, it can also be a great way to connect with others on a social level as well. Finding the perfect group of kindred runners can be tough, but there are a few tips to make organizing your own running group a breeze.
From keeping pace in mind, to location, to schedules, it can be a lot to juggle. Don't put too much pressure on yourself to make things perfect, but rather, look at it as a time to share something you love with other people. In no time, you'll be gabbing away as you run and laughing away the miles.
Start small
When looking to organize a running group, remember that age-old adage that less is more. Don't get caught up in the numbers game and worry about how many people show up the first few times. Do you have friends who love to run? Invite them out for a long run and suggest they bring a friend. Not super close with fellow runners? Use social media, websites like Meetup, or even head to your local running store and see if you can post a call for running buddies. Let your group grow organically and focus on quality over quantity.
If you live somewhere without a lot of training group options, a great way to organize a group is around a specific race. Start small, like your local Thanksgiving 5K, and then move on to 10Ks, half marathons and more. Training for a 5K and then progressing from there is a great way to get friends into the running scene who may be too intimidated to jump in and start training for a half marathon as their first race. Additionally, if you are all doing the same race, that makes race day that much more special and guarantees you will have quite the crowd of family and friends cheering for you!
Consistency is key
Keeping your runs on a consistent schedule will make things much easier for everyone. Trying to accommodate a lot of people can get tough—and changing your run one week around one person's doctor appointment isn't fair to the rest of the group. It is okay to miss a run with the group every now and then—even for you, fearless leader!—but keeping a consistent schedule (say, Tuesdays and Saturdays) means that more people are likely to fit it in and have the group to answer to if they miss because of wanting to sleep in. Consistency leads to accountability.