Get Ready To Run Your First Stroller Race
The founder of Run Stroller Run shares her tips on dominating the pusher-life.
Heading out the door? Read this article on the new Outside+ app available now on iOS devices for members! Download the app.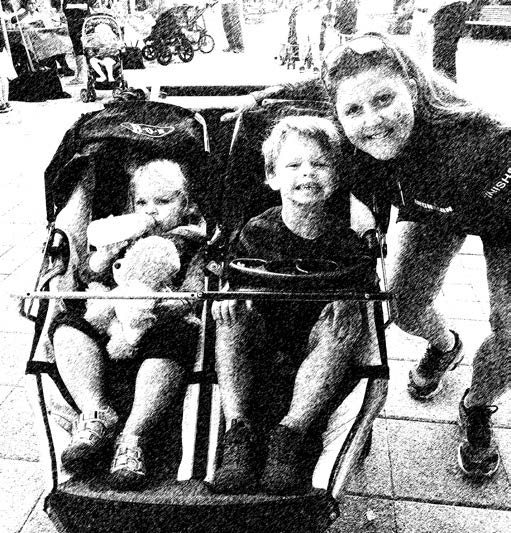 Stroller expert: Lara Coffee
This Virginia-based runner knew her journey into motherhood would include squeezing in stroller runs with her children. But she had no idea that transitioning her three-wheeled workouts onto race start lines would be so difficult. Frustrated by the lack of resources for stroller-friendly events, Coffee began compiling an index of races that welcome baby carriages. Before long, friends and acquaintances started begging for the list, which prompted Coffee to publish her work online. The 39-year-old mother of two developed RunStrollerRun.com to help connect moms and dads with family-friendly races.
Pusher-Must Haves
My Bob jogging stroller was my first purchase after I found out I was pregnant. I knew I wanted to set a healthy example early on and also knew I would be my best self if I could maintain my running after having my babies.
Investing in a weather protector to put on your stroller when temperatures drop or rainy weather sets in will keep your kids comfortable and dry  regardless of the conditions
A water bottle holder or console on your stroller is worth its weight in gold. Stroller running is hard work—so it's crucial to stay hydrated!
Related: How To Pick A Running Stroller
Keep Kids Entertained
Make stroller running interactive with these games that Coffee and her children play.
Letters, Letters, Letters. While running, I help my kids work through the alphabet by identifying the letters on road signs or finding things on the run that match each letter of the alphabet.
Scavenger Hunt. I created a list of items that we generally see during our runs (like stop signs or pine cones) for my son to find. Once he spots them, he checks them off  his list.
Red Light, Green Light. This game is great for getting in some speed work. My son knows that green means go, so when he yells, "Green light," I sprint until he exclaims, "Red light," at which time I either completely stop or slow down. This game is entertaining for the kids and packs a good challenge for the runner.
Related: Stroller Running Tips
Recommended Races
I'm a huge fan of the Title 9K Race Series. Not only has it always included a stroller-running division since its inception 13 years ago, but there's also a Rag-A-Muffin fun run for the kids!
Location: Various around the U.S.
Date: Multiple dates
More info: titlenine.com
I love that the Donuts for Dads 5K highlights daddy runners too. A kids' fun run rounds out the event for a day packed with family fun.
Location: East Dundee, IL
Date: 6/14/15
More info: myracepal.com
Not many races are specifically created for strollers, so I love the idea of the Stroller Derby. Though it's not a competitive race, it's a great way to get the whole family out to enjoy a 5K run.
Location: Knoxville, TN
Date: 6/27/15
More info: dirtybirdevents.com
The organization that hosts the Wicked 10K is known for extremely fun, family-friendly races. I had a blast running in one of their events, and my son even ran in his first kids' race at 22 months old! (Note the date this year: Don't forget to dress up yourself and your stroller.)
Location: Virginia Beach, VA
Date: 10/31/15
More info: wicked10k.com