Editor's Corner: Mom Power
Editor-in-Chief Jessie Sebor shares why mothers who run inspire her.
Heading out the door? Read this article on the new Outside+ app available now on iOS devices for members! Download the app.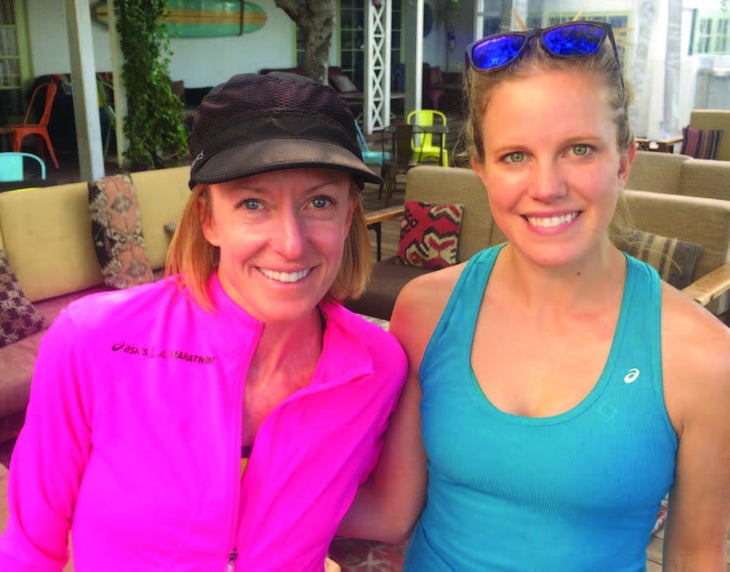 2014 was a solid year for professional running in the United States. Meb Keflezighi became the first American man to win the Boston Marathon in 31 years, Molly Huddle broke the national record in the 5,000 meters and Shalane Flanagan ran a blazingly fast marathon in Berlin with a 2 hour, 21 minute finish. But in the minds of many fans of the sport, the most groundbreaking performance was by an athlete who finished her race dead last.
At last year's USA Track & Field Outdoor Championships, Alysia Montaño lined up for the women's 800 meters fully expecting to lose. For the eight months beforehand, she had backed off a bit on training, and her pace during workouts had slowed significantly. The reason? Montaño was 34 weeks pregnant at the time of the race. On the day of the championships, she cruised around the track in 2:32—35 seconds off her personal best, albeit still pretty quick—and beamed as she crossed the line, throwing her hands up in victory.
While Montaño may have been the final competitor to finish, her race was a huge victory for female athletes. In less than three minutes, she showed the world that "pregnant" doesn't have to mean "delicate." In every news outlet that covered her feat—from Women's Running to The Washington Post—online comment sections filled with supporters lauding her efforts. While there were naysayers, the facts rose to the top. Those questioning Montaño's judgment soon learned staying fit is one of the healthiest choices a mom can make for herself and her child. An active pregnancy has myriad benefits, including a reduced rate of gestational diabetes and a healthier heart for the baby.
Related: How Alysia Montaño Went From Mom To Champion
What I love the most about Montaño's race goes far beyond issues specific to pregnancy. Her two laps on the track painted a powerful message to women everywhere: Being a female with a family doesn't mean you can't pursue a career at the highest level. Montaño's job happens to be running, but this truth extends to any field of employment or any sort of dream a person might want to achieve.
This March, Montaño underlined her point once more, coming back six and a half months after giving birth to win the 600 meters at the USA Track & Field Indoor Championships. We couldn't have been more proud to give this amazing mom another well-deserved platform, front and center on our May cover. But this is only one small part of Montaño's story—click here to find out what being a running mother really means to her, straight from the hero's mouth.